Pentagon: Coronavirus vaccine will soon be mandatory for troops following full FDA approval
by
Caitlin Doornbos
Stars and Stripes
August 23, 2021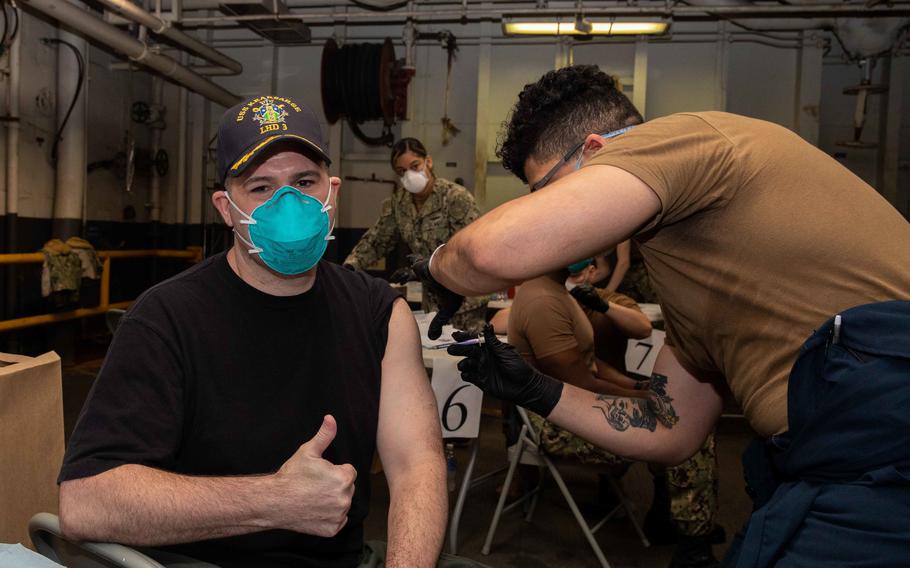 WASHINGTON — Defense Secretary Lloyd Austin is preparing to issue a mandate for all troops to receive the coronavirus vaccine after the Food and Drug Administration gave its full authorization for one of the shots, chief Pentagon spokesman John Kirby said Monday.
The FDA gave full approval to the vaccine by Pfizer, one of three manufacturers making the vaccines that have until Monday been doled out to troops on a voluntary basis while they have been under federal emergency-use authorization.
The Pentagon is now working to finalize its mandate and determining the date for when troops will be required to have had the vaccination, Kirby said.
"We're preparing the guidance to the force right now and the actual completion date of it," he said. "In other words, how fast we want to see it get done — we're working through that guidance right now."
Kirby said Austin will add the coronavirus vaccine to the military's required immunization list, following up on his Aug. 9 promise to make the coronavirus shot mandatory by mid-September or immediately upon the FDA's licensure, whichever came first. The list also includes vaccinations against illnesses such influenza, Hepatitis A and B and Rubella.
Service members began receiving the vaccine voluntarily in January. As of Wednesday, about 1.08 million active-duty, Reserve and National Guard troops have taken the shot and nearly 245,000 are partially vaccinated, according to the latest Defense Department data.
At least five service members, including an active-duty Navy doctor, have died of the coronavirus within the past month. In total, 34 troops have died from the virus since the pandemic started in March 2020, according to DOD data.
Without a mandate, the services have had to rely on information campaigns to convince troops to get vaccinated.
In the Navy, which led the military branches in vaccination rates before the mandate, some commanding officers said they have had immunologists speak to their ship crews to correct misinformation that caused some to reject the shot.
"Sailors are open to listen. They are very intelligent, and they want education before they say yes to anything," said Cmdr. Bralyn Cathey, captain of the guided-missile destroyer USS John Finn in San Diego.
Now that sailors no longer have the option to refuse the vaccine, Cathey said some of them might decide to leave the Navy over the issue.
"There's still a choice even if there is not a choice because some person may decide that, hey, my naval service is not as important as my personal belief, and that's the choice that they made," Cathey said.
The military will offer exemptions for those with medical or religious reasons that warrant avoiding the shot. Those with medical concerns will work with their doctors to receive exemptions, while those applying for religious accommodations must submit a written request to their supervisor using the process set by their service branch.
The religious-exemption processes typically include providing documented proof of religious beliefs and consultations with health care providers and commanders. Chaplains will play a key role in these processes, often conducting interviews with the applicants before a waiver decision is made, said Capt. Richard Ryan, force chaplain for Naval Surface Force Pacific.
Until now, Ryan said he hasn't handled many immunization waiver requests because sailors have typically had all their mandatory vaccinations before they are sent to ships. But now that a new vaccine has been added to the list and sailors already on the job will have to roll up their sleeves for the shot, he expects that to change.
"I haven't dealt with it a whole lot because by the time they're in the fleet, they've either had their immunizations or they hadn't, and I just don't hear about it," Ryan said. "But we're going to hear about it this time."