Austin to seek coronavirus vaccine mandate for all troops by mid-September
by
CAITLIN DOORNBOS
Stars and Stripes
August 9, 2021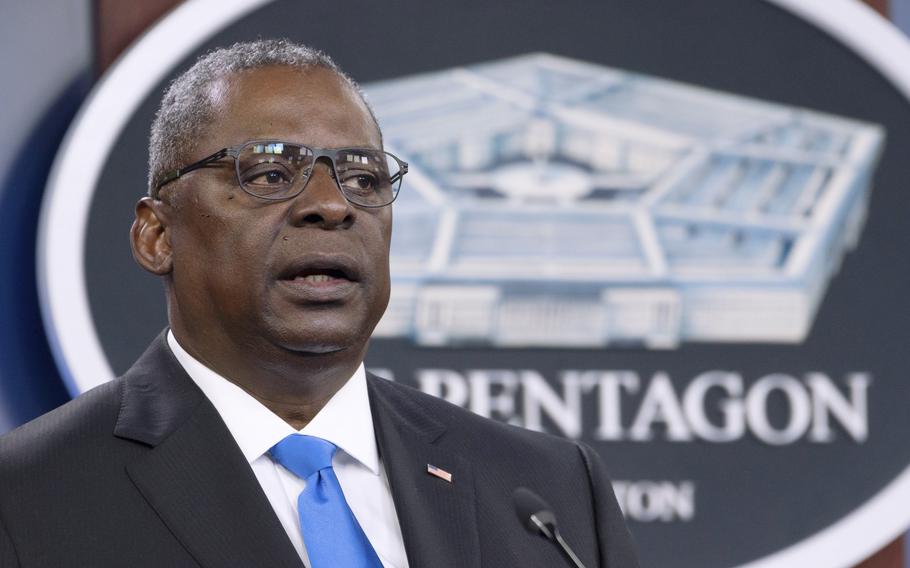 WASHINGTON — Defense Secretary Lloyd Austin on Monday said he will seek President Joe Biden's permission by mid-September to require all troops receive the coronavirus vaccine regardless of whether the shots obtain full federal approval.
"I want you to know that I will seek the president's approval to make the vaccines mandatory no later than mid-September, or immediately upon the U.S. Food and Drug [Administration] licensure, whichever comes first," Austin wrote in his message. "Public reporting suggests the Pfizer-BioNTech vaccine could achieve full FDA licensure early next month."
Biden said last week during a news conference that he expects the FDA will approve the vaccines by the early fall.
The FDA already has authorized the vaccine for use during public health emergencies as it completes the final phases of clinical trials. The shots are "rigorously tested" on tens of thousands of study participants before reaching emergency-use authorization, according to the FDA.
Though the military requires troops to receive many vaccinations, federal law prohibits the Pentagon from mandating those without full FDA approval. However, the president can bypass the restriction by issuing a waiver if he determines "that complying with such requirement is not in the interests of national security," according to the law governing emergency-use products and the military.
If the vaccines receive full approval, Austin can issue the mandate without asking the president for a waiver, chief Pentagon spokesman John Kirby said Monday.
Biden on Monday said he "strongly support[s]" Austin's plan to mandate the vaccine so "troops have every tool they need to do their jobs as safely as possible."
"We are still on a wartime footing, and every American who is eligible should take immediate steps to get vaccinated right away," he said in a statement. "I am proud that our military women and men will continue to help lead the charge in the fight against this pandemic, as they so often do, by setting the example of keeping their fellow Americans safe."
In the meantime, Austin has directed the service branches to develop "plans for how they're going to get this moving," Kirby told reporters at the Pentagon.
"The services have a fair but limited amount of time to come back to the secretary with their implementation plans for how they would go about mandatory vaccines for all their personnel," he said. "We understand, of course, that they have their own deployment schedules, their own manning constructs, their own different unvaccinated numbers."
Additionally, the Defense Department will be implementing guidance that Biden issued last month that requires unvaccinated federal personnel submit to "certain requirements and restrictions," such as regular coronavirus testing and limits on official travel, Kirby said.
"We're working hard on what will be a policy directive to come in the coming days that will make it clear what those requirements and restrictions are and how they apply to everybody in the duty workforce, including uniformed personnel," he said.
The news comes after Biden directed the Pentagon on July 29 to plan for troops to be required to get a coronavirus vaccine but stopped short of mandating the shots.
It also comes as the more contagious delta variant of the coronavirus has surged across the country. Biden has said the U.S. is suffering a "pandemic of the unvaccinated," though it's possible vaccinated people can still contract the virus with reduced symptoms.
"We will also be keeping a close eye on infection rates — which are on the rise now due to the delta variant — and the impact these rates might have on our readiness," Austin wrote in his Monday message. "I will not hesitate to act sooner or recommend a different course to the president if I feel the need to do so."
Some troops expressed concern over receiving the vaccine when news broke earlier this week that the Pentagon could issue the mandate Friday, New York attorney Greg Rinckey told The Associated Press.
"A lot of U.S. troops have reached out to us saying, 'I don't want a vaccine that's untested, I'm not sure it's safe, and I don't trust the government's vaccine. What are my rights?' " said Rinckey, who specializes in military law.
A group of 16 House Republicans led by Rep. Mark Green, R-Tenn., sent a letter Friday urging Austin not to issue the mandate, claiming "mandatory vaccination is illegal for military personnel prior to complete approval."
"To be clear, we believe [coronavirus] vaccines are not only a testament to American ingenuity, but are also safe and effective," the lawmakers wrote. "Despite that, it is clear that the mandate that you are considering is an unprecedented violation of federal law."
The last time that the military required a shot under emergency-use authorization was in the 1990s with the anthrax vaccine, which did not receive full FDA approval until 2004.
Until now, the military has relied on information campaigns to convince service members to volunteer for the shots. As of Wednesday, about 1,044,924 active-duty, Reserve and National Guard troops had been fully vaccinated and another 237,082 were partially vaccinated, according to the most recent data from the Pentagon.
Two unvaccinated sailors — one a doctor — died of the coronavirus in July. Vice Adm. John Nowell, the chief of naval personnel, said last week that it makes him "want to cry when I see a sailor who passes away now and they had a chance to be immunized and they didn't take it."
As of Wednesday, about 212,815 active-duty, Reserve and National Guard troops have tested positive for the coronavirus since the pandemic began, 28 of whom died, according to the Pentagon.
Austin encouraged all Defense Department personnel not to wait for the mandate, but to get vaccinated as soon as possible.
"All FDA-authorized [coronavirus] vaccines are safe and highly effective. They will protect you and your family. They will protect your unit, your ship, and your co-workers," Austin wrote. "And they will ensure we remain the most lethal and ready force in the world."