US military in Japan reports 55 new coronavirus cases as nation broadens state of emergency
by
Joseph Ditzler
Stars and Stripes
August 25, 2021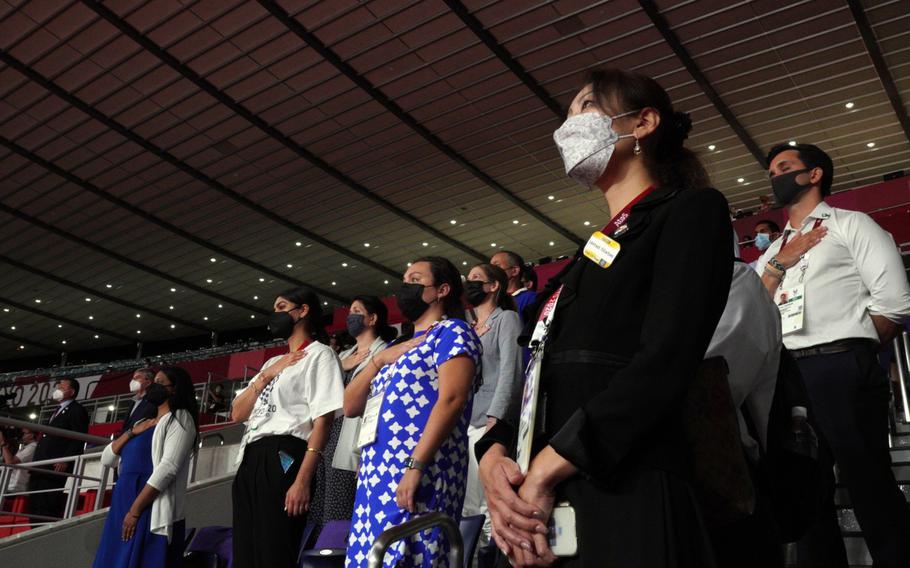 TOKYO — Facing a nationwide surge in new coronavirus cases linked to the delta variant, the Japanese government added another eight prefectures to the 13 already under a state of emergency, according to reports Wednesday in local media.
The government's expert panel on the coronavirus approved a plan to expand the emergency to Miyagi, Gifu, Aichi, Mie, Shiga, Okayama, Hiroshima and Hokkaido, the Asahi newspaper and other outlets reported. A government task force made the decision official Wednesday; the emergency would begin Friday and last until Sept. 12, The Associated Press reported.
The declaration will put 33 of Japan's 47 prefectures under some type of public health emergency due to the coronavirus. Currently, 12 prefectures are under what is referred to as a "quasi-emergency," which allows prefectural governors to impose similar but less strict restrictions than those requested under an emergency declaration
Under a state of emergency, sale of alcoholic drinks is discouraged, restaurants and bars are expected to close between 8 p.m. and 5 a.m. and residents are encouraged to avoid unnecessary travel and work from home, if possible.
Meanwhile, U.S. military bases in Japan reported 55 new coronavirus cases on Tuesday and Wednesday.
Twenty-seven of those cases are people associated with the Marine Corps on Okinawa, according to a Facebook post Wednesday by Marine Corps Installations Pacific. The Marines provided no further information but have said its new cases are not limited to service members.
U.S. Army Japan discovered 11 new cases between Aug. 18 and Wednesday, according to a news release. One came up positive in an airport test by Japanese officials. Five had fallen ill with COVID-19 symptoms. Two were already in restricted movement following their recent arrival in Japan and three were isolated as close contacts of another infected individual.
In northeastern Japan, Misawa Air Base identified 13 people with COVID-19 between Aug. 17 and Monday, according to a base news release Tuesday. They include fully vaccinated and unvaccinated people, though the base provided no further details.
Misawa's commander, Col. Jesse Friedel, ordered a limit on gatherings of 20 people or 50% of a room's capacity, whichever is less, on or off the base. Masks are required for everyone in gatherings of more than 20, with physical fitness activity exempted. Takeout dining only is permitted in nearby Aomori city and Hachinohe.
Three people at Naval Air Facility Atsugi tested positive for COVID-19 on Tuesday after falling ill, according to a base news release. A fourth turned up positive in an airport test after arriving in Japan. The base has seven people under observation.
In Tokyo, another 4,228 people tested positive Wednesday, 1,158 fewer than a week prior and the third consecutive day of new case numbers trending downward, according to NHK and metro government data.
However, the number of seriously ill people in the city rose to 277, the highest yet during the pandemic.
Tokyo and neighboring Kanagawa prefecture — home to the headquarters for U.S. Forces Japan, U.S. Army Japan, 5th Air Force and 7th Fleet — are already under the emergency declaration until Sept. 12. So are Okinawa, home to the III Marine Expeditionary Force; Osaka, the second-largest metro area in Japan; and Kyoto.
Okinawa prefecture on Wednesday reported its highest one-day new case total, 809, surpassing the previous record set one week ago, 768, according to the prefectural Department of Public Health and Medical Care. The prefecture claims the highest weekly infection rate in Japan, 312.99 per 100,000 population, according to the department.
Ahead of the declaration expected Friday, Marine Corps Air Station Iwakuni on Wednesday imposed a 9 p.m. to 5 a.m. off-base curfew in nearby Hiroshima prefecture for anyone affiliated with the installation. The curfew comes with other new restrictions, according to a post on the air station's Facebook page.
Once an emergency is declared in Hiroshima, air station personnel who live, work or attend school there will be restricted to only essential services outside their homes.
Stars and Stripes reporters Mari Higa and Jonathan Snyder contributed to this report.