US commands in Japan, South Korea have Pfizer coronavirus vaccine on-hand for DOD mandate
by
Joseph Ditzler
Stars and Stripes
August 26, 2021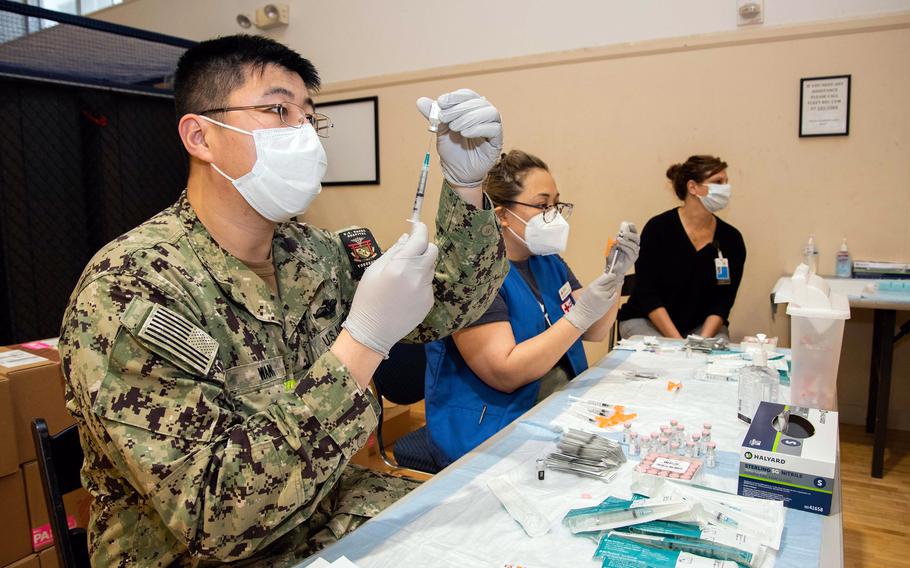 TOKYO – The U.S. military in Japan and South Korea is ready to carry out Defense Secretary Lloyd Austin's order to inoculate all active-duty military members with the coronavirus vaccine, spokesmen for those commands said Thursday.
The Pfizer BioNTech vaccine, given full approval by the U.S. Food and Drug Administration on Monday, is in good supply at bases in South Korea and Japan, and both commands expect resupply.
"Yes, there are enough doses and incoming doses [are] on the way," Air Force Maj. Tom Barger of U.S. Forces Japan, headquartered at Yokota Air Base, said in an email to Stars and Stripes.
U.S. Forces Korea has "enough on-hand supplies of Pfizer to meet an initial demand until we are provided more vaccines" by the Defense Department, said Col. Lee Peters by email from Camp Humphreys. USFK "also possess an adequate supply of Moderna if service members choose that vaccine over Pfizer."
Meanwhile, one U.S. base in Japan reported a new case of COVID-19, the coronavirus respiratory disease, on Thursday. Sasebo Naval Base, on Kyushu Island, said the person tested positive Wednesday following close contact with another infected individual.
Tokyo continued to see a comparative decline in new coronavirus cases on Thursday. The metropolitan government reported another 4,704 newly infected people, still high but 830 fewer than a week prior, according to public broadcaster NHK and metro government data.
The coronavirus' fifth wave in Japan continues relatively unabated, however, as the central government prepares to add on Friday another eight prefectures to a state of emergency that already covers 13 prefectures.
Japan reported another 24,317 new coronavirus cases Wednesday, and 45 people died of COVID-19 complications, according to the Johns Hopkins Coronavirus Resource Center. Nearly 43% of Japan's population, or 54.1 million people, are fully vaccinated,
About 70% of USFJ's uniformed personnel are fully vaccinated, according to Barger. He said many unvaccinated service members are rolling up their sleeves now that the shot is mandated by DOD.
"Yes, an increase was noted in anticipation of the recent memorandum" from Austin, he wrote.
USFK has not seen the same increase, according to Peters. But more than 80% of USFK service members and the "affiliated population" are vaccinated, he wrote, and "the number of shots we administer to our service members should push us well over 90% vaccination rate" as vaccines continue to arrive.
Austin on Tuesday directed the military to "impose ambitious timelines" for implementing plans to fully vaccinate U.S. forces. Barger said a timeline has yet to be established for USFJ.
"We will vaccinate the force as rapidly as we have the Pfizer vaccine available," he said.
He said USFJ anticipates many unvaccinated service members will comply with the mandate, which effectively rolls COVID-19 vaccines into the same system that keeps thousands of service members up to date on a battery of already required shots.
Hold-outs will have time to make up their minds, but apparently not an unlimited amount of time.
"Our medical team will ensure every effort is made to explain and educate anyone who has questions about the vaccine prior to receiving it," Barger said. "There is currently no timeline for when administrative action may need to be taken, but each service is developing their own processes in accordance with standing practices for any other vaccine."