Soldiers at Fort Hood line up for coronavirus vaccines as Pentagon mandates the shots
by
Rose L. Thayer
Stars and Stripes
August 25, 2021
FORT HOOD, Texas — Some soldiers got vaccinated Wednesday for their families, some to travel home, and others wanted to beat the rush now that the coronavirus vaccine is mandatory for all troops.
A pop-up clinic at a Fort Hood food court ran out of the Pfizer vaccine, after burning through about 100 doses in less than two hours. Troops running the clinic needed to get more while soldiers waited for the shot.
"I was going to call and make an appointment, but if I'm already going here, I'll just get it," Spc. Yakira Ramos Montanez said. "I needed the vaccine because I want to travel [home] to Puerto Rico."
Montanez stopped into the clinic with her 2-month-old son after dropping her husband off for work. Still on maternity leave from the 3rd Cavalry Regiment, the 25-year-old combat medic chose to wait until after she delivered her baby to get the vaccine.
The clinics at the Texas base have been going on all month — reaching more than 500 people — but operations have increased since Defense Secretary Lloyd Austin announced Aug. 9 that the vaccine would be mandatory for troops by mid-September or when the shots received full federal approval. On Monday, the Food and Drug Administration gave full authorization to the Pfizer vaccine. By Wednesday, Austin ordered troops to begin getting vaccinated immediately.
Lt. Col. Evan Trivette, 1st Cavalry Division surgeon and family medicine doctor, said vaccine operations at Fort Hood have picked up even more since Monday.
"The level of scientific rigor applied to these vaccines is the same as every other vaccine that we give people," Trivette said. "The difference is that people were uncomfortable because it was new. It was done fast because we were in an emergency. They still managed to observe all the safety protocols and make sure this is a good idea."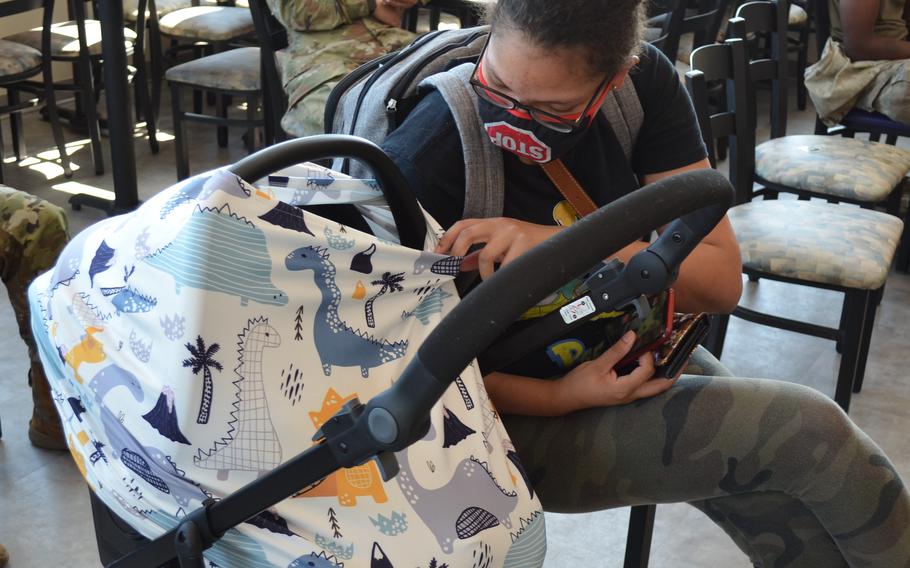 The 1st Cavalry Division, in a partnership with the Exchange, set up the four-hour clinic to appeal to soldiers already coming through the food court for Starbucks, Burger King or Charleys Cheesesteaks.
As troops were lining up at Fort Hood for the shots, Austin released his memo to the service secretaries to immediately begin vaccinating all troops. The Army is the furthest behind of all service branches with just 40% of the force fully vaccinated, John Kirby, chief Pentagon spokesman, said Wednesday. He said 57% have received at least one dose.
Across the other service branches vaccination rates vary broadly, with 53% of the Marine Corps, 57% of the Air and Space Forces and 73% of the Navy fully vaccinated, Kirby said.
Austin called for the services to "impose ambitious timelines for implementation" to get those numbers up.
Pvt. Ethan Toney, 20, said he wasn't ever opposed to the vaccine, he just hadn't had the opportunity to receive it in basic training. He recently arrived at Fort Hood's 1st Squadron, 7th Cavalry Regiment, and took time on his day off to visit the clinic. The driving factor in his decision — his mother back home in Connecticut.
"My mom really, really wanted me to get it," he said. "When they mandate it, there's going to be a lot of people getting it. So I'll just get it over with on my time."
Spc. Garrett Wells, 21, said his wife swayed his decision.
"It's not just the fact that I wanted to protect myself along with my wife, but everyone else in my unit, who are basically my brothers and family," said Wells, who serves in the 2nd Battalion of the 7th Cavalry Regiment.
He said he hopes his own choice will encourage his fellow soldiers to step up before there are repercussions for refusing the vaccine.
"It's not that they don't want to get it, they're not sure what the side effects are," Wells said. "If they don't see any negative side effects, I'm pretty sure that would convince them to get it."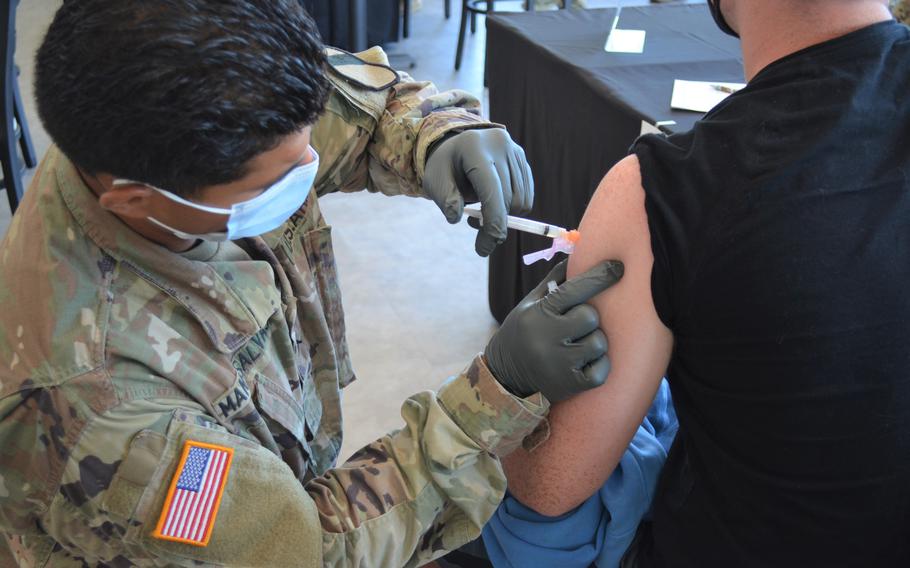 The mandate to get vaccinated comes as coronavirus is surging in many states just as aggressively as it did before the vaccine was available. In Texas, more than 13,600 people are hospitalized with the coronavirus, according to the Department Health and Human Services. That's just shy of the state's peak in January.
Fort Hood's Carl R. Darnall Army Medical Center has limited elective surgeries to those who do not require an overnight stay as a way to keep rooms open. It has also reopened its drive-through testing site that had closed in May after demand returned for testing and put pressure on its clinics, said Capt. Julia Sandoval, a medical surgical nurse who ran the clinic last year.
"We can accommodate large numbers in an arguably safer environment because we're outside with people in cars. So really it was a response to the needs of the patients to meet the demand and give them an easy way to get tested," she said.
With school in Texas already back in session, the testing site has also seen an uptick in children needing testing. Each patient is asked about vaccination status and, if necessary, provided information on how to get vaccinated.
Those patients who are vaccinated might not need immediate testing after an exposure, but it's important to do so if they've experienced any symptoms related to coronavirus, said Capt. Eduardo Mendezlanda, the officer-in-charge of the testing site at Darnall.
"That's definitely a decision that you need to make for the greater good of the community," he said. "You never know who may have a medical condition, so you've really got to protect your spouse, your kids, your coworkers and that person at [the grocery store]."
Military medical personnel also are helping combat coronavirus surges at civilian hospitals in Mississippi and Louisiana, where vaccination rates are below 50%, according to the Mayo Clinic. The Defense Department has deployed 80 medical personnel to assist the Federal Emergency Management Agency, according to U.S. Army North, which is commanding the troops.
In Mississippi, 20-person teams from the Army and Air Force deployed to Jackson and Tupelo, bringing nurses, respiratory therapists and medical doctors to support their civilian counterparts. Two additional teams will help in Baton Rouge and Lafayette in Louisiana.
"Defending the nation, which includes defeating [the coronavirus], is a team effort," said Lt. Gen. Laura J. Richardson, Army North commander.
Back at Fort Hood, where the vaccine clinic accommodated soldiers choosing to get the shot, Trivette, the division surgeon, said he will continue to reach out and speak with soldiers who have concerns. Meanwhile, they'll continue to keep the vaccine as accessible as possible.
Now that it's mandatory, he'd like to see the division vaccinate 1,000 to 2,000 soldiers a day.
"In the military, we follow orders. And sometimes we don't like the orders we're given, but we still follow our orders. The expectation I have is that the vast majority of people are going to [get vaccinated], even if they were against it," Trivette said. "I think it'll help people to see that other people have done it."