South Korea's COVID-19 numbers hold steady days after country hit pandemic record
by
David Choi
Stars and Stripes
August 13, 2021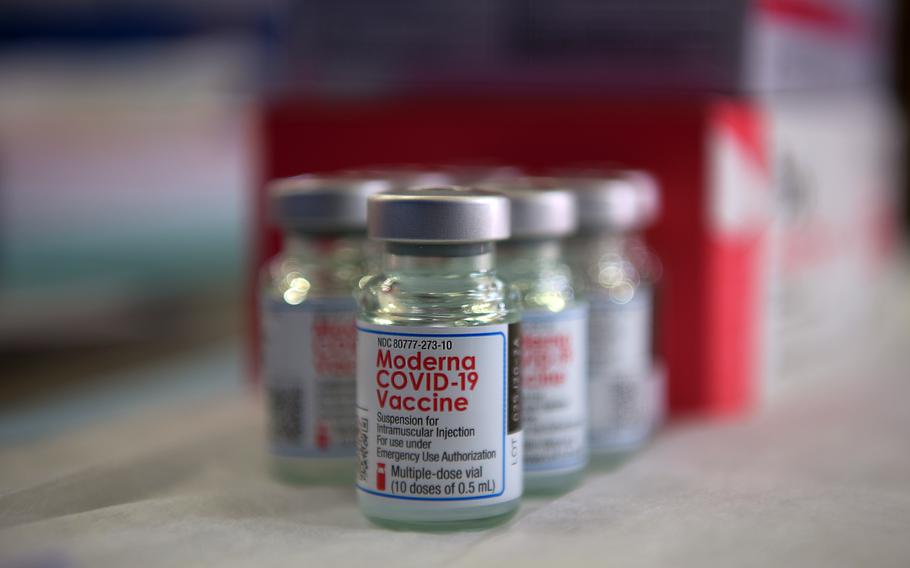 CAMP HUMPHREYS, South Korea — New coronavirus infections in South Korea remained steady for a third straight day as the country recorded its highest number of daily infections this week.
The Korea Disease Control and Prevention Agency on Friday reported 1,990 new cases, down from its record daily high of 2,223 on Wednesday. Nearly 220,200 cases of coronavirus and 2,144 related deaths have been recorded in South Korea since the start of the pandemic.
Most new infections continued to stem from Seoul, where the capital city reported 524 new cases Friday.
South Korea's vaccination rate increased slightly Friday to 17.4% of its 51 million people fully vaccinated and 42.8% with at least one dose of a two-shot regimen.
More hospital beds are being secured due to a rise in critical cases, Son Youngrae, general director of strategy and planning for the Central Disaster Management Headquarters, said at a news briefing Friday.
Son said on-site business inspections will continue throughout the weekend, along with heightened social distancing measures throughout the country that include reduced public transportation schedules and business hours.
South Korean Health Minister Kwon Deok-cheol on Wednesday described the surge of cases as "a new crisis" and advised residents not to travel during the country's Liberation Day holiday on Sunday. The holiday signifies the end of Japan's colonial rule of South Korea in 1945.
Son also said the Ministry of Culture, Sports and Tourism will be working with religious centers throughout the country, where some facilities were deemed to be "prone to virus infections."
Religious centers in South Korea, particularly in the city of Daegu, are suspected to have fueled the initial COVID-19 outbreak last year. In 2020, the KDCA said many of the country's infections were linked to a religious movement called the Shincheonji Church of Jesus, the Temple of the Tabernacle of the Testimony. The church has a chapter about a mile from Camp Walker, a U.S. Army base in Daegu.
On Thursday, Camp Walker closed its School Age Center "out of abundance of caution" after military officials confirmed a COVID-19 case at the facility. The center, which provides before-and after-school care for kids, is being cleaned Friday and Saturday.
The garrison commander, Col. Brian Schoellhorn, said the center may be open "as soon as Monday, if possible."
"Knowing the impact that has on the community, I'm very sensitive" about the closure, he said in a video posted on Facebook.
U.S. Forces Korea on Friday reported seven service members tested positive for COVID-19 on Wednesday and Thursday. Five are stationed at Osan Air Base, one at Camp Humphreys and one at Camp Hovey, the command said in a news release.
On Thursday, USFK reported eight service members tested positive after arriving in the country between July 31 and Tuesday.
The command imposed "enhanced" mitigation measures for its troops last month, which restrict movement to and from Seoul unless for mission-essential duties and prohibits visits to bars and clubs across the country.