Tokyo mulls new coronavirus measures; US military reports 28 cases in Japan, South Korea
by
Joseph Ditzler
Stars and Stripes
August 12, 2021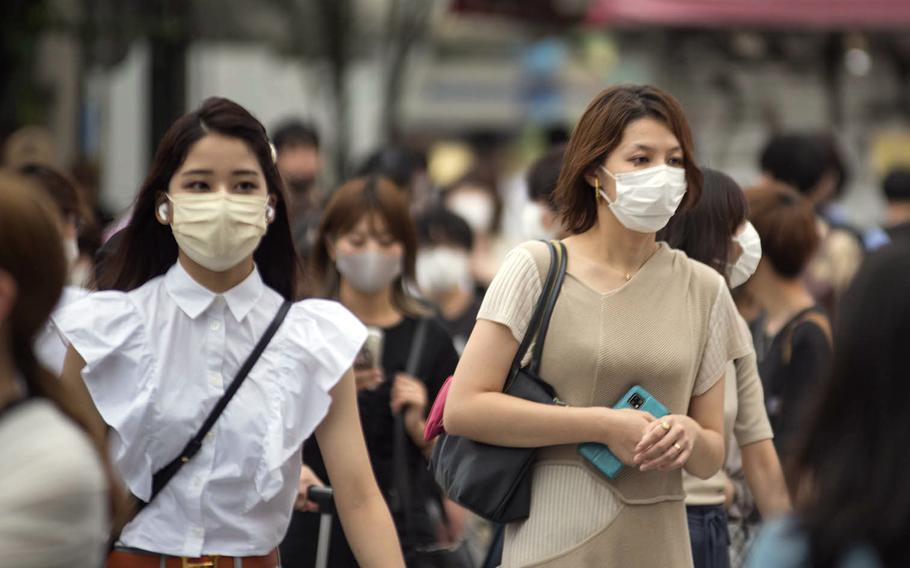 TOKYO – The government in Japan's capital city is considering a proposal to halve foot traffic to stem a rampant coronavirus spread, which on Thursday generated another 4,989 infections, public broadcaster NHK reported.
The Tokyo coronavirus advisory panel proposed trimming the number of pedestrians on city streets for two weeks, the broadcaster reported. The virus is spreading in uncontrollable fashion at an unprecedented rate, according to a statement from the panel, NHK reported.
The delta variant appears to account for more than half the new infections in Tokyo between July 19 and 25, the most recent information available from the Tokyo Metropolitan Government coronavirus tracking website. The delta variant is more contagious and may cause more severe illness in unvaccinated persons than previous strains, according to the U.S. Centers for Disease Control and Prevention.
If imposed, measures to reduce pedestrian numbers could coincide with preparations for the Tokyo 2020 Paralympics, set to begin Aug. 24. The report does not address how the measure would be enforced.
After the panel meeting Thursday, Tokyo Gov. Yuriko Koike urged city residents to remain home this weekend through the Obon holiday, normally a time for family reunions. Cancel travel plans, stay home and reduce contact with other people, she said, according to NHK.
Also Thursday, Okinawa prefecture set a one-day record of 732 newly infected people, according to the prefectural Department of Public Health and Medical Care. Okinawa Gov. Denny Tamaki, faced with a viral surge there, has urged young people, especially, to stay home and refrain temporarily from socializing.
The fifth wave of the coronavirus in Tokyo is the most severe of the pandemic, thus far. Seven of the past nine days saw new, one-day case numbers greater than 4,000. The city's pandemic record, 5,042, was recorded Aug. 5.
The seven-day moving average of new cases was 3,983 on Wednesday, down slightly due to a dip in new case numbers Monday and Tuesday, according to data from the Tokyo Metropolitan Government.
The city, along with neighboring Chiba, Saitama and Kanagawa prefectures, remains under a state of emergency that encourages businesses to promote teleworking, limit their hours and curtail alcohol sales.
However, foot traffic in shopping malls and department store food sections, for example, is still a risk that must be drastically reduced, according to the NHK report.
In Japan, 1.07 million people have been infected with the coronavirus and 15,553 have died, according to the Johns Hopkins Coronavirus Resource Center. Nearly 36% of its population, or 45.1 million people, are fully vaccinated.
US cases in Japan
U.S. military bases in Japan on Thursday reported 20 more individuals had contracted the coronavirus.
U.S. Army Japan, headquartered at Camp Zama, 26 miles southwest of central Tokyo, had 12 people test positive between Aug. 4 and Wednesday, according to an Army news release.
Two reported symptoms of COVID-19, the coronavirus respiratory disease, one turned up positive in a pre-travel test and another in a medical screening. Two were in restricted movement as new arrivals to Japan; another six were already quarantined as close contacts of a previously infected person, according to the Army.
The Marine Corps had seven people test positive for COVID-19 at its camps on Okinawa, according to a Facebook post by Marine Corps Installations Pacific.
Marine Corps Air Station Iwakuni, south of Hiroshima, reported one new case, according to a news release Thursday from the installation.
South Korea update
U.S. Forces Korea on Wednesday evening said eight people there had tested positive.
Service members at Osan Air Base tested positive for COVID-19 on Tuesday, four after falling ill with symptoms of the respiratory disease and three during contact tracing, according to a USFK news release Wednesday.
Another service member at Camp Humphreys turned up positive during surveillance testing, USFK said.
South Korea reported 1,987 new coronavirus cases Thursday, one day after its one-day record of 2,223, according to the Korea Disease Control and Prevention Agency's daily update. Gyeonggi province, home to Osan and Humphreys, accounted for 570 new cases. Seoul, the capital, reported 522.
South Korea has fully vaccinated 8.2 million people, or 16% of its population. Another 21.8 million, or 42.5%, have received one dose of a two-shot regimen, the agency reported Thursday.
Stars and Stripes reporters Mari Higa on Okinawa and Yoo Kyong Chang in South Korea contributed to this report