Germany ending free coronavirus testing, some free testing still available on US bases
by
Jennifer H. Svan
Stars and Stripes
August 11, 2021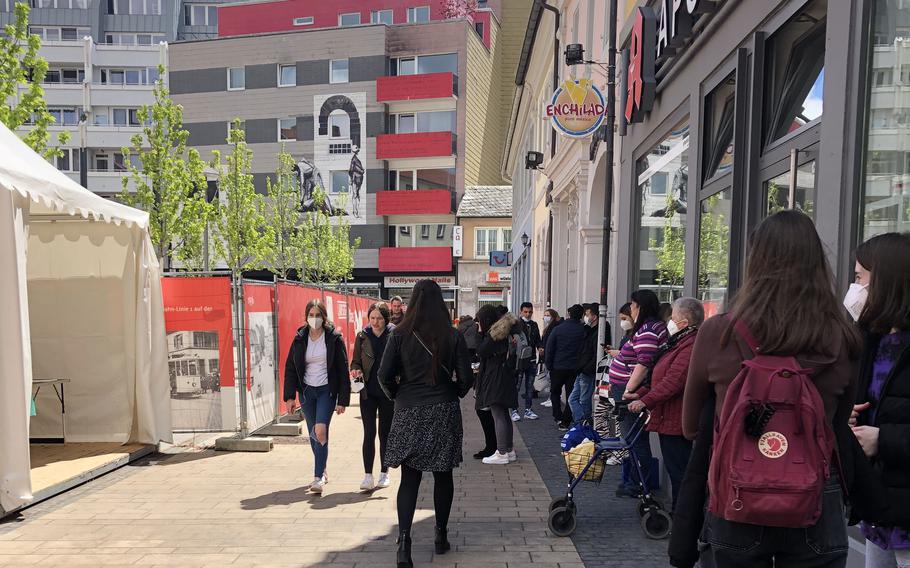 The U.S. military in Germany will continue offering no-cost coronavirus tests on bases to eligible people even as Germany ends free testing for residents, officials said Wednesday. 
The German government will stop subsidizing rapid antigen tests starting Oct. 11, in part to encourage vaccinations and avoid another lockdown as the highly contagious delta variant spreads, Chancellor Angela Merkel said. 
"The not-so-good news is that the speed of vaccination has declined significantly," Merkel said after a Tuesday meeting with the country's 16 state governors, The Associated Press reported.
Beginning Aug. 23, a negative test, proof of recent recovery from coronavirus, or proof of vaccination will be required for access to indoor restaurants, hairdressers, hotels, hospitals, gyms and other facilities in Germany when average weekly new infections exceed 35 per 100,000 residents, according to regulations agreed to this week by the federal government. That requirement had previously been lifted in areas where weekly new cases averaged less than 50 per 100,000 inhabitants.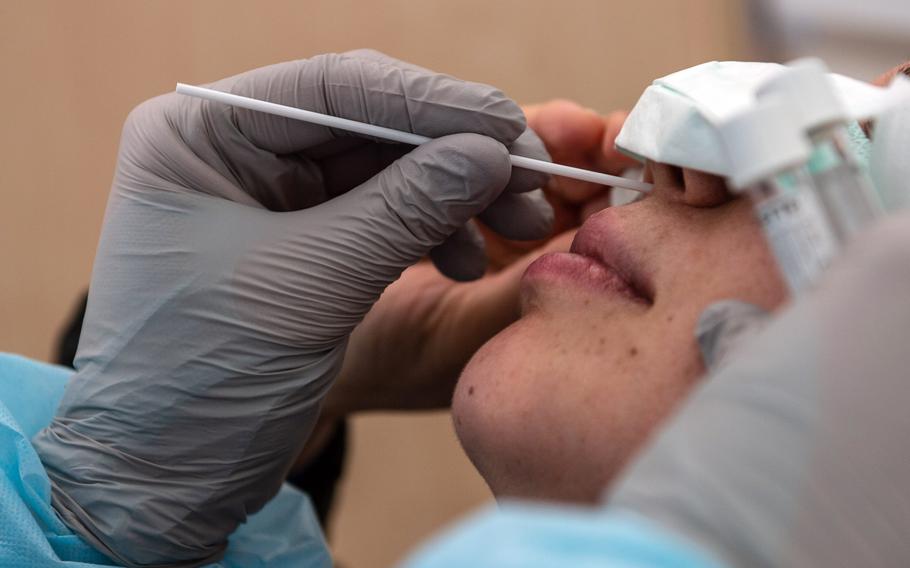 Rapid antigen tests will continue to be free in Germany for people under 18, pregnant women and others who currently can't be vaccinated for medical reasons, AP reported. 
Limited free testing will still be available on bases, military officials said.  
Army and Air Force clinics and hospitals, including Landstuhl Regional Medical Center, test military community members experiencing coronavirus symptoms, those who have been exposed to the virus and those traveling on official orders. 
The tests are free for military members, civilians and their families, and that isn't expected to change, Air Force and Army officials in Germany said Wednesday. 
Local national employees may be tested for free under certain circumstances, such as for employment or on-the-job exposure, said Gino Mattorano, a spokesman for Regional Health Command Europe.  
Ramstein has provided more than 6,000 self-test kits free to local nationals since early May, in accordance with German law, base officials said.  
Since March 2020, military medical facilities in Europe have conducted more than 230,000 diagnostic coronavirus tests, Mattorano said.
Military officials said they do not have the capacity to test people prior to unofficial travel, and they have directed Americans who needed a prior coronavirus test for that purpose, or for restaurant dining or shopping, to use antigen testing centers off base. 
Free antigen testing centers are prevalent across much of Germany.
Antigen testing usually returns results in 15 minutes to an hour and is less expensive than molecular testing, which requires lab analysis. The German government has subsidized the cost of at least one antigen test per person, per week since March. 
On Wednesday, Germany had a seven-day average incidence rate of 25.1 new infections per 100,000 residents, according to the Robert Koch Institute, the country's disease control agency. Data showed the number of confirmed cases in Germany increased by 4,996 cases and 14 deaths since Tuesday. Germany's rate is considerably lower than the United Kingdom, France and much of Western Europe.
About 55.6% of the population has been fully vaccinated against the coronavirus, and 62.7% of the population has received at least one dose of the vaccine, according to the Robert Koch Institute. 
---
---
---