Tougher coronavirus restrictions take effect at US bases in Italy 
by
Alison Bath
Stars and Stripes
August 6, 2021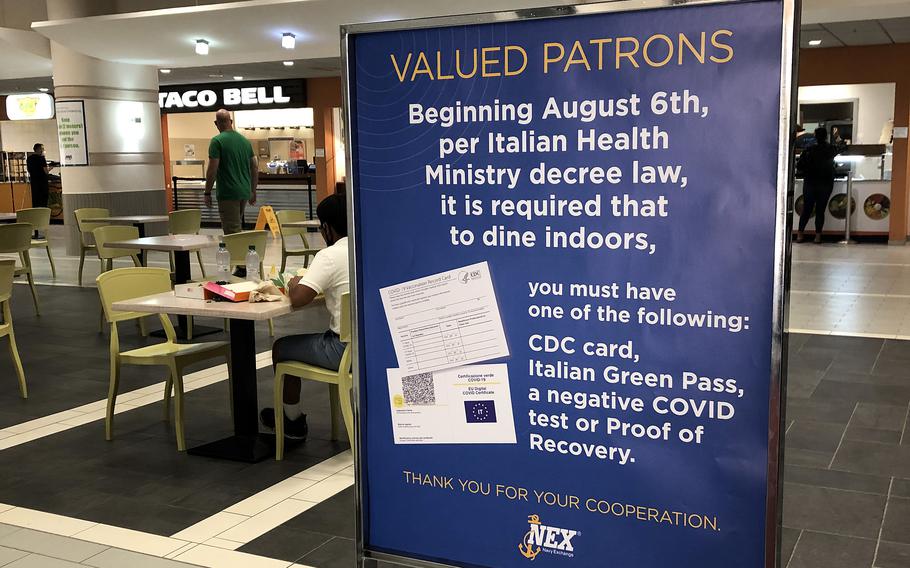 NAPLES, Italy — New COVID-19 restrictions for entry into restaurants and other venues took effect Friday on U.S. military installations throughout Italy, much the same as they did in the rest of the country.  
Service members at U.S. Army Garrison Italy, headquartered in Vicenza, must be vaccinated to eat in the food court or at restaurants, or use the gym and movie theater, according to a recent general order.
Unit leaders will conduct spot checks for vaccination cards, garrison officials said.  
Proof of a negative coronavirus test or recovery from the virus isn't being accepted for entry under the Army general order, but officials were discussing whether to amend the order to include those alternatives, a garrison spokesman said.  
Requirements at Naval Support Activity Naples and Aviano Air Base for the same activities were more consistent with an Italian decree requiring people 12 and older to show one of the following: proof of vaccination, recovery from COVID-19 within the last six months or a negative test within the past 48 hours.  
The requirements were approved by Italy last month to stem the rise in COVID-19 case numbers fueled by the highly contagious delta variant.  
People who meet the requirements are eligible for Italy's "green pass" certification, allowing them inside restaurants, museums, bars, sports arenas and other places.  
The U.S. Embassy in Italy announced this week that the U.S. Centers for Disease Control and Prevention vaccination card would be accepted as equivalent to the green pass.
Military officials have said they are working with Italy to allow vaccinated Americans to be registered in the Italian green pass system, but they aren't sure when or if that will happen.  
In Germany, vaccinated Americans can present their CDC cards to off-base pharmacies, receive a QR code and enter them into a smartphone app that verifies their status.
The documentation requirements don't apply to entry for exchange stores, commissaries, hospitals, religious services, schools or day care centers at the Italy installations. Most outdoor activities will not be affected, military officials said.
At NSA Naples Capodichino, signs explaining the requirements were posted Friday just inside the door at the Bella Napoli food court.  
The base said a "watch team" will spot-check documentation at food courts and restaurants at Capodichino and its support site in Gricignano di Aversa.  
"Though we may not have people checking at the front door, members of our watch team will be roving periodically to check for proof of a green certification," NSA Naples said in a Thursday Facebook post. "By sitting at tables indoors, our community members are agreeing to random green certification verification."  
But in other cases, such as at the gym, indoor pool or bowling alley, NSA Naples warned people that they could be asked to show verification at the door.  
At the Capodichino gym, an attendant was verifying certification Friday.
Base officials said they will check certification at the movie theater and warned people not to buy tickets online if they couldn't show documentation. They advised people to carry paperwork, such as a CDC card, or have clear photos of their documents.  
Aviano Air Base officials said personnel will check for vaccine documentation at all venues where they are necessary for entry, during a Facebook town hall meeting Thursday.
Those who violate the measure can be fined up to $1,000, base officials said.
Brig. Gen. Jason E. Bailey, commander of the 31st Fighter Wing at Aviano, said during the meeting that it is likely the Defense Department will soon mandate vaccination for its personnel. 
Naval Air Station Sigonella said in a Friday Facebook post that proof of vaccination, along with an ID card, is required at restaurants, gyms, the bowling center, movie theater, a pub and other venues.
The base will verify vaccination status at points of sale and by roving personnel, the post said. More information be available soon on the ability to participate in sports, Sigonella officials said. 
Stars and Stripes reporters Nancy Montgomery and Norman Llamas contributed to this report.