CDC card will grant access to venues in Italy when coronavirus rules change Friday
Stars and Stripes
August 4, 2021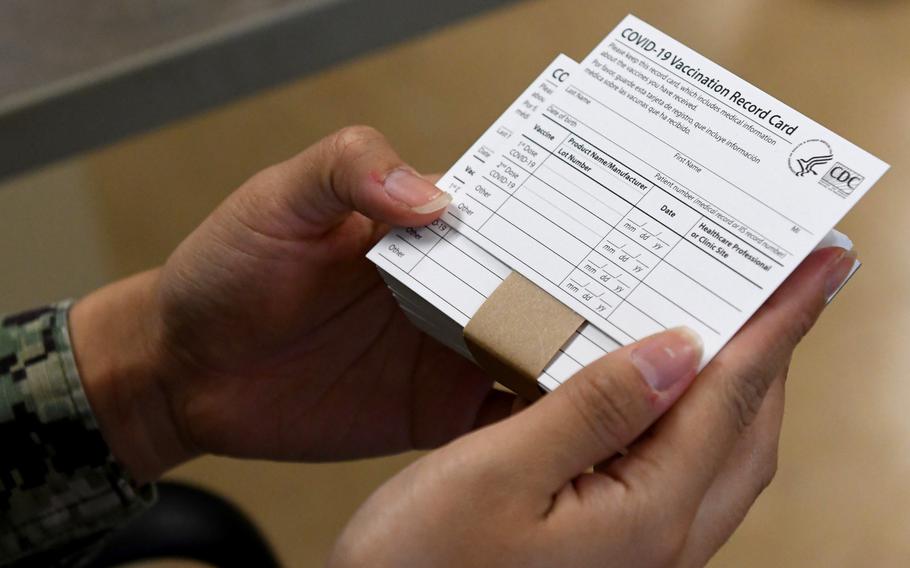 This story has been updated.
NAPLES, Italy — Americans may use their U.S. Centers for Disease Control and Prevention vaccination cards in place of Italy's "green pass" to enter restaurants and visit venues when new COVID-19 restrictions take effect Friday. 
The U.S. Embassy in Italy made the announcement Wednesday on its website, citing a July 29 ordinance issued by the Italian Health Ministry. 
The ordinance, which updates restrictions and requirements for entry into Italy, states that health certificates issued by five countries, the U.S. among them, will be accepted in place of Italy's green pass. 
The four other countries on the list are Canada, Japan, Israel and the United Kingdom. 
With the number of COVID-19 cases rising because of the delta variant, Italy approved a plan last month requiring the green pass for people 12 and over to enter various public places, including inside restaurants and gyms, movie theaters and pubs.
To be eligible for a green pass, people must prove they have received at least one vaccine dose at least 14 days prior, recovered from COVID-19 in the past six months or tested negative in the previous 48 hours.  Aviano Air Base and U.S. Army Garrison Italy in Vicenza have posted assurances on Facebook that the CDC vaccination card would be accepted. Naval Support Activity Naples referred personnel to the U.S. Embassy and Consulates in Italy website for guidance on use of the CDC cards.
NSA Naples said the Italian restrictions would limit access to some base facilities, including indoor gyms, pools, restaurants and movie theaters, to people who are vaccinated or could meet other green pass requirements. People ages 12 and older would need to show vaccine documentation to enter those facilities starting Friday, which would include either a vaccination card, proof of recovery from COVID-19 within six months, or a negative test within 48 hours . The base said on Facebook that it would provide an update about the process soon.
NAS Sigonella said Wednesday that the decree would have similar impacts to its base services and anticipated some services would require proof of vaccination. More details would be coming soon, the base said in a Facebook post. 
At U.S. Army Garrison Italy in Vicenza, use of indoor locations such as gyms, the movie theater and base exchange restaurants will be limited to vaccinated personnel, officials there said.  Signs on the rules will be posted and people will be asked to show their CDC cards only in spot checks.  
Proof of a negative coronavirus test or virus recovery is not currently accepted for entry under the Army general order, but officials are discussing whether to amend the order to include those alternatives, a garrison spokesman said. 
It wasn't clear how the Italian decree would impact operations at Aviano Air Base, which scheduled a 5 p.m. Thursday town hall meeting on Facebook to discuss it.  
Personnel and dependents should carry their CDC cards and copies of the Italian decree in English and Italian, to ease entry to off-base venues, military officials advised.