'Serious situation': Japanese officials discourage beach visits during COVID-19 surge
by
Hana Kusumoto and Alex Wilson
Stars and Stripes
August 4, 2021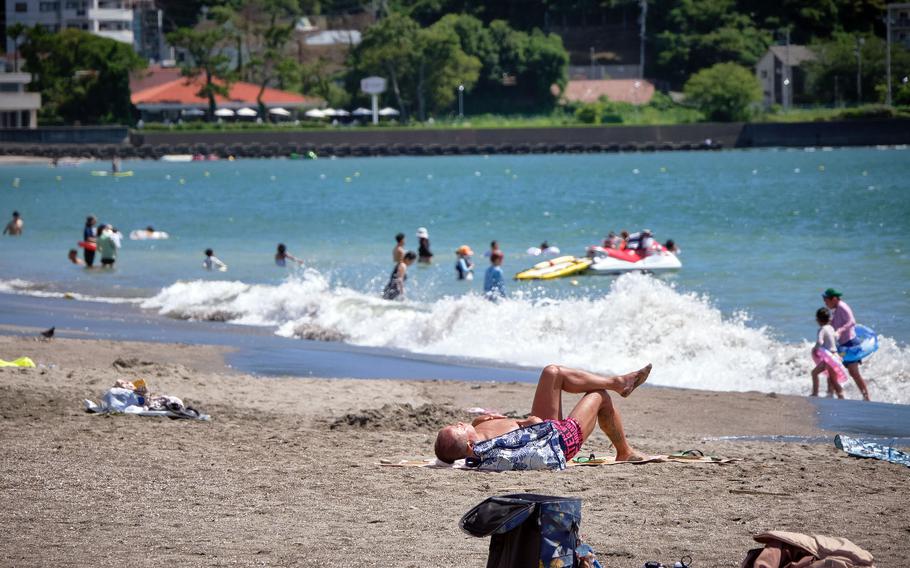 YOKOSUKA NAVAL BASE, Japan — Local authorities in Kanagawa prefecture are putting a pandemic damper on summer fun by discouraging visits to popular beaches to slow the coronavirus' spread.
But official bans at the beaches in Zushi and Hayama, on Sagami Bay about seven miles west of Yokosuka, may be weakly enforced, at least in Zushi, a city official there said Wednesday.
With temperatures set to reach 98 degrees the next two days in the greater Tokyo metropolitan area, and with the city center off-limits to the U.S. military, Kanagawa's beaches beckon off-duty service members and their families.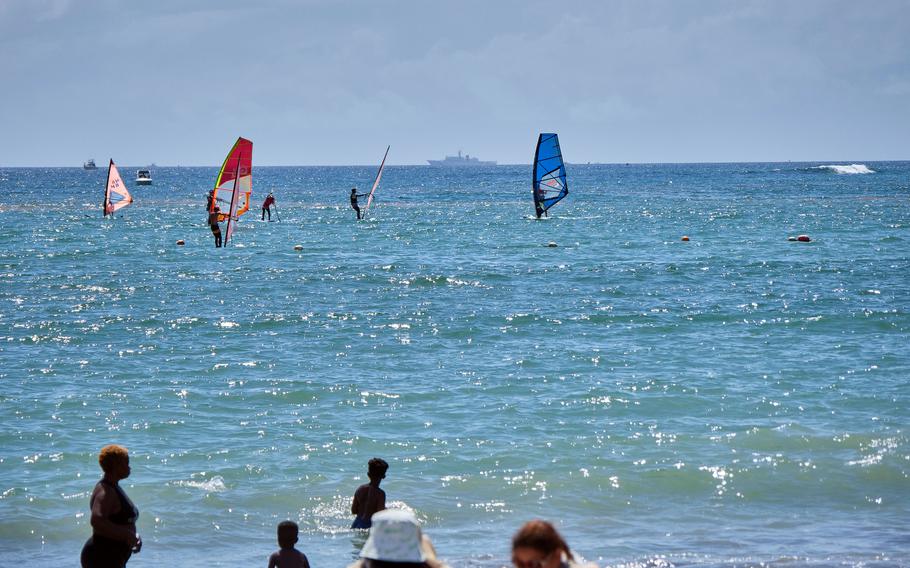 However, a surge in cases of COVID-19, the coronavirus disease, prompted the central government to impose a state of emergency in Kanagawa along with neighboring Tokyo and Chiba, Saitama and Osaka prefectures. The declaration took effect Monday and lasts through Aug. 31.
The numbers of newly infected people announced each day in the greater metro area are the highest of the pandemic, thus far.
"The number of new positive cases within the prefecture is increasing dramatically with cases over 1,000 a day," said a July 30 statement by Yuji Kuroiwa, governor of Kanagawa prefecture. "I have to say that we have entered a serious situation in regard to the spread of infection."
Once the emergency took effect, Zushi city and the town of Hayama announced their beaches would close. Yokosuka passed that word to its population by social media.
Zushi, which attracts visitors from neighboring prefectures, cited the surging virus and the emergency, the head of the city's economic and tourism division, Hidemasa Kuroha, told Stars and Stripes.
"There could also be risks of infection while people travel to Zushi," he said Tuesday by phone.
However, Kuroha said, Zushi cannot legally prevent people from coming to the beach, though the city wants people to stay away. Visitors are expected there throughout the summer, he said.
For anyone affiliated with nearby Yokosuka, coronavirus restrictions imposed by base commander Capt. Rich Jarrett don't expressly prohibit a trip to the beach.
However, U.S. service members, Defense Department civilians, contractors and their families are expected to comply with the emergency measures, a base spokesman said Wednesday.
"We've asked our community to abide by this request from the Japanese government," spokesman Randall Baucom told Stars and Stripes by phone. "It's important that we abide by these requests and remain good partners with the Japanese community."
Kuroha said lifeguards and security personnel will be at the beach to encourage people to abide by city rules, which include bans on alcohol, loud music, barbecue grills and visible, "threatening" tattoos.
Visitors will be expected to limit their stays, he added.