US military in Japan reports 11 new coronavirus patients; Tokyo has another record-breaking day for cases
by
Joseph Ditzler
Stars and Stripes
August 4, 2021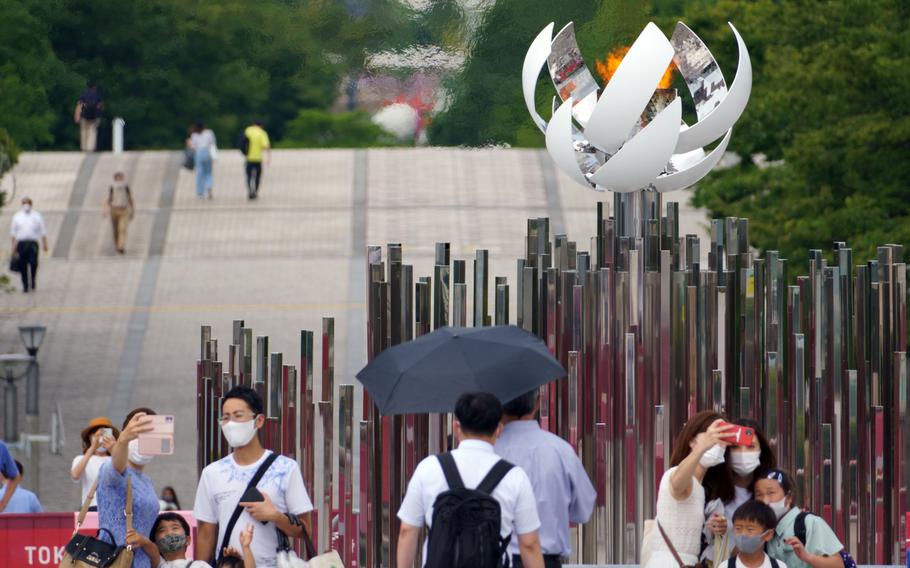 TOKYO – The fifth wave of coronavirus in Japan's capital city set its third one-day record for new infections with 4,166 cases on Wednesday, according to public broadcaster NHK.
The unprecedented viral surge in Tokyo coincides with forecasts for two days of scorching, 98-degree heat and potential rain from a tropical storm passing on Saturday. And the delayed 2020 Olympic Games are heading into their final four days.
Wednesday's number of newly infected people is close to 1,000 more than a week prior, 3,177, illustrating the dramatic rise in case numbers, according to data from the metropolitan government.
Farther south, Okinawa prefecture expected another 600 people to test positive on Wednesday, a new one-day record, according to NHK, which cited an unidentified source. Gov. Denny Tamaki this week called on the island's young people, especially, to abide by emergency measures, refrain from socializing and to get vaccinated.
The U.S. military in Japan on Wednesday reported 11 new infections from the previous week, all affiliated with U.S. Army Japan.
Four people fell ill with symptoms of COVID-19, the coronavirus respiratory disease; one individual tested positive for the virus as part of pre-travel screening; and six tested positive in quarantine after having contact with a previously infected person, according to an Army news release.
Japan reported 12,045 new cases on Wednesday, according to the Johns Hopkins Coronavirus Resource Center, 295 shy of Saturday's one-day record. Nearly 31% of Japan's population is fully vaccinated.
At the Olympic Games, another 29 people tested positive, according to the Tokyo 2020 update Wednesday. They include 19 contractors, four athletes, four volunteers and two members of the media.
Since July 1, 322 people associated with the Olympics, including 28 athletes, have tested positive for the coronavirus.
Okinawa, Tokyo, the surrounding prefectures of Chiba, Saitama and Kanagawa and, to the west, Osaka, are under states of emergency due to rising case numbers.