US military concludes working week with 43 coronavirus cases in Japan, South Korea
by
Joseph Ditzler
Stars and Stripes
August 6, 2021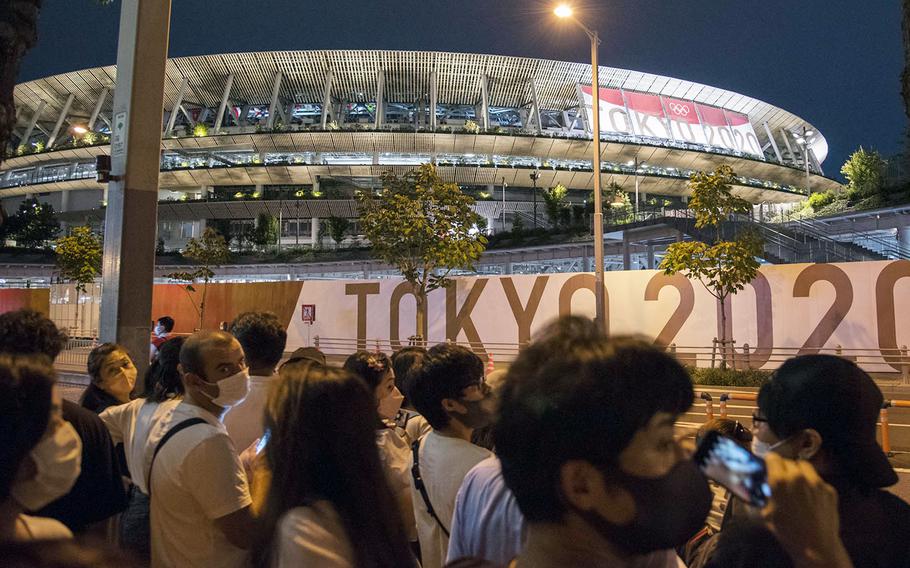 TOKYO – The coronavirus pandemic on Friday dug deeper into Japan's capital city, host of the delayed 2020 Olympic Games, with another 4,515 newly infected people and four dead, public broadcaster NHK reported.
Friday was the third day the Tokyo Metropolitan Government reported more than 4,000 new cases, and the fourth day exceeding 3,000, according to its own data. The metro area reached a new pandemic high on Thursday with 5,042 people testing positive for the virus.
Tokyo 2020, the Olympics organizing committee, on Friday reported 29 people associated with the games tested positive for the coronavirus, including 19 contractors, six people with the committee, two volunteers, one media representative and one employee. Since July 1, the games have reported 382 positive test results.
Meanwhile, the U.S. military in Japan on Friday reported 39 new COVID-19 cases from the past week. The U.S. command in South Korea reported four.
Yokosuka Naval Base, in Kanagawa prefecture south of Tokyo, had 10 people test positive since Tuesday, according to a base news release. Four are unimmunized individuals affiliated with the Navy. Three fell ill with COVID-19 symptoms and one turned up in contact tracing.
Another three are immunized. One developed symptoms and two were discovered during a medical screening.
Three are unimmunized base employees. One fell ill, one turned up in contact tracing and one was discovered during medical screening, according to the naval base. Yokosuka has 28 active cases of COVID-19.
Naval Air Facility Atsugi, also in Kanagawa, reported two new COVID-19 cases Friday, according to a news release from the base. One had fallen ill and the other was a close contact of a previously infected person. The air facility is monitoring 17 active cases.
Kanagawa prefecture expected to exceed 2,000 new infections on Friday, the highest one-day total of the pandemic there, according to NHK. Tokyo, along with neighboring Kanagawa, Saitama and Chiba prefectures, and Okinawa and Osaka, are under a public health state of emergency until Aug. 31.
Yokota Air Base in western Tokyo said seven people had turned up positive between July 31 and Friday. Three arrived recently in Japan from the U.S. and four were identified by base public health authorities, according to a weekly update on the base homepage.
Farther south, Sasebo Naval Base on Kyushu Island said one person with the virus was discovered during a medical screening, according to a Facebook post by the base Friday.
Kadena Air Base on Okinawa said 17 people there tested positive between July 31 and Aug. 6, according to its homepage Friday. Kadena has 22 cases under observation.
The Marine Corps reported two new cases of COVID-19 at its bases on Okinawa, according to a Facebook post by Marine Corps Installations Pacific on Friday.
Okinawa prefecture, whose governor has described the coronavirus surge there as the worst of the pandemic, reported 565 people tested positive for COVID-19, its highest one-day total, according to the prefectural Public Health Department.
In South Korea, four service members tested positive on Tuesday and Wednesday, according to a news release from U.S. Forces Korea.
Two fell ill, one each at Osan Air Base and Camp Humphreys, and tested positive Tuesday and Wednesday, respectively.
At Osan, two more individuals turned up positive, one on Tuesday during surveillance testing and the other on Wednesday during contact tracing.
Stars and Stripes reporter Mari Higa contributed to this report.