One of the first Rota-based Navy destroyers heads back to US after 8 years
By
Stars and Stripes
September 8, 2022
---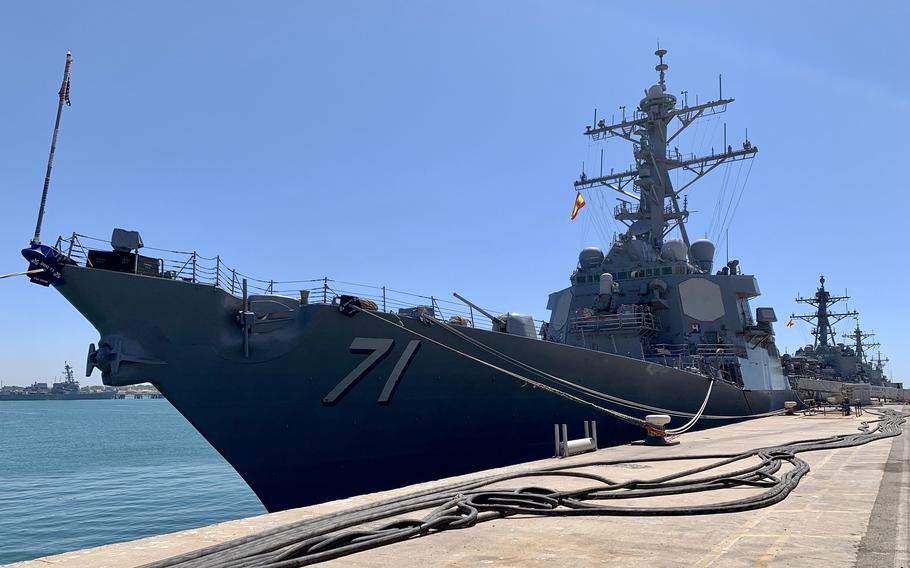 NAPLES, Italy — The destroyer USS Ross is coming back to America after an eight-year presence in Europe that included a missile launch following a purported Syrian chemical weapons attack and a Mediterranean Sea mission at the onset of Russia's February invasion of Ukraine.
USS Ross, one of four destroyers based at Naval Station Rota in Spain, left the U.S. Naval Forces Europe-Africa/U.S. 6th Fleet area of responsibility on Tuesday for its new home in Norfolk, Va., the Navy said Wednesday in a statement.
The homeport shift is part of the service's plan to gradually rotate its four destroyers at Rota, forming a key element of NATO ballistic missile defense in Europe.
Capt. Ed Sundberg, commander of Destroyer Squadron 60 and Task Force 65, said the Ross team played a critical role in building relationships with allies and partners, ultimately helping to bolster NATO capabilities.
In April 2017, Ross and Porter launched 59 Tomahawk missiles while positioned in the Mediterranean into a Syrian airfield thought to be the origin of chemical attacks by President Bashar al-Assad's regime against a rebel-held village in the country's western region, Stars and Stripes reported at the time.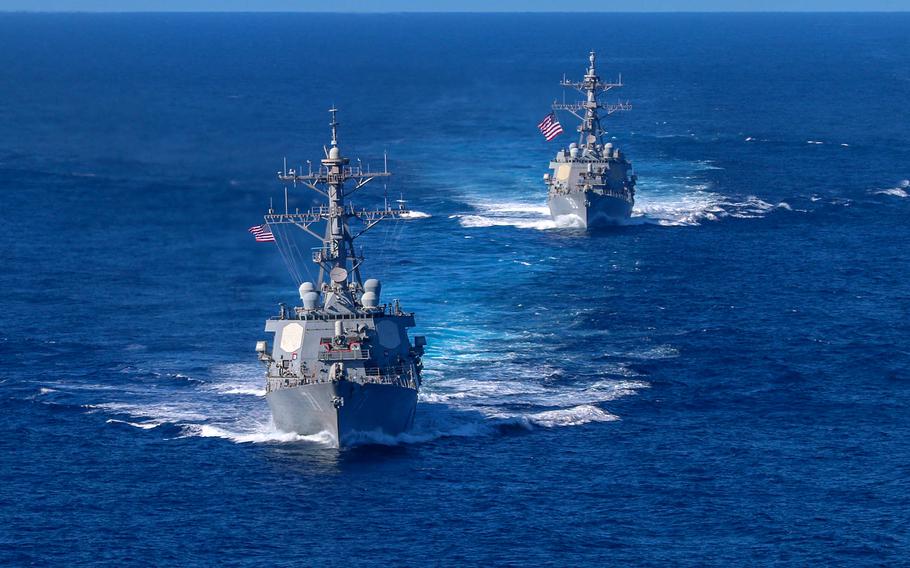 The series of strikes on Shayrat airfield resulted in the destruction of 20 Syrian fighter planes, fuel facilities and radar, and killed seven Syrian troops.
In February, Ross joined France's Charles de Gaulle carrier strike group during its deployment to the eastern Mediterranean as Russia prepared to launch its attack on Ukraine.
At the time, analysts characterized the buildup of NATO naval forces in the region, including the USS Harry S. Truman and Italian Cavour carrier strike groups, as among the largest seen in decades.
In June 2014, Ross arrived in Spain, joining Cook as the first two Rota-based destroyers assigned to Task Force 65, the Navy said.
Later that same year, three Ross sailors on liberty in Istanbul were attacked by members of a Turkish protest group, yelling "Yankee go home." The sailors, one who briefly had a bag put over his head, were able to get away from the group without injury and return to the Ross, the Navy said at the time.
Ross completed 12 patrols in the 6th Fleet area, sailing the Baltic, Barents, Black and Mediterranean seas, among others.
It also spent time in the Arctic Circle and off the coast of Africa, and participated in multiple trainings and exercises, according to the statement.
Ross' accomplishments also include joining the Charles de Gaulle carrier group in February 2020 to support Operation Inherent Resolve, targeting ISIS in Iraq and Syria.
In March 2020, the crew of the USS Ross saved three people during a search and rescue operation in the Sea of Marmara near Turkey.
Tuesday's departure was bittersweet, noted Cmdr. Scott Jones, Ross commanding officer. The ship's crew would "not soon forget the lessons we have learned, or the friendships we have made," he said.
Ross is named after Donald Kirby Ross, who received the Medal of Honor for his actions during the Japanese attack on Pearl Harbor in 1941.
USS Paul Ignatius, which arrived in theater in June, replaces Ross. USS Arleigh Burke and USS Roosevelt already have relieved USS Donald Cook and USS Carney, respectively, the statement said.
A fourth rotation also is planned but the Navy has not yet announced when USS Porter will leave. USS Bulkeley arrived last month.
---
---
---
---