Navy's top officer says morale high aboard Rota-based destroyers, following critical Pentagon report in March
By
Stars and Stripes
August 24, 2022
---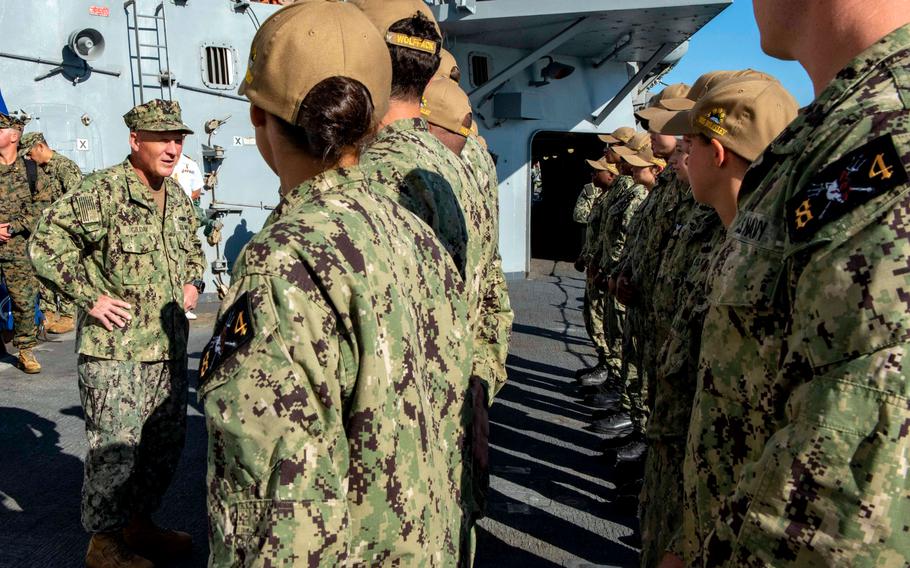 NAVAL STATION ROTA, Spain — The Navy is becoming more adept at balancing the well-being of sailors on destroyers deployed to Europe with the demands of defending U.S. and NATO interests, according to the service's top officer.
Chief of Naval Operations Adm. Michael Gilday told Stars and Stripes that the crews aboard the ships are benefiting from modifications to their training schedules and a shift in focus to the work that commanding officers believe is most important to the ship and its mission.
His comments came in the wake of a highly critical March study ordered by Defense Secretary Lloyd Austin that cited significant concerns about the capabilities at Rota for preventing sexual assault, harassment and suicide.
"We've given time, discretionary time, back to those (commanding officers) and to those crews," Gilday said by phone Saturday from Edinburgh, Scotland.
Changes include placing more emphasis on the metrics and results of warfare training, rather than overvaluing the time spent on training.
Gilday shared his observations after visiting Spain last week. During the trip, he spoke with commanding officers and sailors aboard the destroyers USS Arleigh Burke and USS Bulkeley.
Destroyers USS Paul Ignatius and USS Roosevelt also are homeported at Rota, while USS Ross and USS Porter will return to the U.S. in the fall, the Navy said last week.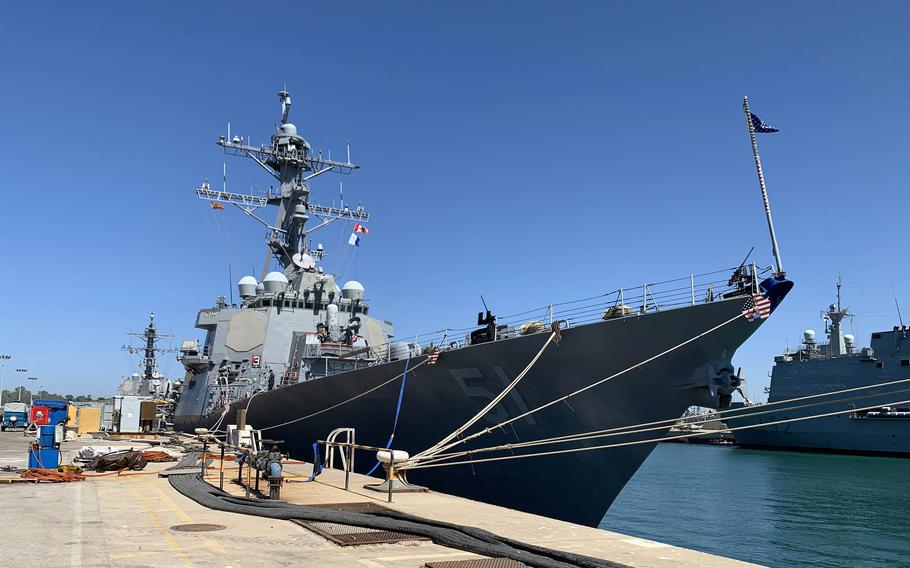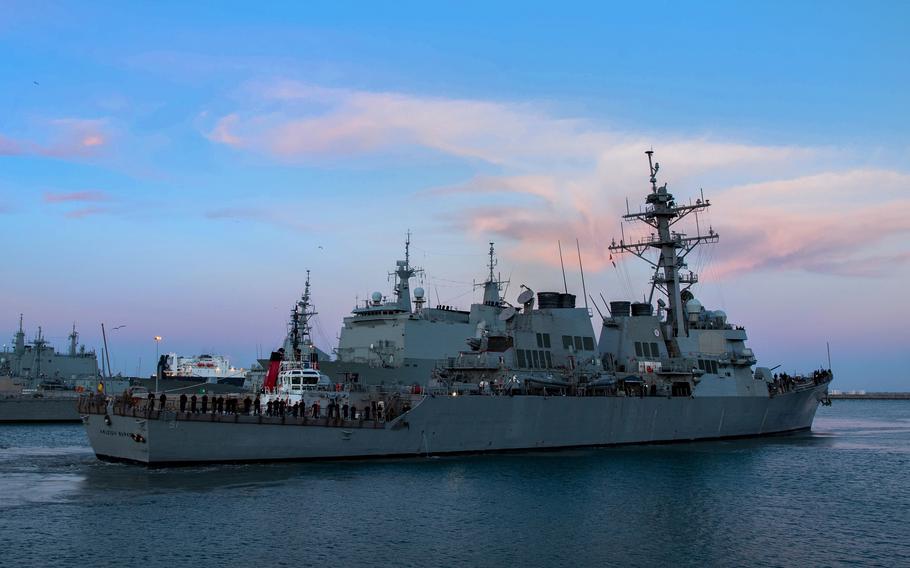 The CNO's visit, which coincided with the arrival of Bulkeley to its new homeport, was part of a multi-city tour of Europe that included meetings in London with British navy officials and a stop at the U.K.'s Naval Base Clyde in Faslane, Scotland.
The Defense Department's March evaluation report, which reviewed 20 stateside and overseas U.S. military installations in 2021, found that Rota and Army garrisons in Germany had the most areas of concern identified in the report.
"Command climates tolerated harmful behaviors and an inability to access resources due to mission requirements or geographic dispersion of services," it said.
The report further concluded that at Rota, "mission requirements were prioritized above and at the expense of the sailors' well-being."
Sailors stationed there reported bullying, sexual harassment, mental health issues and relationship problems but couldn't seek help because of mission needs, according to the report.
Concerns were especially prominent for the destroyer squadron based at Rota, resulting in a recommendation that the Navy improve communication and reassess resources and requirements for the destroyers.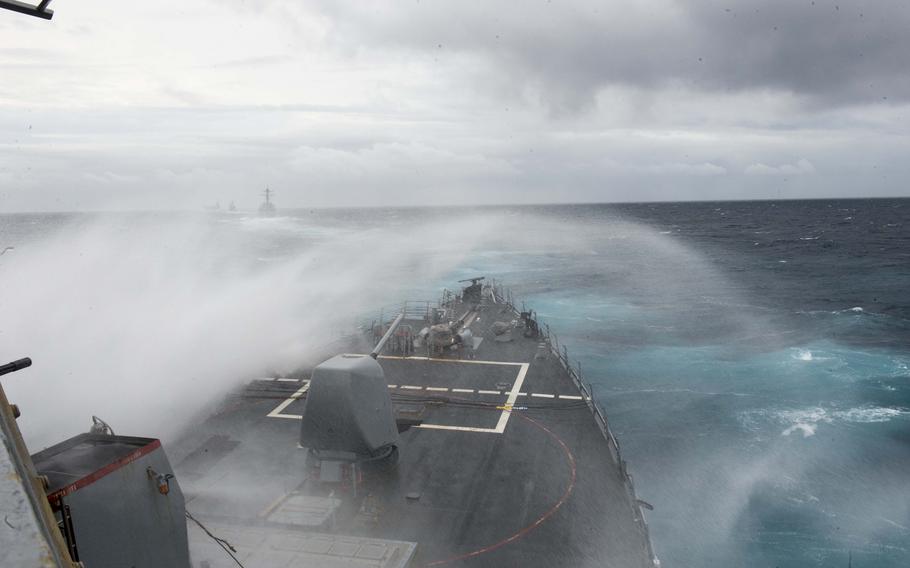 The study also recommended the service "make adjustments that enable the ships to prioritize the sailors' well-being both at sea and in port."
Evaluating the welfare of Arleigh Burke sailors and ensuring that the ship was balancing significant time at sea with sufficient in-port time was a priority during the visit, Gilday said.
Arleigh Burke arrived in theater in April 2021, completing a monthslong patrol in December 2021. It left in June for a second patrol. On Thursday, Arleigh Burke was dockside in Rota.
"What struck me the most is just the high readiness and high morale of those two groups," Gilday said, referring to Bulkeley and Arleigh Burke sailors.
Gilday said he had the impression that the ship's sailors are getting adequate ashore time. That sense was gleaned through conversations with many sailors to learn about their experiences, challenges and thoughts on a variety of issues, said Cmdr. Courtney Hillson, a spokeswoman for Gilday.
Gilday also had a conversation about family and personnel readiness with a small group of commanding officers and their wives, she said.
Evidence of preparedness and esprit de corps was found in the pride sailors took in their ships and their enthusiasm for the mission, Hillson said. In the case of the Arleigh Burke, it also was demonstrated in how the crew supported each other after the death of Seaman Recruit David Spearman, who went overboard in the Baltic Sea earlier this month, she said.
A waterfront service center offering counseling and other mental health treatment just steps away from docked ships has improved sailors' well-being, as has the deployment of chaplains on all destroyers, Gilday said.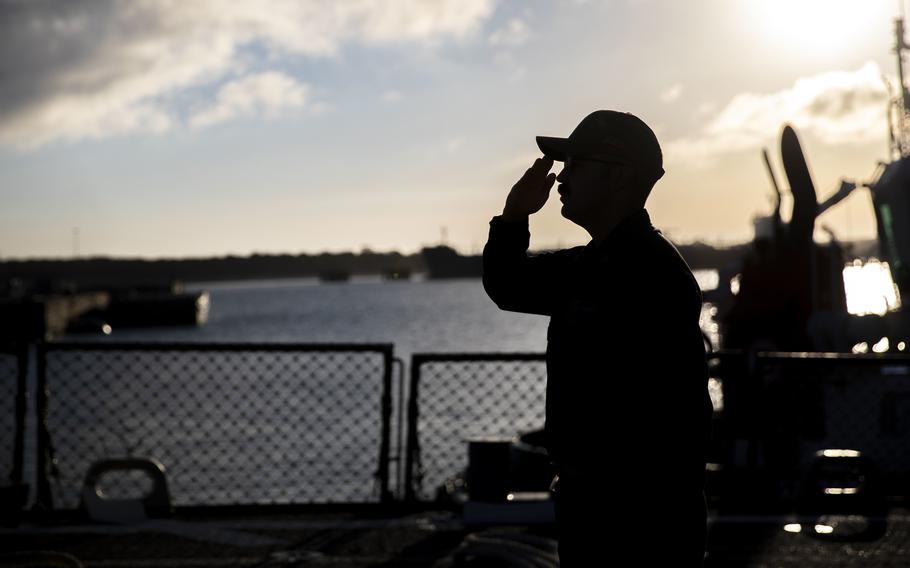 More than a third of the service's mental health professionals are closer to where sailors are working, such as at ports or aboard ships, Gilday said.
"We've taken them out of our medical treatment facilities and pushed them to where we can have immediate contact or rapid, close contact with the fleet," he said. "That is going to continue."
Meetings with Spanish officials as well as the British navy's military head, Adm. Ben Key, also were an important focus of the visit, Gilday said.
The trip offered an opportunity to deepen a professional relationship with Key and reaffirm a commitment between the navies to not only work together but also be more interchangeable, such as completing like missions for each other, Gilday said.
For example, British ships sometimes escort U.S.-flagged tankers through the Strait of Hormuz in the Middle East when a U.S. ship may not be available, he said.
"That's the kind of thing we would want to see more routinely," Gilday said.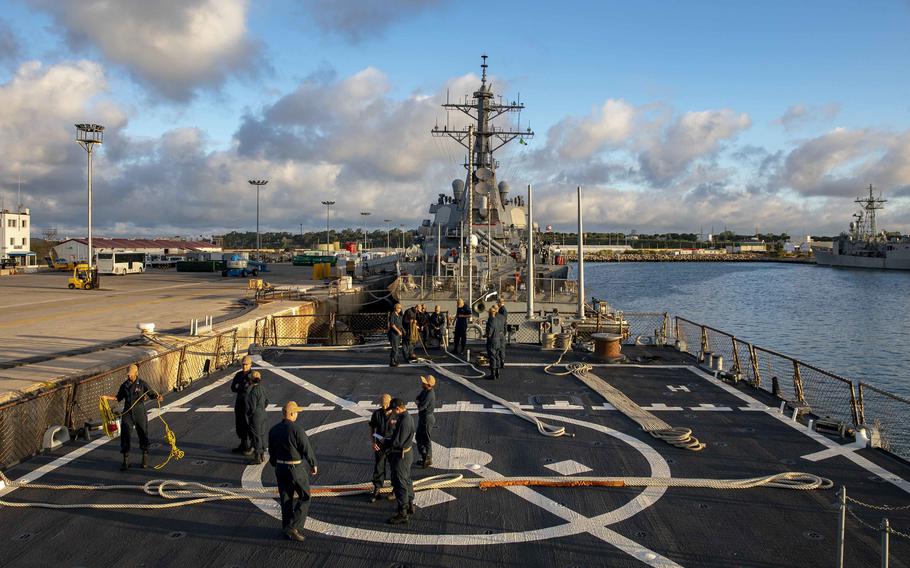 ---
---
---
---