Navy exercise in Black Sea proceeds at a distance as Ukraine fights along its own shores
By
Stars and Stripes
July 18, 2022
---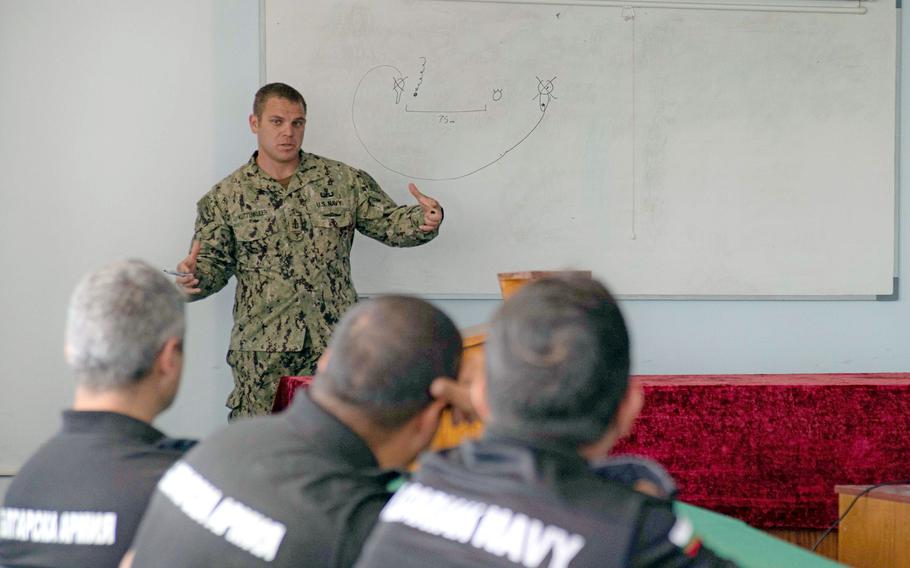 NAPLES, Italy — U.S. naval forces are taking part in a Black Sea exercise and visiting a Turkish city this week, bringing with them a message of NATO solidarity in the face of Russian aggression in Ukraine.
Navy P-8A Poseidon patrol and reconnaissance planes from Task Force 67 based at Naval Air Station Sigonella in Sicily and expeditionary units from Task Force 68 based at Naval Station Rota in Spain are slated to participate in Breeze 2022, based in Bulgaria, Naval Forces Europe-Africa/U.S. 6th Fleet announced Friday.
The Bulgarian port of Varna is about 370 miles south of the Ukrainian city of Odesa, which has been under attack by Russian forces.
Meanwhile, USS Bainbridge, currently deployed to the USS Harry S. Truman Carrier Strike Group, made a scheduled port visit in the Sea of Marmara to Aksaz, Turkey, on Monday, the Navy said in a separate statement.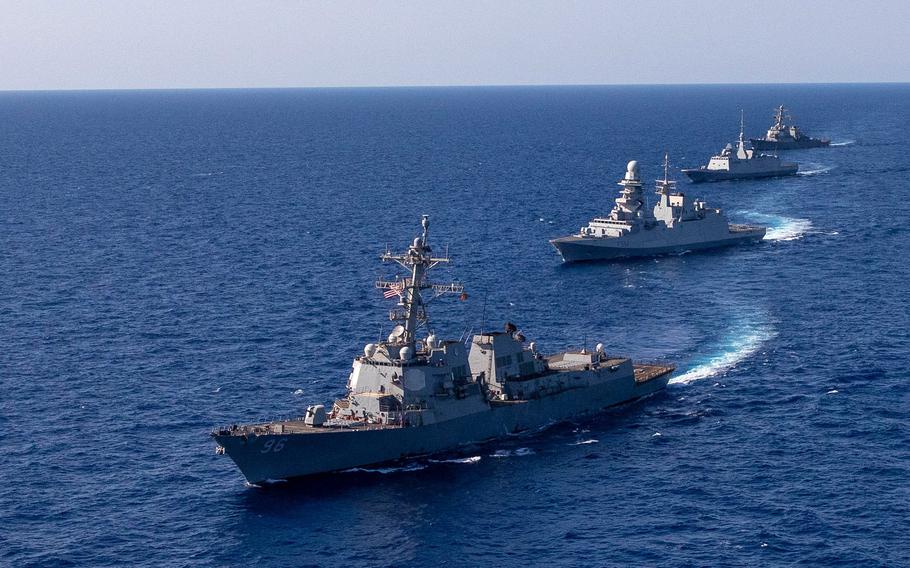 The visit "provides another signal that the cohesion of the alliance is as strong as ever," said Cmdr. Desmond Walker, Bainbridge's executive officer.
Soon after Russia launched its full-scale invasion into Ukraine on Feb. 24, Russian Black Sea Fleet submarines and patrol boats enforced a maritime blockade in the northern Black Sea, making it impossible for cargo ships, including those with Ukrainian grain, to safely transit the area.
That's eased somewhat in recent days after Russian forces abandoned the strategic stronghold of Snake Island, which allowed shipments of Ukrainian agricultural products to begin transiting through the Danube-Black Sea Canal in Romania, the Ukrainian navy tweeted on July 11.
Additionally, Ukrainian strikes on Russian ships, including the sinking of the guided missile cruiser Moskva in April, have resulted in fewer Russian patrols near Odesa.
However, fears of Russian attacks on merchant vessels and other watercraft remain. Last year, Russia threatened to fire on ships participating in the annual U.S.- and Ukraine-led multinational maritime exercise Sea Breeze if they intruded into Russian territorial waters.
The threat followed a heated dispute in June 2021 involving a British warship traveling through the Black Sea.
Led by the Bulgarian navy, Breeze started Thursday and will take place in and around the cities of Burgas and Varna though July 25, the Bulgarian News Agency reported Thursday.
It will include 24 warships, cutters and auxiliary vessels, five planes and four helicopters manned by 1,390 naval personnel from 10 NATO member countries, including Albania, Belgium, Greece, Italy, Latvia, Poland, Romania and Turkey, according to the news agency.
Task Force 68 units plan to take part in several events, including mine response, remote-operated vehicle searching techniques and underwater ordnance reconnaissance, the Navy said.
Bainbridge's visit to Aksaz makes it at least the second by a Navy destroyer to the city since Russia invaded Ukraine in February.
USS Mitscher, then also deployed to the 6th Fleet area of operations, visited in March. Mitscher since has returned to its homeport in Norfolk, Va.
Truman mostly has sailed in the Ionian, Adriatic and Mediterranean seas, supporting patrol and training flights in Eastern Europe since being deployed to the U.S. 6th Fleet area of responsibility in December.
Truman also sailed in the northern Aegean Sea in March. It is expected to be relieved by the USS George H.W. Bush Carrier Strike Group in August, USNI News reported July 11.
---
---
---
---