Commander of Pearl Harbor's Red Hill facility relieved of duty following a third fuel spill
By
Stars and Stripes
April 5, 2022
---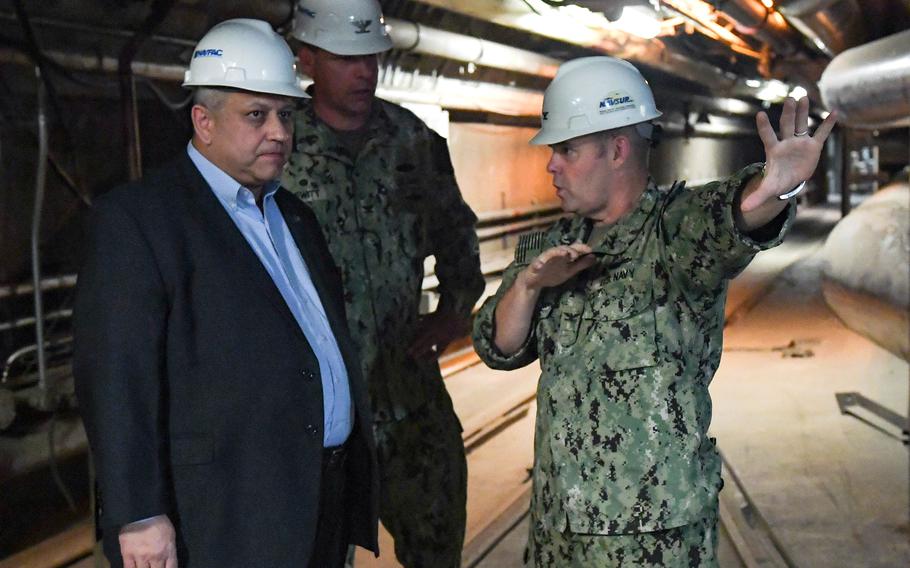 The Navy officer who oversaw the fuel storage facility thought to be the source of jet fuel contaminating the water supply to thousands of homes on and near Joint Base Pearl Harbor was relieved of duty Monday, the Navy said.
The Navy took the action against Capt. Albert Lee Hornyak, commanding officer of Naval Supply Systems Command Fleet Logistics Center, citing a lack of confidence in his ability to perform his duties following a series of leadership and oversight failures at the Red Hill Bulk Fuel Storage Facility in Honolulu, a Navy statement said Monday.
Hornyak had served as commanding officer since August. Rear Adm. Kristin Acquavella has been temporarily assigned as commanding officer while a replacement is identified, the Navy said.
Rear Adm. Peter Stamatopoulos, NAVSUP commanding officer, relieved Hornyak of duty. Stamatopoulos also will assign additional senior fuel supply experts to assist Acquavella, the statement said.
It wasn't clear where Hornyak was reassigned. Commanding officers are typically sent to a higher headquarters command following an involuntary relief, while their future with the service is determined.
Hornyak previously served as the military deputy at the Office of Research and Engineering, director of Advance Capabilities, Prototyping and Software in the Office of the Secretary of Defense from September 2020 through July, according to his LinkedIn profile.
He also served as the ordnance logistics director for U.S. Pacific Fleet at Pearl Harbor from August 2018 to September 2020, among multiple military assignments since 2003.
The decision to remove Hornyak follows an additional spill Friday at the beleaguered underground facility, which the Navy said released "no more than 30 gallons of a water and fuel mixture."
That spill — the third in less than a year — happened during routine maintenance that flushes water out of holding tanks, the Navy said in a Friday statement.
In November, Adm. Samuel Paparo, head of U.S. Pacific Fleet, ordered an investigation into the causes of Nov. 20 and May 6 fuel leaks from Red Hill after jet fuel turned up in one of three wells the Navy uses for its water distribution system.
Last month, Defense Secretary Lloyd Austin ordered the facility permanently closed.
---
---
---
---