Army leaders convene with allies to review Ukraine war lessons
By
Stars and Stripes
July 7, 2022
---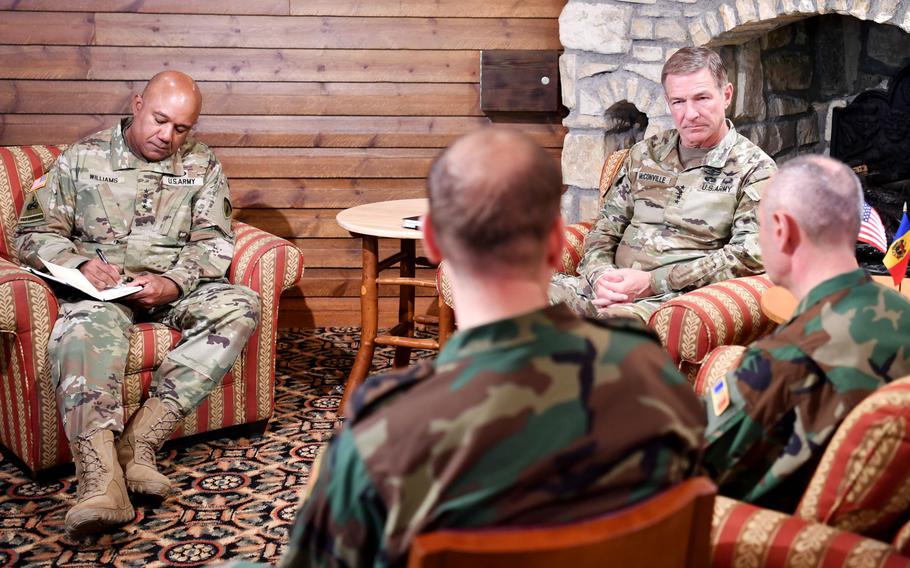 STUTTGART, Germany — The implications of drones and long-range artillery were among the Ukraine war topics discussed by U.S. Army leaders and other allied commanders Thursday, as they assessed the path forward for an alliance still adapting to Russia's unprovoked invasion.
"We are getting lessons learned," Gen. James McConville, Army chief of staff, told reporters following the gathering of leaders in the Alpine town of Garmisch-Partenkirchen, Germany.
More than 30 countries were part of U.S. Army Europe and Africa's conference of European armies, which included representatives of Ukraine and officials from prospective NATO members Finland and Sweden.
Gen. Darryl Williams, who took command of the Army in Europe last week, said his focus is on the fundamentals: making sure soldiers under his command are ready to deter aggressors and fight if necessary.
The war in Ukraine is providing important takeaways for the U.S. and allies, McConville said, including the imperative that commanders and foot soldiers be able to communicate on the move.
Given Russia's ability to hit targets from greater distances, effective communication requires "the ability to disperse your command and control," McConville said.
The war in Ukraine also has been a showcase for the effectiveness of drones on the battlefield, which means armies will need weapons system to counter the threat, he said.
"Much of the artillery being used is being targeted by unmanned aerial systems," McConville said.
Such lessons reinforce the Army's push in recent years to develop more long-range precision weaponry, he said.
Meanwhile, McConville said Sweden and Finland's expected accession will give the Army a boost in preparing its forces for battling in frigid terrain, where the Nordic states have expertise.
McConville said he looks forward to more collaboration between the Army's Alaska-based soldiers and Finnish and Swedish troops.
The meeting of allied land commanders comes one week after NATO's summit in Madrid, where President Joe Biden announced new troop commitments to Europe.
Among them: a new Army garrison in Poland, air defense units to be based in Italy and Spain, and a rotational brigade combat team to be based out of Romania.
But it's not clear when those units will take up their positions.
"The timeline is being worked out, and the exact timing is being planned and coordinated right now," McConville said.
---
---
---
---