Army nearly doubles the number of soldiers discharged for refusing the coronavirus vaccine
By
Stars and Stripes
April 7, 2022
---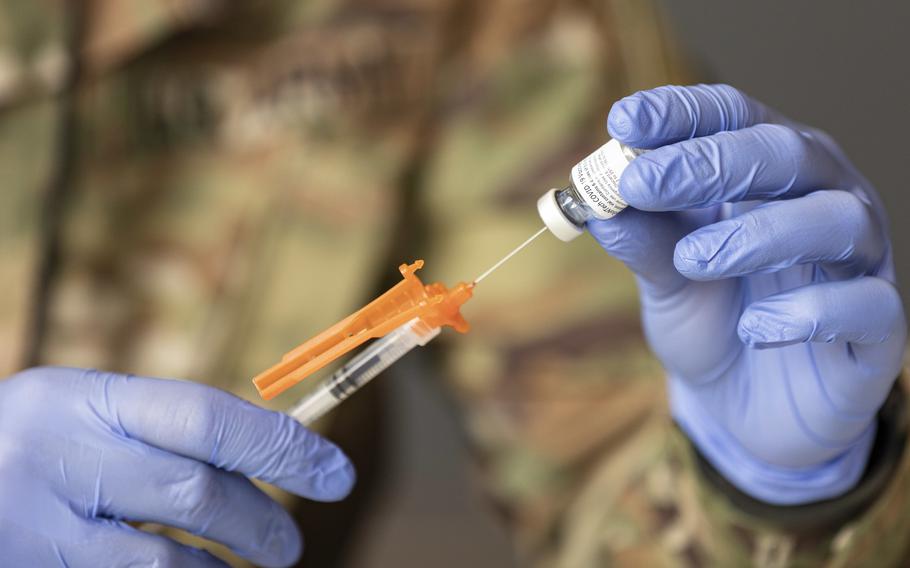 Stars and Stripes is making stories on the coronavirus pandemic available free of charge. See more stories here. Sign up for our daily coronavirus newsletter here. Please support our journalism with a subscription.
WASHINGTON — The Army nearly doubled the number of soldiers discharged for refusing the coronavirus vaccine in the past week, according to service data released Thursday.
The Army has now separated 176 soldiers as of Thursday for "refusing the lawful order to receive the [coronavirus] vaccine." That's up from 90 last week.
Comparatively, the Marine Corps has separated 1,409 Marines as of March 30, the Navy has separated 763 sailors as of Thursday and the Air Force has separated 250 airmen as of Tuesday, according to the latest data from the services.
The Army was the last of the service branches to begin kicking out troops who do not get the shots. Army Secretary Christine Wormuth ordered commanders in January to begin the process of booting soldiers who outright refused the vaccine. The first three soldiers were separated for that reason on March 18.
The Army has also relieved six service leaders from command — including two battalion commanders — and issued 3,330 general officer written reprimands to soldiers for refusing the vaccination order, according to the data.
Defense Secretary Lloyd Austin in August ordered all service members to receive the vaccine but allowed each service to determine their own timelines.
Some 97% of the Army's about 486,000 active-duty soldiers have been fully vaccinated, the service said Thursday. Those percentages remain unchanged from the previous week.
So far, the Army has approved two permanent religious waivers for the vaccine order, according to the data.
About 836 active-duty soldiers have been denied a religious exemption, and another 4,165 are awaiting decisions on their religious waiver requests. That number is up slightly from previous weeks as soldiers continue applying for such exemptions.
The Army has approved 20 permanent medical exemptions to the vaccine, as of Thursday. The service has denied 657 permanent waiver requests and another 699 are awaiting decisions.
Those denied exemptions to the Army's vaccine mandate have seven days to start the vaccination process or file an appeal of their denial before commanders are to begin the process of kicking them out, according to Wormuth's January order.
---
---
---
---