Second booster jabs being rolled out at military clinics in Europe to those eligible
By
Stars and Stripes
April 5, 2022
---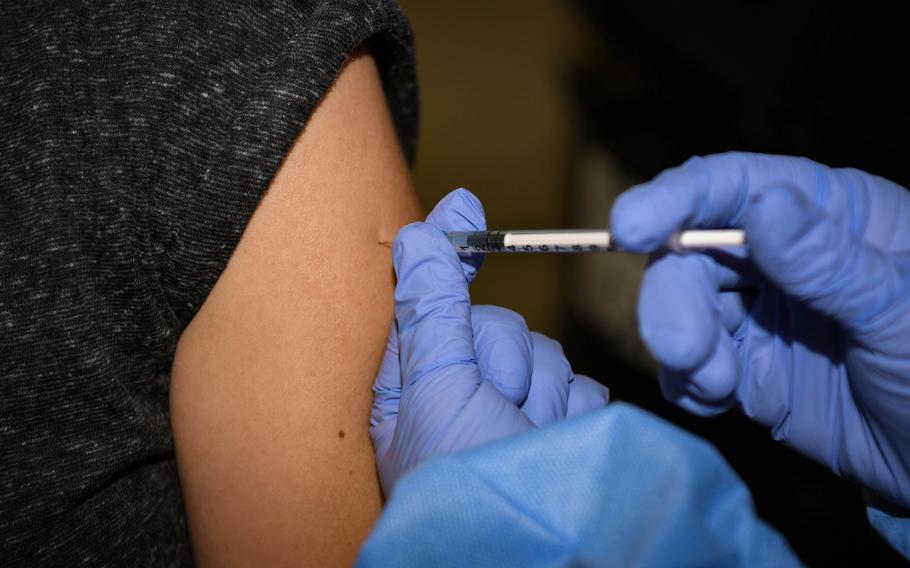 Stars and Stripes is making stories on the coronavirus pandemic available free of charge. See more stories here. Sign up for our daily coronavirus newsletter here. Please support our journalism with a subscription.
KAISERSLAUTERN, Germany — An additional COVID-19 booster shot for adults ages 50 and over and younger people with certain underlying health conditions will soon be available at many U.S. bases in Europe, military health officials said Tuesday.
It will be a fourth jab for most, and a fifth for those with conditions that made them previously eligible for three primary doses.
The Army in Europe received authorization this week to administer another booster shot following Defense Health Agency approval, said Gino Mattorano, a spokesman for Regional Health Command Europe.
The vaccine is voluntary and only available at least four months after the first booster was administered.
"The intent of the second booster is to provide better protection against developing severe COVID-19 illness for these at-risk populations before another potential COVID wave hits," Mattorano said.
Some military treatment facilities have already started offering a second booster, Mattorano said, while many are developing plans to offer another round of the vaccine. More details are expected to be released soon, he said.
Landstuhl Regional Medical Center, the Army's largest hospital overseas, is planning several booster events in the coming weeks, but details are still being worked out, he said. Information will be posted on the hospital's public website and on Facebook, Mattorano said.
The U.S. Naval Hospital in Naples also announced last week that it will offer a second booster of the Pfizer and Moderna vaccines to those eligible.
It doesn't matter what type of vaccine people have previously taken, the hospital said.
Additional booster shots at Army bases in Europe also will be either Moderna or Pfizer.
Naval Air Station Sigonella in Sicily, Naval Station Rota in Spain and Naval Support Activity Souda Bay in Crete did not provide information about whether they also would be offering second boosters.
Meanwhile, the Air Force in Europe is beginning to offer second boosters.
Ramstein Air Base in Germany will administer them to the eligible population Monday through Friday from 3 p.m. to 4 p.m. at the 86th Medical Group's vaccination clinic, said Lt. Col. Jaime Rojas, the group's chief of aerospace medicine. Appointments are available through the DHA portal at https://informatics-stage.health.mil/COVAX/.
Ramstein will offer Moderna on Mondays and Pfizer shots the rest of the time, Rojas said.
In addition to adults 50 and over, anyone 12 and older considered to be moderately or severely immunocompromised is eligible for another booster shot, according to DHA, which is using Centers for Disease Control and Prevention guidelines.
Younger people who qualify include cancer and HIV patients, and anyone with conditions that depress the immune system or require immunosuppressant drugs.
The CDC allows for mix-and-match dosing of booster shots for adults. Those in ages 12 to 17 years old are eligible only for the Pfizer vaccine.
People younger than 50 who received two doses of the Johnson & Johnson vaccine also are eligible for either a Moderna or Pfizer booster, Mattorano said.
Though much of Europe has relaxed pandemic restrictions, many countries still are seeing high case numbers. In Germany, home to tens of thousands of U.S. service members and their families, as well as older U.S. civilians and retirees, the rate of new coronavirus infections reached record highs last month.
Army health care providers in Europe may prescribe the antiviral drug, Paxlovid, to COVID-positive patients who are at risk for developing severe cases of the virus, Mattorano said.
Those who believe they are at high risk after contracting COVID-19 should promptly contact their health care provider, Mattorano said. To be effective, the medication must be administered early on in the course of the infection.
Naples and other Navy bases in Europe did not respond to a question asking whether they were offering COVID-19 antiviral drugs being endorsed by the Biden administration.
A Naval Medical Forces Atlantic and Tidewater spokeswoman said Tuesday they were working on answering the question and others related to the availability of second booster shots.
Stars and Stripes reporter Alison Bath contributed to this report.
---
---
---
---