Guam offers second COVID-19 booster shot for at-risk populations
By
Stars and Stripes
April 1, 2022
---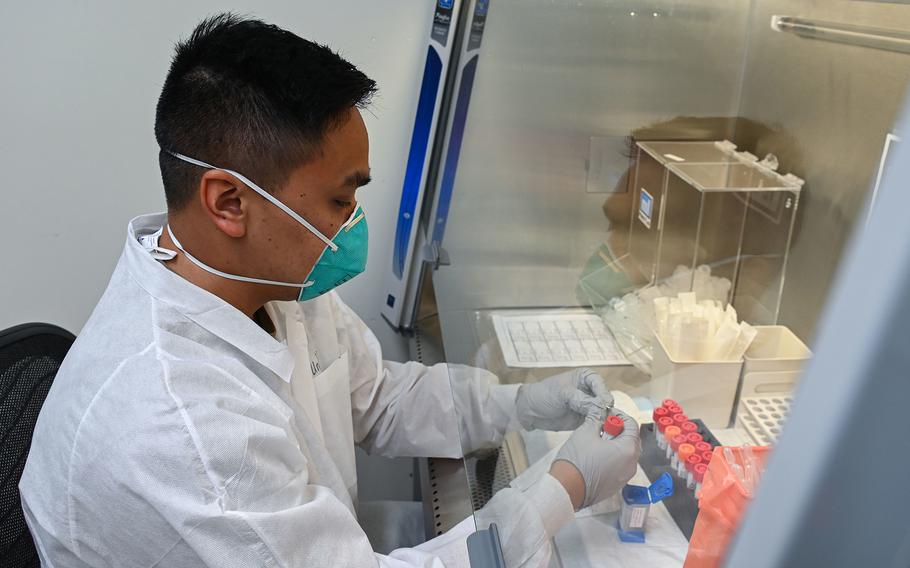 Stars and Stripes is making stories on the coronavirus pandemic available free of charge. See more stories here. Sign up for our daily coronavirus newsletter here. Please support our journalism with a subscription.
The government of Guam is offering a second COVID-19 booster shot for fully vaccinated individuals over age 50 and certain immunocompromised individuals, the U.S. territory announced Thursday.
Another nine people died last week on Guam, raising the island's pandemic death toll to 349, according to the Guam Joint Information Center.
The second booster is recommended four months after the first for adults over age 50, for people 12 and up who are "moderately or severely immunocompromised," and anyone between 18 and 49 years-old who received the Janssen vaccine and booster, according to an update by the Centers for Disease Control and Prevention on Tuesday.
Guam Gov. Lou Leon Guerrero authorized a second booster shot of either the Pfizer-BioNTech or the Moderna vaccines for all eligible islanders in those categories, according to the Joint Information Center.
The second booster shot, along with COVID-19 vaccines, are available for free at three locations on Guam: the Agana Shopping Center and the Southern and Northern Region Community Health Centers
Guerrero's office did not reply to an email Friday from Stars and Stripes seeking further comment.
Fully vaccinated individuals who received a booster shot were 21 times less likely to die from COVID-19 than the unvaccinated during the omicron phase of the pandemic, which began in November, according to the CDC. Vaccinated people were seven times less likely to be hospitalized, the CDC reported Tuesday.
"Boosters are safe, and people over the age of 50 can now get an additional booster four months after their prior dose to increase their protection further," CDC director Dr. Rochelle Walensky said in the agency statement Tuesday.
"This is especially important for those 65 and older and those 50 and older with underlying medical conditions that increase their risk for severe disease from COVID-19 as they are the most likely to benefit from receiving an additional booster dose at this time," she said.
All but one of the last nine COVID-19 related deaths on Guam were over age 60, according to the Joint Information Center. Seven had underlying health conditions, six were fully vaccinated and four had received their first booster, the center said.
Guerrero in her statement Thursday acknowledged that pandemic fatigue was setting in.
"While each of us is fatigued by this unprecedented pandemic, we will continue to push forward in the pursuit of protecting the health and safety of our people and our community," she said.
Guam recorded 46 new cases of the coronavirus on Friday and 12 hospitalizations, or five more new cases and three fewer hospitalizations since March 25, according to information center data Friday.
Guam has confirmed a total of 47,311 cases and 349 deaths thus far during the pandemic, the center reported. There are currently 813 in quarantine and one on a ventilator.
Individuals with the Defense Department accounted for 12 new cases on Friday; two individuals were hospitalized for COVID-19 at U.S. Naval Hospital Guam, the information center reported. A spokeswoman from Joint Region Marianas and the U.S. Navy on Guam did not respond to an email seeking comment on Friday.
A total of 135,973 of Guam's eligible population – age 5 and older – are fully vaccinated, including 6,000 children ages 5 to 11, according to the statement Friday. Only 5,634 eligible individuals remain unvaccinated.
burke.matt@stripes.com
Twitter: @MatthewMBurke1
---
---
---
---