Navy, Coast Guard and Guam Fire rescue four after boat capsizes
By
Stars and Stripes
March 31, 2022
---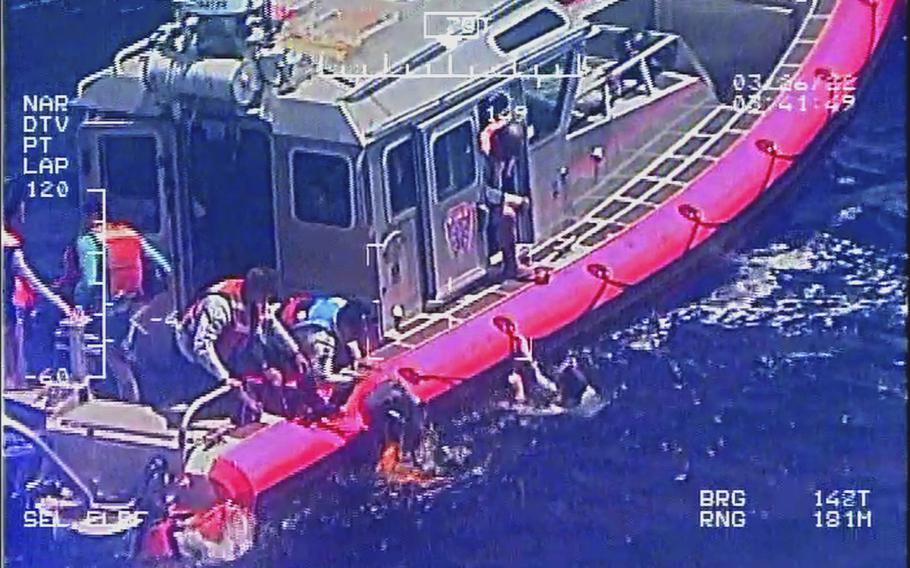 A sailing boat off the coast of Guam capsized amid strong winds and rough seas Saturday, but a joint effort by the U.S. Navy, Coast Guard and Guam first responders led to the safe rescue of the boat's crew.
A crew of four boaters called the Guam Fire Department at 12:55 p.m. by cellphone to report their catamaran had capsized in the open ocean, department spokesman Kevin Reilly said by email Thursday to Stars and Stripes. The National Weather Service earlier Saturday issued a variety of warnings for Guam, including a small craft advisory, due to high winds.
Working with Coast Guard Sector Guam, a Navy MH-60R Seahawk helicopter crew and a fire department rescue boat responded to the call, the U.S. 7th Fleet said in a Wednesday news release.
The Seahawk crew included Lt. Kristopher Appel, from Knoxville, Tenn.; Lt. Quoc Duong, from King George, Va.; Petty Officer Second Class Baldwin Switzer, of Ocala, Fla.; and Petty Officer Second Class Kaimana Rodriguez, from San Dimas, Calif.
"You always have to be prepared for the worst case possible," Switzer said in the news release. "Luckily in this case it was a very straightforward search with the survivors being in contact with emergency personnel."
The Seahawk crew, part of Helicopter Maritime Strike Squadron 51 attached to the guided-missile destroyer USS Dewey, was already in flight when they received the call from Sector Guam. The crew was taking part in a surface warfare training drill, 7th Fleet said.
After about 30 minutes, the Seahawk crew located the boaters approximately 1.5 nautical miles from their capsized catamaran.
"Once I had sight of all four of the survivors and saw that none of them were struggling to stay afloat, I was relieved," said Switzer. "Next on my mind was getting the Guam Fire and Rescue boat to the survivors as quickly as possible."
The Seahawk then radioed the fire department crew, who arrived within 10 minutes. They pulled the boaters from the water and carried them to Hagatna Marina, Reilly said.
All four boaters were rescued without injury within less than an hour of the initial report.
"The key to our success was our outstanding crew resource management," Appel said in the news release. "I can't express how proud I am of the professionalism and the efficiency my crew demonstrates when tasked with a high-stress mission change."
wilson.alex@stripes.com
Twitter: @AlexMNWilson
---
---
---
---