Patriot Express is adding more Seattle-Guam flights in time for PCS season
By
Stars and Stripes
March 17, 2022
---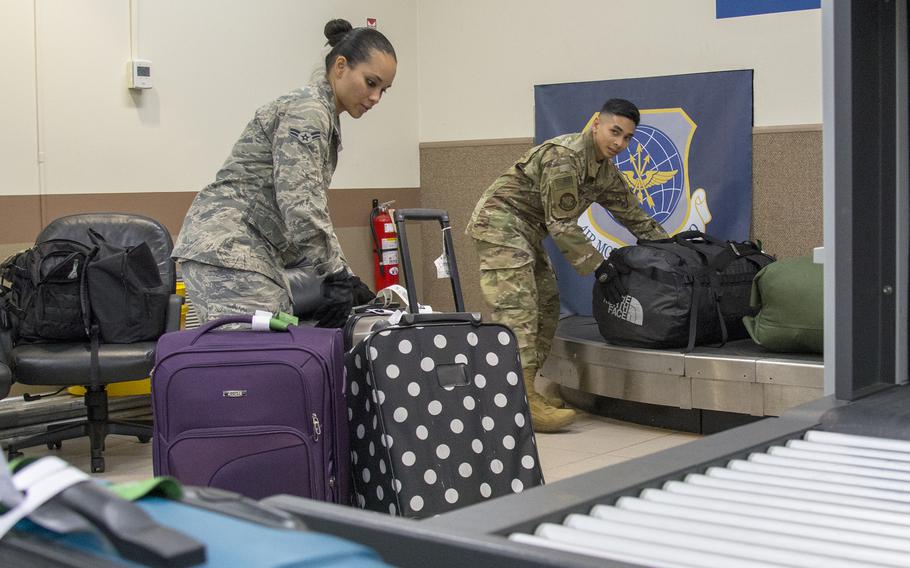 The Patriot Express will soon resume flights every two weeks between Guam and Seattle-Tacoma International Airport, in time for moving season for military families, according to the Air Force's Air Mobility Command.
The government-chartered air service will fly that route every other week between May and September to meet the demands of families making permanent changes of station, and once a month from October through April, Amelia Dickson, spokeswoman for the 515th Air Mobility Operations Wing in Hawaii, said in an email Tuesday.
The operations wing at Joint Base Pearl Harbor-Hickam oversees Air Mobility Command passenger terminals across the Indo-Pacific region.
The Guam-Seattle route was added in March 2020 and became permanent in October after successful test runs involving more than 4,000 passengers and 400 pets.
"Demand for the Guam Patriot Express missions has been strong since the missions began, with most flights nearing capacity," Dickson wrote.
Much of that demand is driven by a stop at Kadena Air Base on Okinawa that was added in late spring 2021, Dickson said. That stop is available only from May through September, according to an email Wednesday to Stars and Stripes from Air Mobility Command at Scott Air Force Base, Ill.
The plan for PCS season is to have aircraft leave Seattle, stop on Guam and then push on to Kadena. Those flights will then return to Guam before heading back to Seattle.
The next inbound flights to Andersen Air Force Base, Guam, from Seattle are scheduled May 7 and 21, and outbound from Andersen on May 8 and 22, according to a schedule posted on the Andersen Air Force Base passenger terminal's website.
The Patriot Express — sometimes referred to as the Rotator or Cat B flight — ferries travelers on official duty to U.S. military installations around the globe. It also allows eligible passengers to fly on a space-available basis.
The Guam-Seattle route was the brainchild of former Andersen commander Brig. Gen. Gentry Boswell, who requested the test-run following several highly publicized reports of service members needing to raise vast sums of money to defer PCS costs.
Service members complained about a lack of commercial carrier options and burdensome restrictions that added unforeseen expense. In one case from January 2019, a Navy family had to raise $11,592 to ship two German shepherds from Virginia to Guam for a PCS move.
Boswell also said he hoped more airmen would fly the route home for holidays and special occasions.
The coronavirus pandemic stifled ridership on the route even as it gained popularity during its six-month test run, according to Air Mobility Command. The pilot program was extended another six months as a result.
The Pentagon funded the route in fiscal year 2022 through the U.S. Transportation and Indo-Pacific commands.
Travelers can make reservations for families and pets through their installation transportation office, according to Air Mobility Command.
Families making PCS moves are permitted two animals, restricted to dogs and cats, and must meet all shipping and country entry requirements, according to the 36th Wing at Andersen. Capacity is limited based on the carrier's cargo configuration.
Space-A travelers may not travel with their pets.
---
---
---
---