Guam USO center reopens at Tumon Bay resort just in time for Super Bowl
By
Stars and Stripes
February 9, 2022
---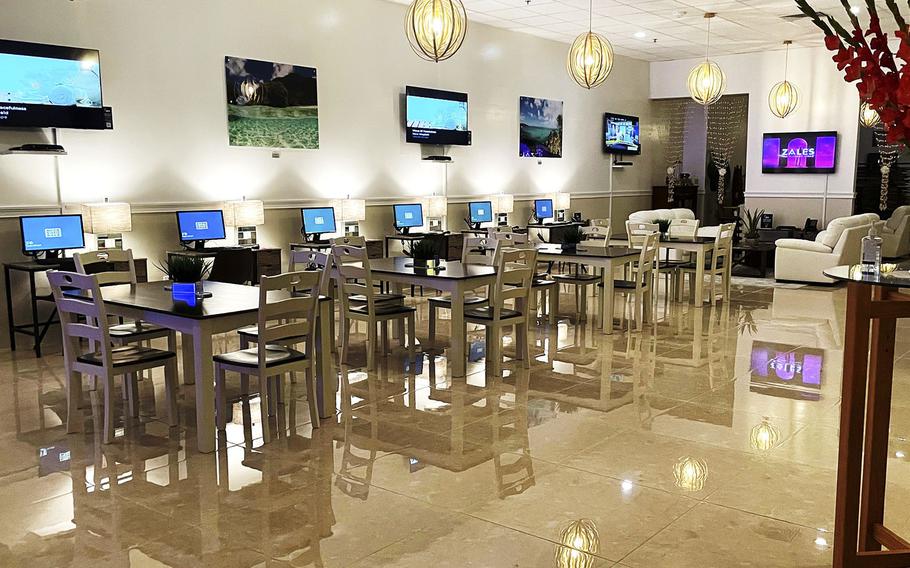 The revamped and relocated USO Tumon Bay on Guam is proving popular with its target clientele, the director of USO operations on the U.S. territory told Stars and Stripes.
The new USO Tumon Bay — one of three USO centers on the island — opened Feb. 5 at Dusit Hotels-Plaza Shopping Center, operations director Leigh Graham wrote in an email Tuesday.
"We were thrilled that on the first day of opening the new center, there was already a line of service members awaiting the opening of the doors the first morning," she wrote. She said the center has averaged 100 guests a day since then.
The new, 4,000-square-foot facility includes an internet café with coffee and snacks sponsored by Infusion Coffee & Tea, and upgraded, high-speed fiber internet courtesy of an in-kind donation from GTA Teleguam, Graham said in an email Friday.
For the sports enthusiasts, an added lounge and nearby gaming room feature several big-screen televisions that will come in handy for the Super Bowl on Monday morning. The center will have the game on and snacks ready. The USO abides by COVID-19 restrictions on Guam that limit group sizes, Graham said Friday.
Reading areas and stress-relieving massage chairs add to a relaxed setting, and a conference room is set aside for private meetings.
USO Tumon Bay, situated for 16 years in the Royal Orchid Hotel, closed Aug. 19 while the center moved to its new location, Graham said. She declined to say what the relocation cost, but the USO spent more than $60.3 million operating its centers worldwide in 2020, according to its IRS filing for the year.
The USO chose the new location partly because more than 2,000 service members stay at Dusit hotels every day, Scott Maskery, USO Pacific regional vice president, said in an October news release announcing the move. Dusit International, based in Thailand, is a resort hotel company with more than 30 properties in 13 countries, according to its website.
The Tumon Bay location is the only off-installation USO on the island. The others are at Naval Base Guam and Andersen Air Force Base.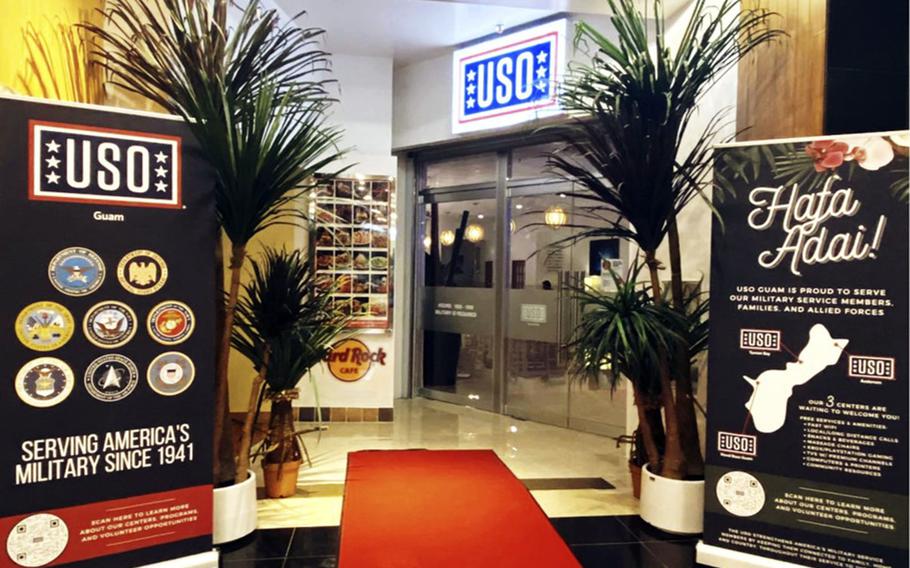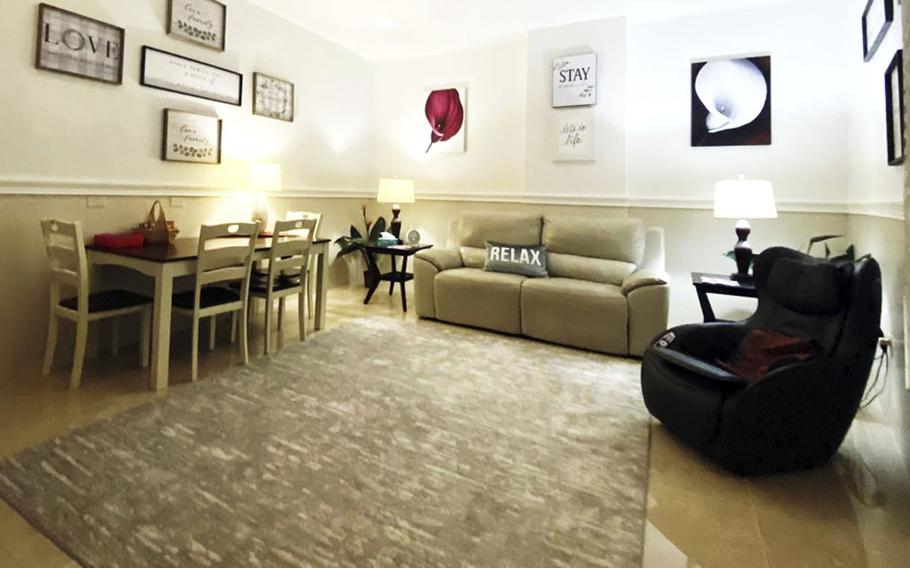 Visitor traffic at the Tumon Bay USO center increased 130% in 2021 over the previous year, Graham wrote.
Before the coronavirus pandemic arrived in March 2020, the Tumon Bay center welcomed more than 63,000 visitors each year, averaging more than a 1,000 per week, she said.
The pandemic closed Guam's USO centers between March and October 2020. However, its workers continued to support U.S. troops and frontline medical staff with thousands of hot meals, Graham said.
For example, she said, the USO provided 11,000 hygiene and snack packages to sailors from the aircraft carrier USS Theodore Roosevelt, which was sidelined on Guam from March 25 to June 4, 2020, because of an onboard outbreak.
"It's a new day at USO Tumon Bay and we are very excited about the new hospitality experience for service members and families that the generous community of Guam, our annual sponsors, our USO Guam Advisory Council and our volunteers made possible through their collaboration in building the new USO Tumon Bay location at the Dusit Hotels-Plaza," Graham said.
Correction
A previous version of this story incorrectly stated that 100 people waited for USO Tumon Bay to open on its first day. The report also misstated the number of stays by service members at Dusit hotels, whose Guam property hosts the new USO center. That number is more than 2,000 each day across all Dusit hotels. The USO is providing TVs and refreshments for the Super Bowl but is not advertising a watch party.
---
---
---
---