Army kicks out its first three coronavirus vaccine refusers
By
Stars and Stripes
March 18, 2022
---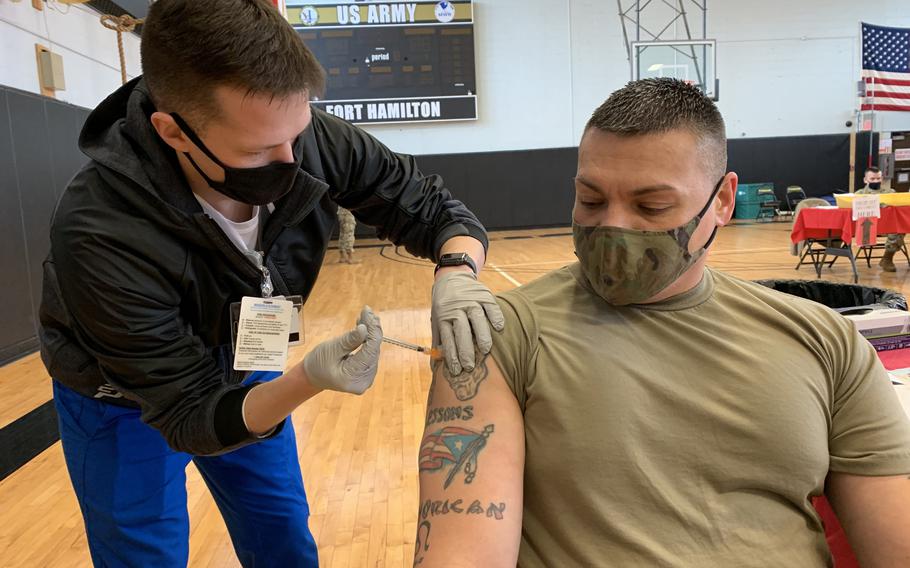 Stars and Stripes is making stories on the coronavirus pandemic available free of charge. See more stories here. Sign up for our daily coronavirus newsletter here. Please support our journalism with a subscription.
WASHINGTON — The Army has issued its first three separations for soldiers who refused to get their mandatory coronavirus vaccinations, the service announced Friday.
The Army is the last of the service branches to begin kicking out troops who do not get the shots. Technically, the three soldiers were separated for "refusing a lawful order" to receive the vaccine, according to the Army.
The announcement comes more than three months after the Army's deadline to receive the vaccine, and about six weeks after Army Secretary Christine Wormuth ordered service commanders on Jan. 31 to begin the process of involuntarily separating vaccine refusers "as expeditiously as possible."
While the Army had not separated any soldiers until this week, the Army relieved six service leaders from command — including two battalion commanders — and issued 3,251 general officer written reprimands to soldiers for refusing the vaccination order.
Defense Secretary Lloyd Austin ordered all service members to receive the vaccine in August, but allowed each service to determine their own timelines.
Last week, the Army approved its first permanent religious waiver for the vaccine order. The service has granted one more as of Friday, according to an Army statement released Friday.
About 702 active-duty soldiers have been denied a religious exemption, while another 3,943 are awaiting decisions on their religious waiver requests.
The Army also has approved seven permanent medical exemptions to the vaccine, as of Friday. The service has denied 658 permanent waiver requests and another 692 are awaiting decisions.
Those denied exemptions to the Army's vaccine mandate have seven days to start the vaccination process or file an appeal of their denial before commanders are to begin the process of kicking them out, according to Wormuth's January order.
Some 96% of the Army's about 486,000 active-duty soldiers have been fully vaccinated and another 1% were partially inoculated, the service said Friday. Those percentages remain unchanged from the previous week.
---
---
---
---