Army secretary expects only 'small number' of soldiers to be dismissed over vaccine refusal
By
Stars and Stripes
February 8, 2022
---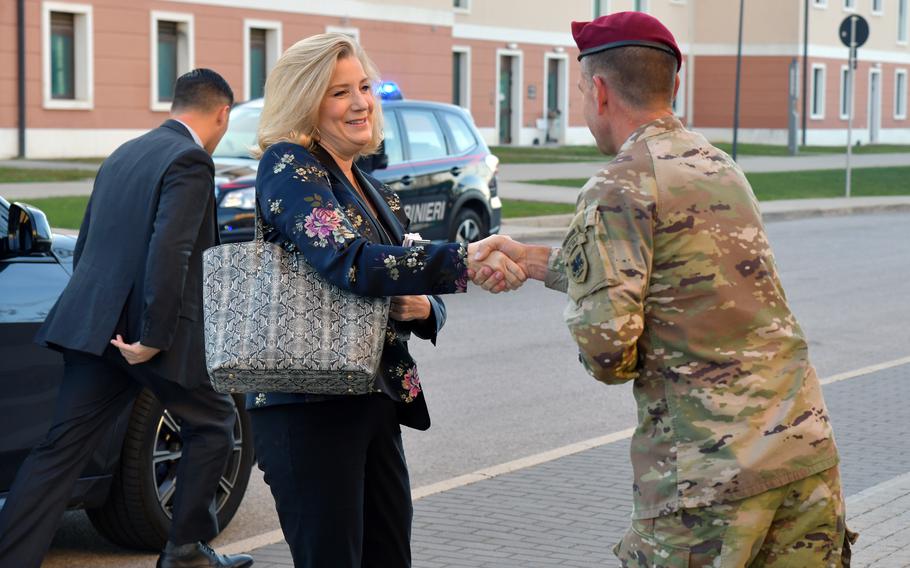 Stars and Stripes is making stories on the coronavirus pandemic available free of charge. See more stories here. Sign up for our daily coronavirus newsletter here. Please support our journalism with a subscription.
Army Secretary Christine Wormuth on Tuesday said she expected few soldiers would be discharged for refusing to receive the mandatory coronavirus vaccine.
"There is, I think, going to be a fairly small number of people who do not seek exemptions — or are not granted exemptions — and will be separated from the Army," the service's top civilian said during an event at the Center for a New American Security, a Washington think tank. "I think as people are faced with the prospect of actually being asked to leave the Army, some of them are going to take the vaccine who might not have otherwise."
Wormuth's comments come about a week after she sent orders to commanders across the Army instructing them to begin the process to remove some soldiers who have refused the vaccine. Her orders gave refusers or those whose exemption requests are denied seven days to begin a vaccination regimen or face dismissal.
Defense Secretary Lloyd Austin in August mandated the coronavirus vaccine for all U.S. service members. To date, the Army is the Pentagon's only military service yet to expel any refusers. Lt. Col. Terry Kelley, an Army spokesman, said Tuesday that commanders had begun working through the involuntary separation process for at least some soldiers, but none had yet been dismissed.
Nearly 4,000 soldiers have applied for a permanent exemption from taking the coronavirus vaccine, the vast majority for religious reasons. To date, only six permanent exemptions have been approved by the Army, all for medical reasons, according to service data published Feb. 3. Of the 3,170 soldiers requesting a religious-based exemption, 328 have been denied and the rest remain under consideration.
The service said last week about 3,394 soldiers had outright refused the vaccine and were subject to discharge unless they were already scheduled to leave the service by July 1.
In comparison, as of last week, the Navy had dismissed 118 sailors from its service, the Marine Corps had removed 469 troops and the Air Force had discharged 142 airmen for refusing vaccination, according to data provided by those services.
Military troops discharged for refusing a coronavirus vaccine will receive an honorable discharge or general discharge under honorable conditions based on a law passed last year.
Despite some refusals within her ranks, Wormuth said Tuesday that the vaccination program within the Army was a "good news story."
"You know, if someone said to me not too long ago that you could get the Army of 1.2 million [soldiers] — get 97% of that Army to all do something, I'd say that is a pretty amazing achievement," she said. "And that's about where we are right now — 97% vaccinated in the active-duty Army."
Wormuth stressed vaccination was a combat-readiness issue, saying soldiers "need to be vaccinated to be able to be deployed."
The Army secretary said she saw an influx of emails in the summer identifying the coronavirus as the cause of death among soldiers and Army civilian workers. At least 92 U.S. troops have died of complications caused by the virus since March 2020, and another 408 Defense Department civilians have died, according to DOD statistics, which do not list deaths by service.
Wormuth said since vaccinations became available to the public "almost all" deaths among Army-connected individuals have come among the unvaccinated.
"So, I feel really strongly that this is something that we need to do for the force," she said. "It's for the health of our Army families and soldiers."
---
---
---
---