Army orders commanders to begin discharging coronavirus vaccine refusers
By
Stars and Stripes
February 2, 2022
---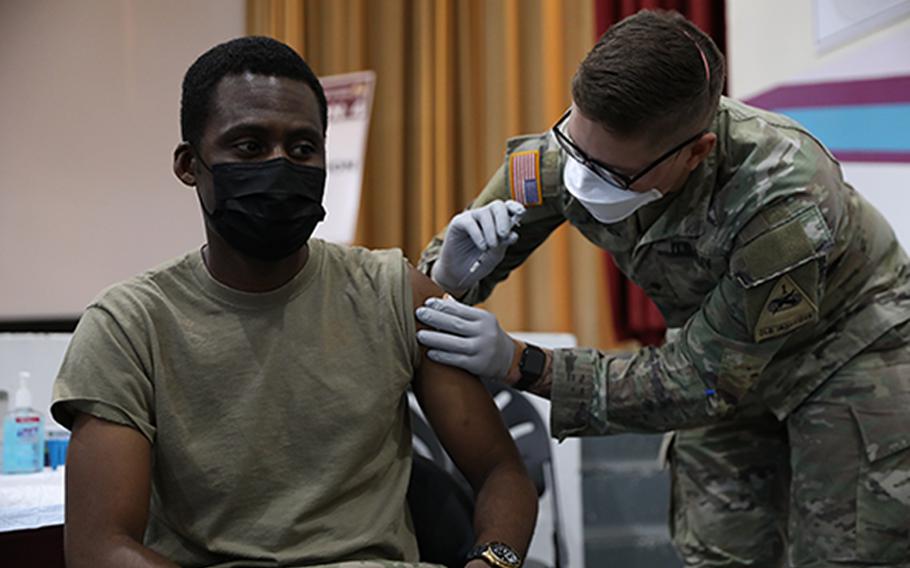 Stars and Stripes is making stories on the coronavirus pandemic available free of charge. See more stories here. Sign up for our daily coronavirus newsletter here. Please support our journalism with a subscription.
The Army will begin removing soldiers from the service who have refused to take the coronavirus vaccine that Defense Secretary Lloyd Austin mandated in August for all U.S. service members.
Army Secretary Christine Wormuth in a memorandum dated Monday directed commanders to start the process to involuntarily discharge thousands of soldiers "as expeditiously as possible" who have repeatedly declined inoculation. Thousands of additional troops with pending applications for medical-, religious- or other administrative-based exemptions will not be immediately removed from the service, she wrote.
"Unvaccinated soldiers present risk to the force and jeopardize readiness," Wormuth wrote in the memo that was made public on Wednesday. "We will begin involuntary separation proceedings for soldiers who refuse the vaccine order and are not pending a final decision on an exemption."
Wormuth's order will largely target the some 3,350 active-duty soldiers who had outright refused the coronavirus vaccine, as of last week. Most of those soldiers have faced administrative punishment in the form of general officer reprimands, but most will now be removed from the Army. The service had previously announced it had fired two battalion commanders and four other high-ranking leaders from their positions for refusing vaccination.
Army data shows about 96% of the service's nearly 486,000 active-duty troops have been fully vaccinated. Another 1% of the force was partially vaccinated, as of Jan. 27.
A law passed last year by Congress limits the military to issuing honorable discharges or general discharges under honorable conditions to service members removed solely for refusing vaccination.
Meanwhile, some 2,700 soldiers are awaiting decisions on their requests for permanent exemptions from the vaccines, according to the Army's latest data issued Jan. 27. As of that date, 709 soldiers had sought exemption for medical reasons. The Army has approved six medical waivers and denied 656. Another 2,910 soldiers had applied for religious-based exemptions as of Jan. 27. So far, the Army has denied 266 and granted no waivers for religious reasons.
Soldiers who are ultimately denied exemption requests will have seven days to begin a vaccination regimen or submit an appeal of their exemption denial. If their appeal is also denied, they will then have seven days to begin a coronavirus vaccination regimen before their commanders begin the separation process.
It was not clear Wednesday how many — or if any — soldiers denied an exemption had ultimately chosen to receive the coronavirus vaccine. Lt. Col. Terry Kelley, an Army spokesman, said such data was not immediately available. However, he said, the Army had instructed commanders to continue to educate their soldiers on the safety and efficacy of vaccines.
"The Army's guidance has always emphasized counseling and education by commanders and medical providers as the first step to combat misinformation and address soldier concerns," Kelley said.
Some vaccine refusers without a permanent exemption will be allowed to complete their service on a temporary waiver. Wormuth stipulated officers and enlisted soldiers who are eligible to retire before July 1 and refuse vaccination were to be granted temporary exemptions as long as they leave the service by that date. Other soldiers scheduled to separate by July 1 also can be temporarily exempted from vaccination, she wrote.
The Army is the last of the Pentagon's military services to begin removing active-duty troops for refusing the vaccine. As of last week, the Air Force had discharged 127 airmen, the Navy had discharged 45 sailors, and the Marine Corps had discharged 399 Marines for refusing vaccination, data for each service showed.
Wormuth's guidance issued Wednesday said it applied to active-duty soldiers and those in the Army Reserve and the Army National Guard who are called to 30 days of federal active-duty status. National Guard soldiers, however, are not required to be vaccinated until June 30.
---
---
---
---