Army grants first religious waiver for soldier seeking coronavirus vaccine exemption
By
Stars and Stripes
March 11, 2022
---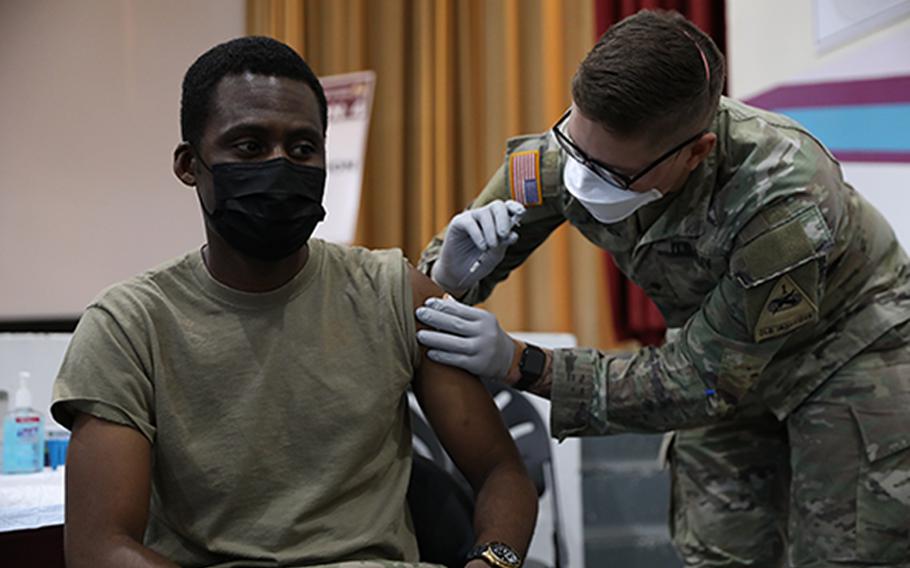 Stars and Stripes is making stories on the coronavirus pandemic available free of charge. See more stories here. Sign up for our daily coronavirus newsletter here. Please support our journalism with a subscription.
The Army for the first time granted a soldier a permanent religion-based exemption from taking the mandatory coronavirus vaccine, according to new service data published Friday.
The new waiver granted for an active-duty soldier comes some three months after the Army's deadline for active troops to become fully vaccinated against the virus. Army officials have denied 536 religion-based waiver requests among the 3,760 soldiers seeking such an exemption, according to the data.
Meanwhile, the Army has yet to discharge any soldiers for refusing the vaccine weeks after the service said it would begin kicking out those troops would not get the shots. Army Secretary Christine Wormuth ordered service commanders on Jan. 31 to begin the process to involuntarily separate some vaccine refusers "as expeditiously as possible."
The Army is the Pentagon's only service that has yet to remove vaccine refusers. Wormuth said last month that she expected to remove only a "small number" of soldiers for refusing the vaccine and expected many of those denied waivers to take the inoculation ultimately.
Those denied exemptions to the Army's vaccine mandate have seven days to start the vaccination process or file an appeal of their denial before commanders are to begin the process of kicking them out, according to Wormuth's January order. The service data published Friday shows Army officials have also granted seven medical-based exemptions for active-duty soldiers and denied 657 requests for medical waivers.
Some 96% of the Army's about 486,000 active-duty soldiers have been fully vaccinated and another 1% were partially inoculated, the service said Friday.
The Army is the third of the Pentagon's military services to grant an active-duty service member an exemption to taking the coronavirus vaccine for "sincerely held religious beliefs." In total, Pentagon officials have now granted 26 religious waivers for active-duty troops across the military, according to data from each service.
The Marine Corps first granted two Marines religious waivers in January and has since granted four more. The Air Force has granted 19 religious waivers, while the Navy has yet to grant any religion-based accommodations for active-duty sailors, according to the most recent Pentagon data.
Religion-based waivers have been featured heavily in multiple lawsuits launched against the Pentagon and its military services. Federal judges have granted more than two dozen individual troops temporary protections from discharge while their lawsuits challenging the legality of the vaccine mandate or the Pentagon's waiver process remain open.
Pentagon officials have said repeatedly the mandate is legal and necessary to ensure combat readiness of its forces.
"I feel really strongly that this is something that we need to do for the force," Wormuth said last month. "It's for the health of our Army families and soldiers."
---
---
---
---