Team USA bobsled coach, an Army officer, relives Olympic glory through his athletes' medals
By
Stars and Stripes
February 18, 2022
---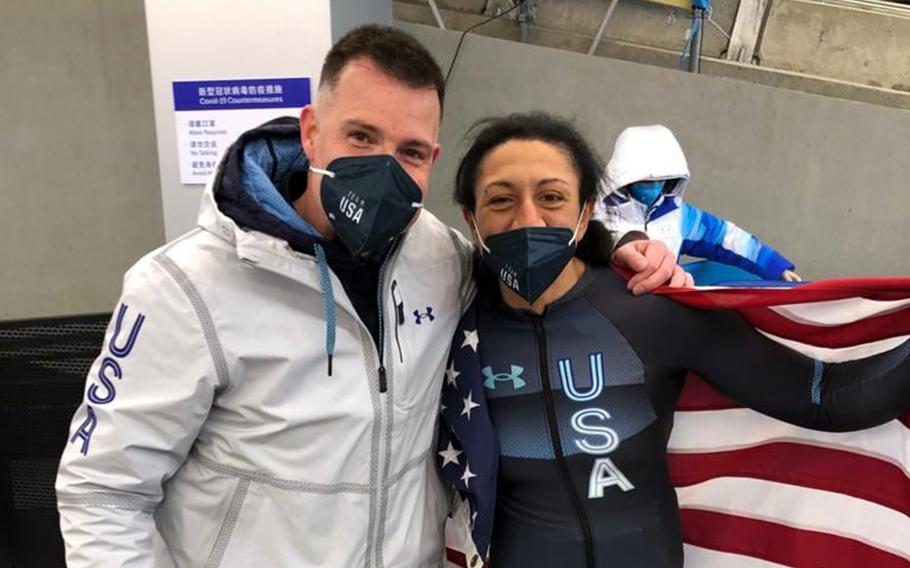 The thrill U.S. Olympic bobsled head coach and Army Capt. Michael Kohn gets from seeing his athletes win medals in Beijing surpasses the rush he got when he saw success on the track.
The Virginia National Guard infantry officer took home a bronze medal from the Salt Lake City Games in 2002, but he's getting a bigger kick out of the success of the athletes he's coaching in Beijing, he said in a telephone interview Friday.
"We have already secured gold and silver medals and hope to get more," he said of the bobsledders' efforts up to that point.
Two U.S. athletes won medals in the first-ever women's monobob event on Monday.
Kaillie Humphries, who formerly competed for Canada, captured a third gold medal, and her first for the U.S., and Elana Meyers Taylor was second. It was the fourth medal of Meyers Taylor's career, the most won by anyone in U.S. bobsled history.
Seeing the pair win was "a better rush" for Kohn than winning his own medal, he said.
"I can never relive what I experienced winning a medal but watching the athletes who have won medals, I get to live vicariously through them," he said. "It's cool to watch."
A trio of other soldier-coaches is backing Kohn up at the Games, including Lt. Col. Garrett Hines, 52, an environmental science officer from Bartlett, Tenn.; and human resource specialists Staff Sgt. Shauna Rohbock, 44, of Park City, Utah, and Sgt. Justin Olsen, 34, of San Antonio.
The U.S. Bobsled Team includes eight men and four women. Two soldiers are on the team: Spc. Frank Del Duca, 30, of Bethel, Maine, and Spc. Hakeem Abdul-Saboor, 34, of Powhatan, Va. One of the civilian sliders, Jimmy Reed, grew up in a U.S. military community in Garmisch, Germany.
The Games have been particularly challenging due to the coronavirus pandemic, but China has produced as good an experience as possible for participants given the circumstances, said Kohn, 49, of Myrtle Beach, S.C.
The pressure of the Games has meant an intense focus on bobsled, but Kohn has been talking to friendly locals on buses and sampling local cuisine, including spicy kung pao chicken, he said.
The only chance to see events other than bobsled has been on television, he said.
Skiing and ice hockey are two of Kohn's favorite sports. His sons, Oliver, 9, and Max, 8, are both hockey players, he said.
When he's not working with athletes Kohn is spreading the word about the Army's World Class Athlete Program, which helps soldier-athletes train for their chosen sports.
After winning bronze, he toured bases all over the world. He dropped in on wounded troops at Landstuhl Regional Medical Center, Germany, and traveled to Kandahar Air Field, Afghanistan, in 2002 to show off his medal.
The bobsled team will compete until the last day of the Games on Sunday before heading home to start planning for the 2026 Winter Olympics in Cortina, Italy, Kohn said.
---
---
---
---