Jumping, sliding US soldiers seek Olympic glory in Nordic combined
By
Stars and Stripes
January 26, 2022
---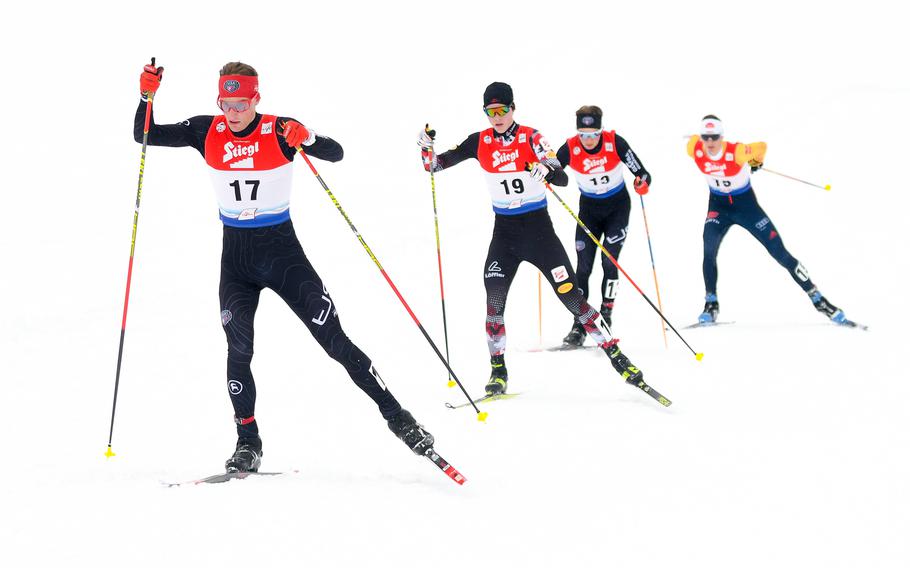 Two Army truck drivers are headed to the Winter Olympics in Beijing to compete in a sport that mixes cross-country skiing and ski jumping.
It will be the second games for Nordic combined skiers Spc. Ben Loomis, 23, of Park City, Utah, and Spc. Jasper Good, 25, of Steamboat Springs, Colo.
Both joined the Army in 2019 after competing in the Pyeongchang Games in South Korea the previous year. They are members of the U.S. Army World Class Athlete Program headquartered at Fort Carson, Colo.
Nordic combined has been an Olympic sport since the first Winter Games in 1924.
Athletes start the ski race based on points awarded in the jump. It's the only Winter Olympic sport without a women's competition.
The International Olympic Committee executive board considered an application in 2018 that would have allowed women to compete in the event in Beijing but it was denied pending "further development in terms of the universality, the competitiveness of the event, and the attractiveness and following of it," according to a Jan. 23 USA Today report.
Loomis' career highlights include a silver medal at the 2016 Youth Olympic Winter Games and a bronze at the 2018 Junior World Championships.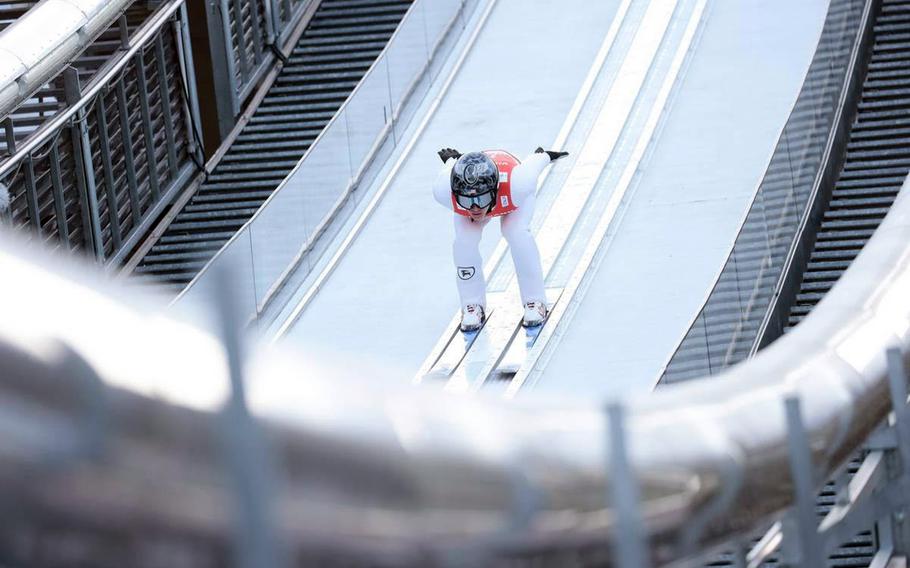 In South Korea, his best effort was 10th place in the team large hill/4x5km event. He came 40th and 41st in the large hill/10km and normal hill/10km events, respectively. Good placed 43rd and 45th in the individual events.
During a livestream Tuesday on the Army's official Facebook page, Loomis said he enlisted after talking to a coach from WCAP, during the 2018 Games.
Other recruits weren't initially aware of his athletic ability during basic training, Loomis said, but they showed a lot of support once word got around.
"I was 2 years old when I started cross-country skiing and 5 years old when I started ski jumping," he said, adding that he progressed to bigger ski jumps over time.
Loomis' early years were spent in Eau Claire, Wis., where he competed for the Flying Eagles Ski Club, but he moved to Utah at age 15.
"It's definitely an extreme sport" he said of ski jumping. "We're going 60 mph and flying around 400 feet in the air."
The farthest he's jumped in competition is 453 feet, although he's flown as far as 469 feet during training, he said.
Going to the Olympics as a soldier will be a new experience, Loomis said.
"I feel like it's my first Olympics," he said. "Seeing my fellow WCAP team members will be cool."
China is not somewhere most athletes compete regularly, Loomis said.
"It will be really exciting to get to the new venues, which all look spectacular," he said.
Good started competing in Nordic combined at the Steamboat Springs Winter Sports Club, honed his skills at his hometown's Howelsen Hill and made the national team in 2015. His father, Jeff Good, is a former national freestyle moguls coach, Mile High Sports reported Feb. 12, 2018.
"I am incredibly honored and excited to be named to the 2022 U.S. Olympic Team," Jasper Good said in a Jan. 19 Army news release. "Representing Team USA at the Games means even more to me as a member of the U.S. Army World Class Athlete Program. The support and camaraderie I have gained has helped me reach new levels."
Nordic combined for the 2022 Winter Olympics will be held at the Kuyangshu Nordic Center and Biathlon Center on Feb. 9, 15 and 17.
---
---
---
---