Army bobsledders are among 'deep talent pool' headed for Winter Olympics in Beijing
By
Stars and Stripes
January 20, 2022
---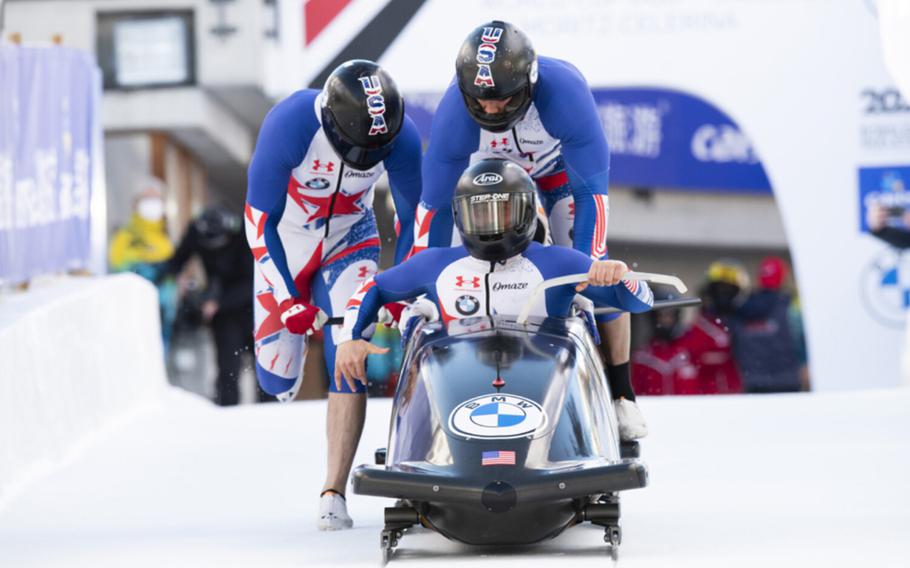 A U.S. Army infantryman and a biomedical equipment specialist will bobsled for their country next month at the Winter Olympics in Beijing.
Spc. Frank Del Duca, 30, of Bethel, Maine, and Spc. Hakeem Abdul-Saboor, 34, from Powhatan, Va., are among 12 athletes named to the U.S. Bobsled team this week.
Deciding who made the cut "wasn't an easy decision," Aron McGuire, the USA Bobsled/Skeleton CEO, said in the team announcement posted on Team USA's website. "We are fortunate to have a deep talent pool."
Del Duca, the infantryman, will compete in his first Olympics as a pilot while Abdul-Saboor's second games will be as a push athlete, Team USA said in its statement.
"I'm not surprised," Del Duca's father, Frank Del Duca III, said Monday in an Army news release. "He had a plan and he stuck to the plan."
Both Del Duca and Abdul-Saboor are members of the Army's World Class Athlete Program, which supports soldiers vying for Olympic team selection.
Del Duca was recently promoted to the World Cup level, the Army report said.
Of the eight men on the Olympic team, Abdul-Saboor is among the most experienced, having competed in the 2018 Winter Games in Pyeongchang, South Korea, where he finished 21st in the two-man event and 19th in the four-man event, the report said.
The Beijing Games run Feb. 4-20. The two-man bobsled heats will take place Feb. 14-15 and the four-man event is scheduled for Feb. 19-20.
---
---
---
---