'Feeling of gratitude': Olympians video chat with military kids at bases in Japan
by
Seth Robson
Stars and Stripes
October 27, 2021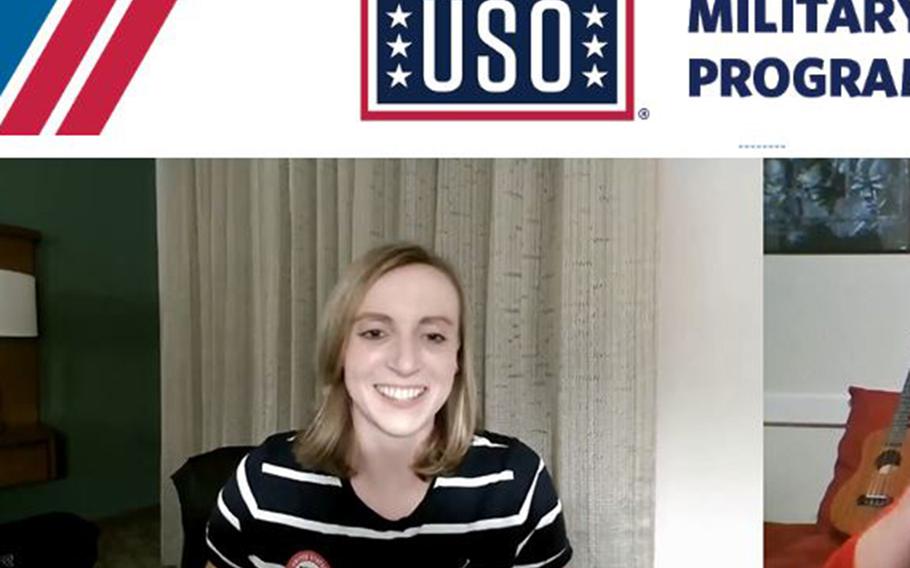 YOKOTA AIR BASE, Japan – A trio of Olympic swimmers gave tips to youngsters on military bases in Japan during an online get-together Wednesday organized by the USO.
Zach Harting, Katie Ledecky and Allison Schmitt spoke to school-age swimmers at Misawa Air Base on Honshu, the largest of Japan's main islands, and Camp Foster on Okinawa during the virtual event, watched by members of the military community all over the world.
It was an honor to compete in this summer's games in Tokyo, delayed a year due to the coronavirus pandemic, said Schmitt, 31, a four-time Olympian and a 10-time Olympic medalist who specializes in freestyle events.
"The atmosphere Team USA had was a feeling of gratitude," she said. "Just being able to go there and compete even without spectators. We knew the country was watching … wherever they were."
Bringing energy to training sessions is a goal for Harting, 24, who swam butterfly in Tokyo but failed to medal at his first games.
Inspired by Swedish heavy metal band Avatar, the Alabama native said he drinks ice water from a large fuel container when he's working out.
The hardest part of training is getting into the pool, he said. So Harting comes up with his own ways to get in such as doing a handstand and flipping into the water, he told the kids.
"That's a fun way to get into the pool," he said.
Focused and determined is how Ledecky, 24, also a freestyler with a career total of seven Olympic gold medals and 15 world championship golds, described her demeanor in the pool.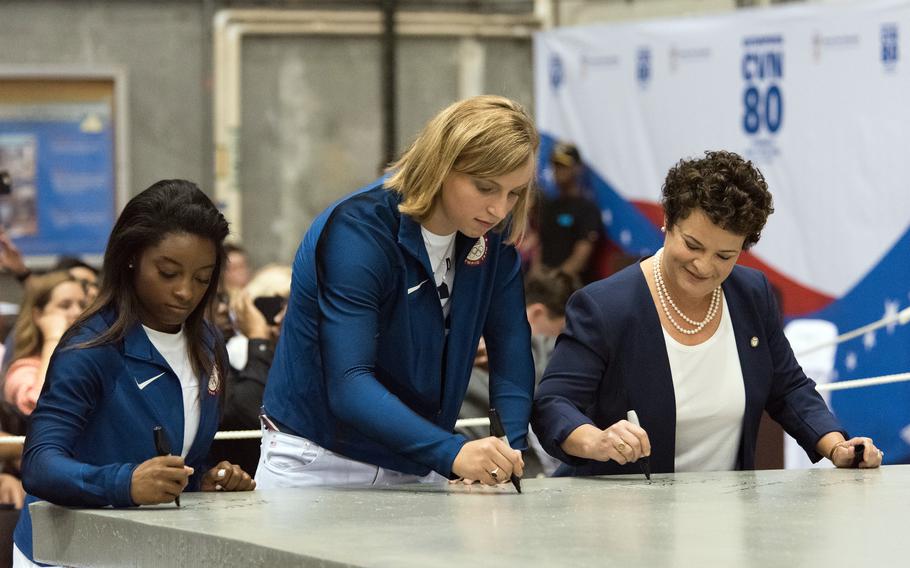 Nutrition is important for athletes, but Schmitt confessed to eating chocolate chip cookies fresh out of the oven.
"I try to eat very healthy, but I definitely have a sweet tooth," she said.
Asked by a youngster on Okinawa about other sports they'd like to compete in, Ledecky chose ice hockey, although she admitted she's not a great skater.
Winter sports like curling, skeleton and luge were Harting's choices.
"Going downhill fast would be a lot of fun," he said.
The trio said they do "dry-land" training such as lifting weights, riding bikes and playing golf to augment up to 10 pool sessions a week.
Ledecky recalled making the Olympic team at 15, the same age as many of the kids who tuned in online.
"It felt amazing," she said, adding that she had no idea what to expect at her first games but that veteran athletes helped her feel comfortable.
All three athletes said they joined swim teams at elementary school.
The first time Harting raced in the pool was on Guam, where his father worked for Sikorsky Aircraft. His parents now work at Redstone Arsenal, Ala., he said.
"You guys make it possible for us to compete and make us proud Americans," Schmitt told the military kids.
Ledecky's grandfathers served in the Marines and the Army, and two cousins served in the Army in Iraq and Afghanistan, she said.
In an online interview with Stars and Stripes after the meeting, she said she grew up near Walter Reed National Military Medical Center outside Washington, D.C., and visited the hospital after winning her first Olympic medal.
"It was the first time I put my medal around somebody's neck," she said. "I realized the power of the gold medal and how it can make somebody's face light up."