Actor Eric Bana talks about his military roles, including 'Black Hawk Down,' at USO event
by
Seth Robson
Stars and Stripes
October 13, 2021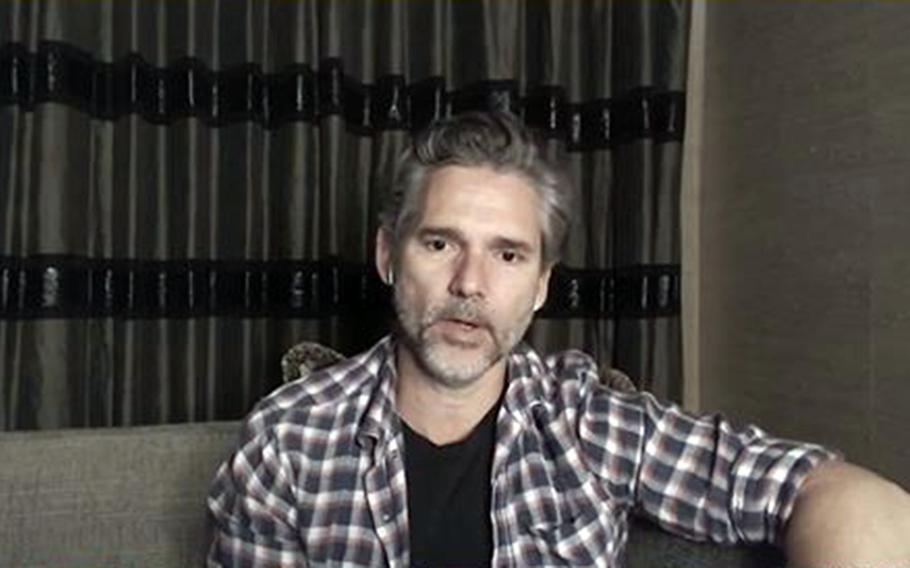 Military films and motorsports were the focus of an online question-and-answer session between Australian action star Eric Bana, service members and their families organized Wednesday by the USO.
Bana — speaking via video link from Melbourne, Australia, to troops at home and at USO clubs all over the world — told backstories to some of his famous roles in movies such as "Black Hawk Down" (2001) and "Lone Survivor" (2013).
Bana, 53, started out making sketch comedy but was acclaimed for his first dramatic role in "Chopper," a 2001 film about notorious Australian criminal Mark "Chopper" Read.
That led to a career in Hollywood action and historical flicks such as "The Hulk" (2003), "Troy" (2004), "Munich" (2005) and "Star Trek" (2009).
Director Ridley Scott cast Bana in "Black Hawk Down," which tells the story of U.S. forces in Somalia in 1993. Bana plays a Delta Force soldier who fights his way out of a battle in Mogadishu after a mission goes awry.
"There is huge responsibility," he said of taking on a military role. "I felt that on 'Black Hawk Down.'"
In "Lone Survivor," Bana played Lt. Cmdr. Erik Kristensen, a Navy SEAL who was one of 16 troops killed in a MH-47 Chinook helicopter crash in an effort to rescue other SEALs during combat in Afghanistan on June 28, 2005.
Taking on the role of Kristensen and knowing what happened to him and his men is "something you feel the weight of, but it is a real privilege," Bana said.
Acting in historical roles doesn't involve trying to be the exact person you're playing, he said.
"You're trying to embody the spirt of that person," he said.
Asked by a youngster at the USO at Fort Hood, Texas, why the Hulk is green, Bana replied that he is unsure.
"Maybe I didn't pay enough attention when I was a kid reading comics," he said. "Maybe secretly he wishes he was a military guy."
A sailor assigned to the Navy's Logistics Group Western Pacific in Singapore, who was celebrating the Navy's 246th birthday during Wednesday's virtual event, asked Bana about resilience in acting.
"There is a lot of pressure to be resilient," Bana said. "As a parent, one of the things I learned over the last couple of years is to encourage resilience but also have space for when resilience is not at its peak."
Asked by another sailor what drew him to military roles and what he learned from playing them, Bana said he enjoys researching his characters. The cast of "Lone Survivor" camped on a military base and spent time with troops in the field to prepare, he added.
"The people you get to hang out with and learn from are the best," he said.
Clad in a flannel shirt and sporting a handlebar mustache, Bana looked like a typical Down Under motorhead or "bogan," in the local lingo, as he talked about his 1974 Ford Falcon XB coupe.
The car, known as "The Beast," is similar to the Ford Falcon driven by fellow Australian actor Mel Gibson in 1979's "Mad Max."
Bana has raced at Australia's legendary Mount Panorama track, where Ford had a decades-long rivalry with General Motors' local Holden brand, but he said he has just as much fun riding his 450cc dirt bike in the Australian bush.
"I get on the track on my motorcycle but less on four wheels these days," he said.