Jamaican four-man bobsled team to make Olympic return, promises 'a great show'
By
The Washington Post
January 19, 2022
---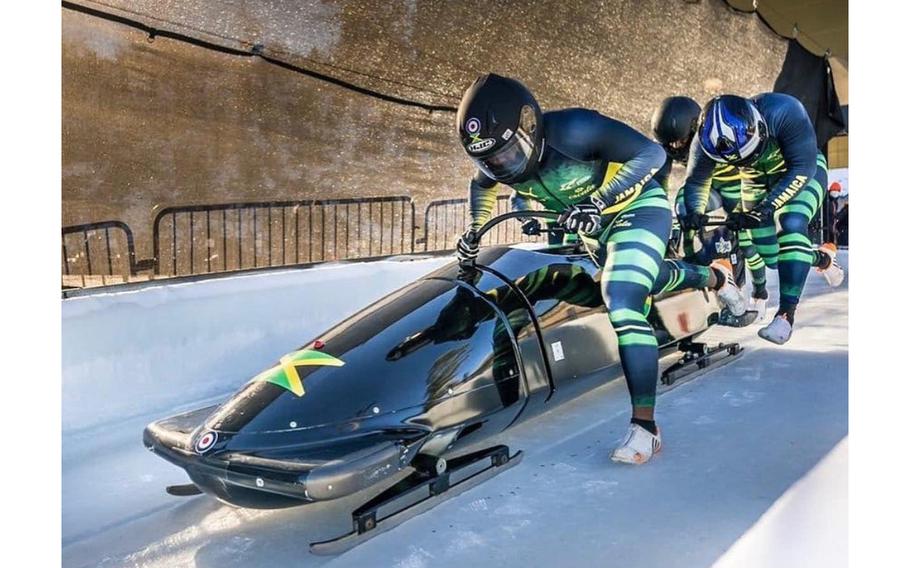 Stars and Stripes is making stories on the coronavirus pandemic available free of charge. See more stories here. Sign up for our daily coronavirus newsletter here. Please support our journalism with a subscription.
The sun-splashed, snow-free nation of Jamaica has been a surprisingly constant presence in the Winter Olympics bobsled competition since 1988, when its four-man team crashed out of the competition in Calgary but inspired the movie "Cool Runnings," a heavily fictionalized, somewhat problematic 1993 account of the team's unlikely journey. Jamaica has been back to the Winter Games plenty of times since Calgary, fielding a men's sled at every Olympics between 1998 and 2002 and again in 2014. Then, four years ago in PyeongChang, Jazmine Fenlator-Victorian and Carrie Russell became the first Jamaican women to compete in Olympic bobsled.
But most of Jamaica's recent Olympic bobsled glory has been in the two-person department: The last four-man Jamaican team to compete in the Olympics was at the 1998 Nagano Games. That will change this year, however, as Jamaica earned the final qualifying spot in the 28-team four-man competition next month in Beijing (the Caribbean nation already had secured berths in the two-man and monobob, a new, one-woman bobsled event at this year's Games).
"I am absolutely buzzing, I am happy, I am thrilled for myself and my teammates at what we have accomplished," brakeman Nimroy Turgott told the "Today" show on Wednesday. "We are prepared to go to the Olympics and put on a great show."
Driver Shanwayne Stephens said he wasn't surprised by his team's return to the Olympics.
"Absolutely not," he said. "We've put in a lot of hard work the last four years to achieve what we've achieved. . . . Over the lockdown, we've even come up with our own ways of getting the training done because we didn't want to leave any stone unturned when it came to qualifying for the Games. So we can now look back and say, 'Look, we've done everything that we could have done to achieve our goal, and we've achieved it.' "
In the early days of the pandemic, back in 2020, Stephens and Turgott earned some attention after they were spotted pushing a Mini Cooper down English city streets to keep up with their training when gyms were first closed because of coronavirus. Stephens, a lance corporal in the Royal Air Force, was asked about his pandemic training by none other than Queen Elizabeth on a video call she had with military officers.
After hearing of their vehicular exertions, Queen Elizabeth replied with a chuckle, "Well I suppose that's one way to train."
While a medal for Jamaica's four-man team likely is not in the cards - it has finished no higher than fifth in North American Cup races this season and finished 15th and last in its most recent Europe Cup race - the accomplishment still is pretty remarkable.
"We're a tropical country with no snow, no proper training facility to train for winter sport," Stephens said Wednesday. "What we've accomplished, it's really amazing."
Equally amazing is the fact that Jamaica will have athletes in multiple sports at the Winter Games after Benjamin Alexander qualified in giant slalom despite not picking up the sport until 2016, when he already was 32 years old. He's the first Jamaican skier at the Olympics since Errol Kerr finished ninth in men's ski cross at the 2010 Vancouver Games, Jamaica's best-ever result at the Winter Olympics.
The bobsled competition at the Beijing Olympics begins Feb. 12 and continues through Feb. 19.
---
---
---
---