Army MP recovers from 'frightening' luge crash to qualify for second Winter Olympics
By
Stars and Stripes
January 14, 2022
---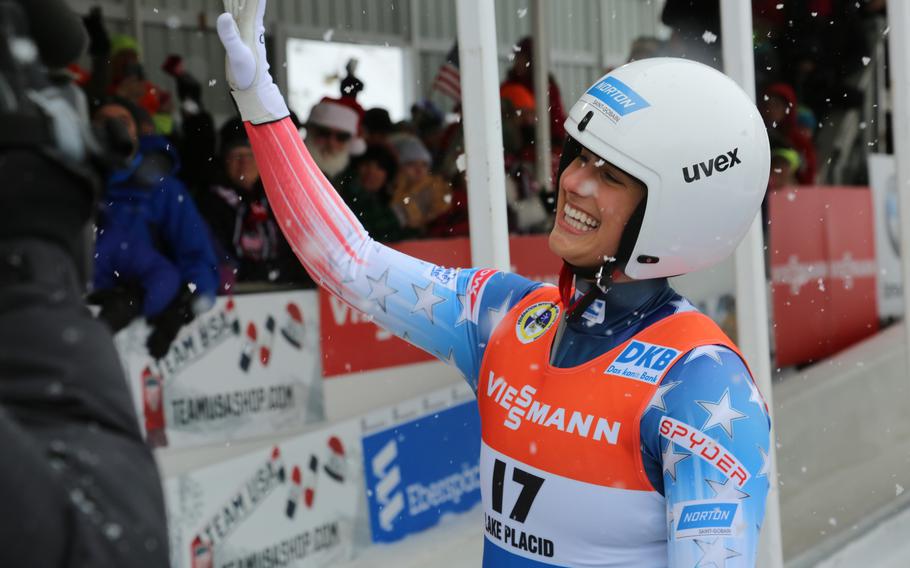 An Army noncommissioned officer who broke her neck and back in a luge crash at the PyeongChang Olympics will slide for her country again at next month's Winter Olympics in Beijing.
Sgt. Emily Sweeney, 22, a military police soldier from Suffield, Conn., told the world about her selection in a video message posted Friday on the Army's World Class Athlete Program's Facebook page.
"I just qualified for my second Olympic team," Sweeney, who competed for the luge team in South Korea in 2018, said in the video. "I'm really excited and grateful for the opportunity to represent the Army and Team USA in Beijing 2022."
Luge athletes in aerodynamic suits slide down icy tracks on their backs at almost 90 mph while controlling their sleds with their feet.
Sweeney's first games ended in a "frightening" crash that left her prone for several minutes before she was able to walk over the finish line, The Associated Press reported Feb. 13, 2018.
It turned out she had suffered a broken neck and back.
"It broke me in a lot of ways. After that, I had fear," Sweeney said in an article posted on the International Olympic Committee's website Nov. 25, 2021.
A member of the Army's World Class Athlete Program, Sweeney lost 20 pounds as she recovered from the crash and was out of competition for nine months.
"I was lucky not to need surgeries or anything," she said in the Olympic report. "But I was just really, and I mean, really, broken."
She wasn't sure if she would compete in luge again, she said.
"I was frail and weak, and I didn't know if I could physically do it again. And for the first time in my life, I didn't have a dream."
However, Sweeney recovered to the point where she got back on the luge track to compete in Whistler, British Columbia, Canada, by December 2018, the Olympic report said.
She's following the footsteps of her sister Megan Sweeney, an Olympian at the 2010 Vancouver Games.
Emily Sweeney won a junior world title in 2013 and has competed in seven world championships since that year. She's also reached the podium seven times in world cup competition, according to Team USA's official website.
The Beijing Games, which run Feb. 4-20, are her second chance to win an Olympic medal, she said in the Olympic report.
"Not long after [the crash] I hoped I'd get another chance [at the Olympics] because that one [PyeongChang] didn't live up to expectations," she said.
---
---
---
---