Army officer, three other soldiers are coaching US Olympic bobsledders in Beijing
By
Stars and Stripes
February 2, 2022
---
An Army officer, assisted by three other soldier-coaches, is leading the U.S. Olympic Bobsled Team in Beijing this month.
Capt. Michael Kohn, 49, an infantry officer from Myrtle Beach, S.C., is the team's head coach.
He's backed up by assistant coaches Lt. Col. Garrett Hines, 52, an environmental science officer from Bartlett, Tenn.; and human resource specialists Staff Sgt. Shauna Rohbock, 44, of Park City, Utah; and Sgt. Justin Olsen, 34, of San Antonio.
The Olympic bobsled competition runs Feb. 10-20.
A member of the Virginia National Guard, Kohn has been a bobsledder since graduating high school in 1990, according to a Jan. 27 story on the Guard's official website.
Kohn won a bronze medal at the Salt Lake City Games in 2002 and has served in the Guard since 1999.
"I grew up in the military," he said in the story. "My father was active duty. He was in the 5th Special Forces Group during Vietnam, so I always wanted to be in the military. I think it was just in my blood."
Team USA selected Kohn as an alternate driver in Torino in 2006, then as a driver in Vancouver in 2010. He was an assistant coach in Sochi in 2014 and Pyeongchang in 2018.
The U.S. Bobsled Team includes eight men and four women. Two soldiers are on the team: Spc. Frank Del Duca, 30, of Bethel, Maine, and Spc. Hakeem Abdul-Saboor, 34, of Powhatan, Va. One of the civilian sliders, Jimmy Reed, grew up in a U.S. military community in Garmisch, Germany.
The soldier-coaches and athletes are members of the Army's World Class Athlete Program, or WCAP, which helps them train for their chosen sports.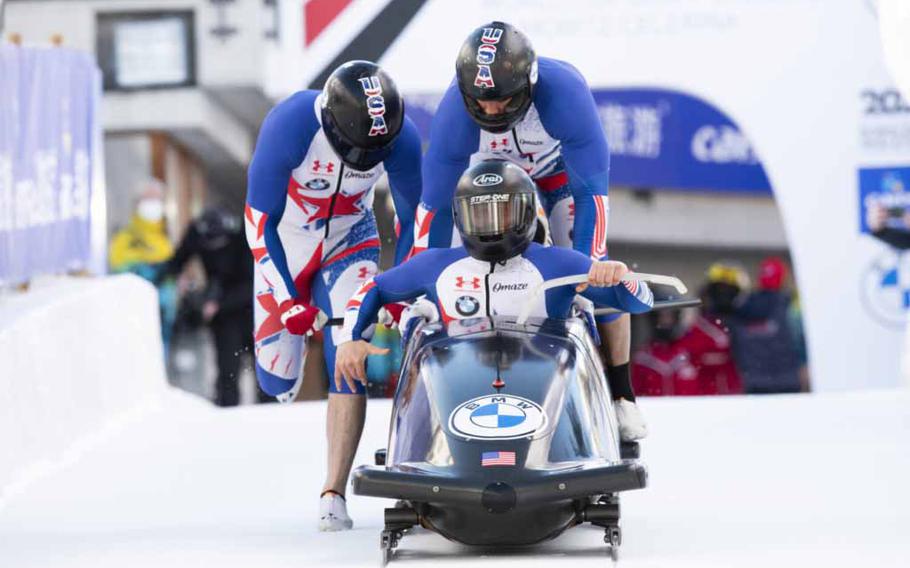 There are similarities between military service and competing on the bobsled team, Kohn said in the Guard story.
"One thing about our sport is you just can't do it by yourself," he said. "I love the movie 'Rambo,' but you just can't be out there on your own trying to accomplish the mission. You need help."
Rohbock, who also played professional soccer for the San Diego Spirit, took silver in Turin; Hines took home silver from Salt Lake City; and Olsen won gold in Vancouver.
Olsen's mother gave him the notion to try bobsledding, he said Tuesday during a livestream on the Army's official Facebook page.
"I was going to try to be a walk-on football player at Texas A&M," he said. "My mom recommended I try out bobsled. I heeded her advice and look where it landed me."
Olsen, a member of the New York Army National Guard, spoke about his experience at the Vancouver Olympics. His heart was racing during the opening ceremony, he recalled.
"I couldn't believe I was in a stadium with some of the best athletes in world," he said, adding that he reminded himself: "I didn't come to the Olympics to be a spectator."
Inspiring youth is a big motivation, Olsen said.
"All things are possible through hard work, dedication and a positive attitude," he said. "I'm looking forward to the performances of these athletes both civilians and soldiers."
---
---
---
---