Retired military officers demand Austin, Milley resign over handling of Afghanistan withdrawal
by
Caitlin Doornbos  
Stars and Stripes
August 31, 2021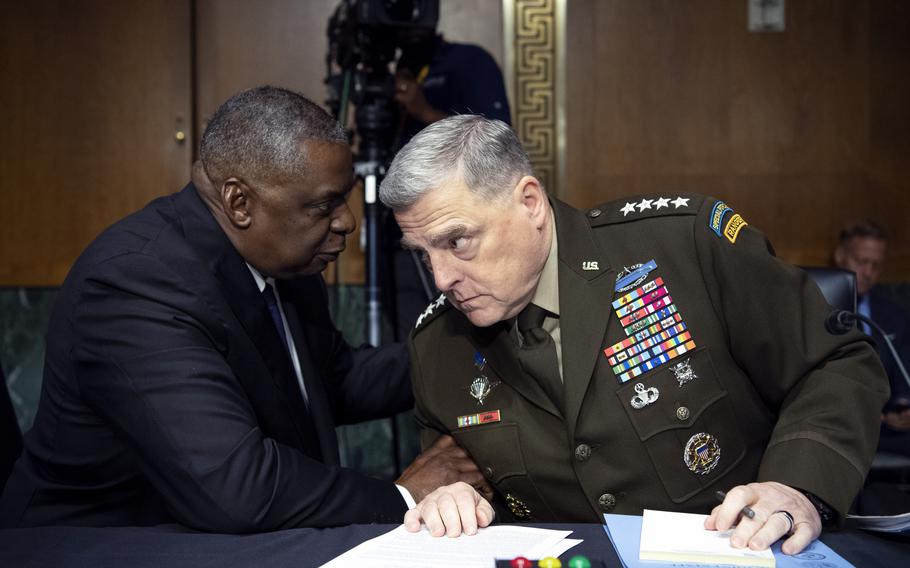 WASHINGTON — A group of retired military officers are calling for the resignations of Defense Secretary Lloyd Austin and Army Gen. Mark Milley, chairman of the Joint Chiefs of Staff, over their handling of the U.S. withdrawal from Afghanistan.
The conservative group Flag Officers 4 America orchestrated the letter signed by 87 officers that accuses Austin and Milley of failing to recommend "against this dangerous withdrawal in the strongest possible terms" that left 13 U.S. troops dead.
"Conversely, if they did do everything within their ability to persuade the president to not hastily exit the country without ensuring the safety of our citizens and Afghans loyal to America, then they should have resigned in protest as a matter of conscience and public statement," the group wrote in the letter.
Eleven Marines, a sailor and a soldier and dozens of Afghans were killed Thursday when an Islamic State suicide bomber detonated an explosive vest and gunmen fired on crowds near a Kabul airport gate where troops were evacuating Americans, Afghans seeking special immigrant visas and others from Afghanistan.
The withdrawal ended in Kabul just before midnight Tuesday local time after U.S. and coalition forces evacuated more than 123,000 people from Afghanistan since late July. Most of those evacuations happened after Aug. 14, when the U.S. increased its forces at the airport to speed operations as the Taliban closed in on the capital.
Among the signatories are retired Vice Adm. John Poindexter, who served as former President Ronald Reagan's national security advisor, and one retired four-star admiral, Adm. Jerome Johnson.
At least one officer listed as having signed the letter, Marine Corps Brig. Gen. James Mead, is dead, according to his July obituary posted to the Wareham Village Funeral Home and Cremation Services website.
Flag Officers 4 America is the same organization that in May published a letter with 124 retired admirals and generals accusing President Joe Biden of launching "a full-blown assault on our Constitution rights in a dictatorial manner" over his use of executive orders.
In its Monday letter, the group called the withdrawal "disastrous" and "hasty," claiming the Americans and vulnerable Afghans left in Afghanistan after U.S. forces left Monday are now "de facto hostages of the Taliban at this time."
Secretary of State Antony Blinken on Monday said between 100-200 Americans who want to leave Afghanistan were unable to get to the airport in time for evacuation.
The group of officers further alleged Austin and Milley should resign for other "leadership, training and moral reasons" related to the Pentagon's focus this year on addressing racism and extremism within the ranks.
"It has become clear that top leaders in our military are placing mandatory emphasis on [politically correct] 'wokeness' related training which is extremely divisive and harmful to unit cohesion, readiness and war fighting," the group said in its letter. "Our military exists to fight and win our nation's wars and that must be the sole focus of our top military leaders."