Biden asks Congress for another $33 billion to aid Ukraine, nearly half would support military efforts
By
Stars and Stripes
April 28, 2022
---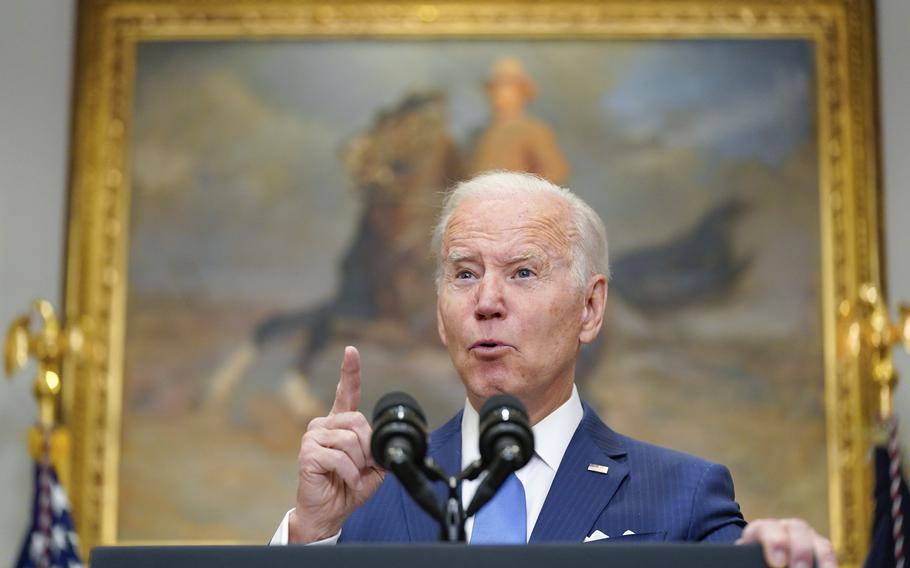 WASHINGTON — President Joe Biden on Thursday asked Congress for an additional $33 billion in security, economic and humanitarian aid for Ukraine, with half the funds to pay for Pentagon efforts such as supplying weapons to help the Ukrainians battle Russian forces.
Biden said it's critical that Congress approves the funding "as quickly as possible" as Russia launches a renewed military assault on the Donbas region in Eastern Ukraine.
"We said we would not send U.S. troops to fight Russian troops in Ukraine, but we would provide robust military assistance and try to unify the Western world against Russia's aggression," the president said.
The funding is estimated to cover what the U.S. needs to support Ukraine for "the next five months of this war," a Biden administration official said Thursday on condition of anonymity. "This fight could well last months or more. This conflict will continue to test our unity and our collective resolve to provide Ukraine what it needs to succeed."
About $16 billion of the requested funding will go toward the Defense Department's efforts supporting Ukraine, Defense Secretary Lloyd Austin told reporters Thursday at the Pentagon.
The Pentagon's portion includes $6 billion to procure additional weapons and systems for Ukraine and another $5 billion to "allow us to continue providing critical material from our own inventory," he said.
The remaining $5 billion will "help us pay for the operational cost of bolstering NATO's eastern flank" with American troops and equipment, as well as "additional investments," Austin said.
"For instance, it features something we call a 'critical-munitions acquisition fund,' which will allow the department to purchase and establish a strategic reserve of vital munitions like anti-aircraft and anti-tank munitions to surge for this crisis and, quite frankly, crises to come," he said.
The State Department will also receive about $4 billion to support its Foreign Military Financing program, which helps partner nations buy U.S. defense equipment, services and training, the administration official said.
"Despite having no boots on the ground, our assistance has made a significant difference on the battlefield, helping the brave citizens of Ukraine to win the Battle of Kyiv and to continue to deplete the Russian military," the official said.
Though the U.S. is "by far the largest supporter of Ukraine" in funding, most other NATO nations have sent military aid, so some of the newly requested money will also be used to backfill their stocks, the administration official said.
"We are discussing with them various ways in which we can help make sure that they continue to be able to defend themselves fully," the official said.
The rest of the requested money in the supplemental spending bill will address humanitarian and economic assistance to the war-torn country, as well as funding to help support the global food and fuel supply affected by the war.
Austin urged Congress "to approve our request without delay," which could be made difficult as House lawmakers break Friday for a weeklong recess.
Still, Congress is continuing to support Ukraine and pressure Russia in other ways. On Wednesday, the House passed a bill urging the Biden administration to use seized assets from Russian oligarchs to fund reconstruction efforts in Ukraine.
The House on Thursday also followed the Senate and passed the Ukraine Democracy Lend-Lease Act, which will allow the Pentagon to send weapons and other critical equipment more quickly to the war-torn country.
Congress last approved a supplemental funding bill in early March that included $13.6 billion to assist Ukraine — about half of which was earmarked for security assistance and related U.S. military operations in Europe.
The new request comes after Biden last week said he would ask Congress for another supplemental funding bill because he had "almost exhausted" the funds with his latest $800 military aid package approved April 21.
"Basically, we're out of money, and so that's why today in order to sustain Ukraine as it continues to fight, I'm sending Congress a supplemental budget request," Biden said Thursday. "It's going to keep weapons and ammunition flowing without interruption to the brave Ukrainian fighters."
The new request would provide Ukraine additional artillery, armored vehicles, anti-armor and anti-air capabilities, accelerated cyber capabilities and advanced air defense systems, and assistance to clear landmines and other explosives, according to the White House.
It would also continue financing U.S. troops deployed in NATO countries, "including transportation of U.S. personnel and equipment, temporary duty, special pay, airlift, weapons system sustainment, and medical support," according to the White House.
There are more than 100,000 U.S. troops in Europe now, about 20,000 of whom were deployed to countries on NATO's eastern flank since tensions with Russia increased in January when Russian forces began massing at Ukraine's borders.
Biden said Americans must continue to support Ukraine because when "dictators do not pay the price for their aggression, they cause more chaos and engage in more aggression," which also raises Russia's threat to America.
"Every day the Ukrainians pay ... with their lives for this fight, so we need to contribute arms-funding, ammunition and economic support to make their courage and sacrifice have purpose so they can continue this fight and do what they're doing," he said.
Biden said he expects other NATO and European Union countries to continue supporting Ukraine with military aid.
"They're gonna pay their fair share of the costs, as well, but we have to do this," the president said. "It's not cheap, but [Russia's] new aggression is going to be more costly if we allow it to happen."
"We either back Ukrainian people as they defend their country, or we stand by as the Russians continue their atrocities and aggression in Ukraine every day," he added.
Since taking office in January 2021, Biden has sent Ukraine about $4 billion in military aid — an amount that senior U.S. defense officials have said nearly matches Ukraine's defense budget for last year, which was about $4.2 billion.
About $3.3 billion of the U.S. aid has been sent to Ukraine since Russia invaded Ukraine about nine weeks ago, according to the Pentagon.
"We've sent thousands of anti-armor [systems], missiles, helicopters, drones, grenade launchers, machine guns, rifles, radar systems [and] more than 50 million rounds of ammunition," Biden said. "The United States alone has provided 10 anti-armor systems for every Russian tank that is in Ukraine — 10 to one."
Stars and Stripes reporter Svetlana Shkolnikova contributed to this report.
---
---
---
---