Democrats announce bills to hold Pentagon accountable for civilian deaths in US military operations
By
Stars and Stripes
April 28, 2022
---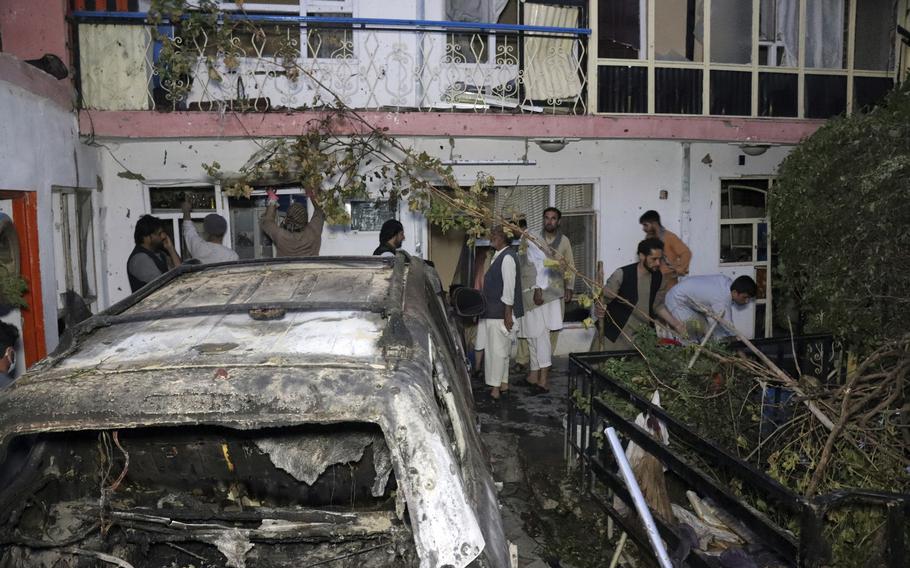 WASHINGTON — Congressional Democrats seeking accountability for civilian deaths caused by the U.S. military announced two bills Thursday to overhaul the Pentagon's methods for investigating and preventing civilian harm.
The two pieces of legislation — the Department of Defense Civilian Harm Transparency Act and the Protection of Civilians in Military Operations Act — would expand requirements for reporting the incidents and disclosing them to the public as well as move investigations out of the units responsible for the strikes.
"The evidence is clear: after 20 years of mostly unfulfilled pledges on preventing civilian harm, the Pentagon has shown that it needs the involvement of others outside the chain of command in setting policy and ensuring accountability," said Rep. Tom Malinowski, D-N.J., a co-sponsor of both bills. "It is time to provide additional oversight through interagency partners and these bills do just that."
Some lawmakers stepped up calls for reform after a botched drone strike killed 10 civilians during the U.S. withdrawal from Afghanistan last year. The Pentagon said the strike was necessary to prevent an attack on U.S. troops but later acknowledged it was a tragic mistake.
"You can't look at the faces of the seven children killed in the August 29th Kabul drone strike and not act on our moral imperative to protect the lives of children and other civilians in U.S. military operations," said Rep. Ro Khanna, D-Calif., a co-sponsor of both bills. "I strongly urge the Pentagon to incorporate the proposals in this legislation."
Malinowski and Khanna are leading House efforts to pass the bills alongside Reps. Jason Crow, D-Colo., and Sara Jacobs, D-Calif. Sen. Elizabeth Warren, D- Mass., is spearheading the legislation in the Senate with Sens. Dick Durbin, D-Ill., Jeff Merkley, D-Ore., and Bernie Sanders, I-Vt.
Democrats have long pressed the Pentagon to address systemic weaknesses governing military operations that kill innocent civilians. As many as 48,000 civilians have died in U.S. air and drone strikes since 2001, according to a 2021 study by the independent monitoring group Airwars.
Pressure from Congress prompted Defense Secretary Lloyd Austin to issue a directive in January instructing the Defense Department to improve its civilian harm mitigation. The order announced the creation of a Center of Excellence for the Protection of Civilians, which lawmakers now want codified into law.
The proposed legislative package would ensure the center has the authority and resources necessary to interview survivors and witnesses of U.S. strikes and establish a public database that preserves and organizes the Pentagon's investigations. The center would receive $30 million to hire personnel and would be required to produce an annual report of its work to Congress.
Lawmakers are also seeking an unclassified report on how the Defense Department has distinguished between civilians and combatants in military operations in Afghanistan, Iraq, Syria, Somalia, Libya and Yemen since the U.S. launched its "war on terror" in 2001.
"When we kill civilians, we're not only taking innocent life, we're recruiting another generation to take up arms against us," Jacobs said. "I have been incredibly frustrated by a lack of transparency and a lack of accountability at the Pentagon on civilian casualties. The process is broken and we need major reforms."
The two bills have the backing of more than a dozen human rights and veterans organizations, including Human Rights Watch.
"Congress is doing now what successive U.S. administrations should have done ages ago on civilian protection," said Sarah Yager, the Washington director for Human Rights Watch. "If enacted, these bills will help correct fundamental flaws in how the Defense Department plans for and addresses civilian deaths and injuries during military operations. This legislation, alongside Defense Secretary Austin's efforts, could finally give civilians harmed by conflict the attention, dignity, and redress they deserve."
---
---
---
---