Senators seeking detailed guidance from Pentagon to combat increase in military suicides
By
Stars and Stripes
April 6, 2022
---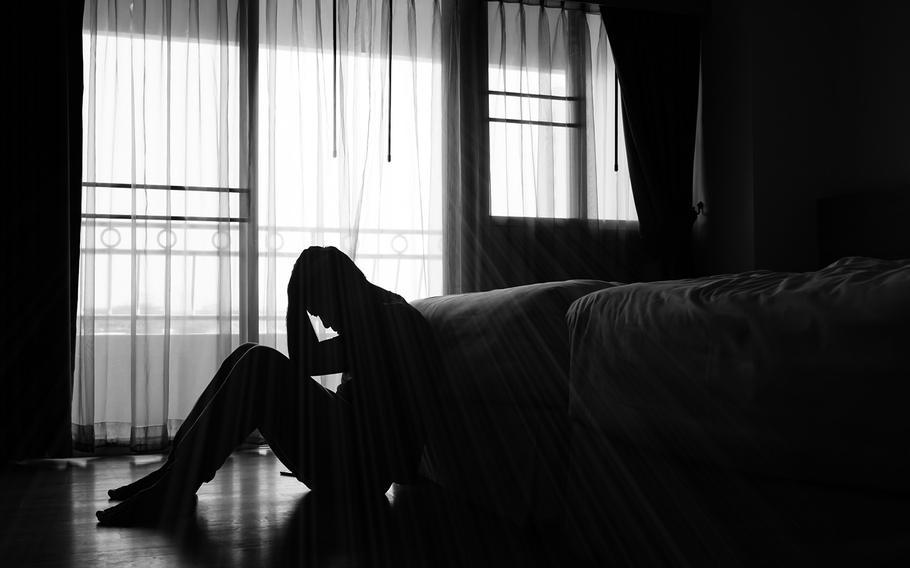 WASHINGTON — Senators asked defense officials on Wednesday to send specific requests for money, personnel and additional support that could be needed for mental health programs as the military grapples with a marked increase in suicides.
Members of a subpanel of the Senate Armed Services Committee said they will use the recommendations to draft language in this year's National Defense Authorization Act to address the alarming number of service member suicides, which climbed from 543 in 2018 to 580 last year. The NDAA sets annual spending and policy priorities for the Defense Department.
"While I'm cautiously optimistic about the 2021 data, which was just released last week and indicated a 10% drop in service members' suicide, 518 service member deaths are still far too high," said Sen. Kirsten Gillibrand, D-N.Y., who was the chairwoman of a hearing on the issue Wednesday. "The department still has so much work to do to prevent these tragic losses."
Defense Department officials described efforts to save lives through new training initiatives but admitted struggles with hiring and retaining medical staff, particularly at remote military installations where isolation, extreme weather and less access to mental health services can leave young service members in a vulnerable state.
Army bases in Alaska have seen the biggest increase in suicides, with deaths increasing from seven in 2020 to 11 in 2021. Last year's figure does not include six soldier deaths still under investigation, according to the Pentagon.
Men between the ages of 18 and 34 are most at risk for suicide and can succumb to suicidal thoughts due to financial strain, intimate partner problems, loneliness and other factors, according to Air Force veteran Chris Ford, who now leads the nonprofit Stop Soldier Suicide. Some 120,000 service members and veterans have died by suicide since 2001, he said.
Internal reviews within the Pentagon found multiple deficiencies in stemming the tide in recent years, including failures to screen for suicide risks and provide continuous mental health care to members transitioning to civilian life, said Michael Roark, the department's deputy inspector general for evaluations.
Preliminary results from Operation Deep Dive, a University of Alabama study of former service members, showed reservists have a 45% higher rate of suicide than active-duty troops, said Sen. Tommy Tuberville, R-Ala. Some 160,000 service members transition to civilian life each year, Roark said.
He added the Defense Department's unclear and outdated policies and procedures, as well as health provider burnout caused by the pandemic, have also contributed to poor suicide prevention outcomes.
Senators on Wednesday said they were especially concerned with ending the longstanding stigma often associated with seeking mental health help in an environment that prizes toughness.
"The culture in the military is you never ask for help and if you're asking for help, you're weak and to be honest, if you're asking for help in certain units, they actually get rid of you," said Sen. Dan Sullivan, R-Alaska, who is a former Marine. "That's bad."
Beth Zimmer Carter, the mother of a 22-year-old Army Ranger who died by suicide in 2015, said her son Chris was demoted and belittled after telling his superiors that he suffered from anxiety, insomnia and post-traumatic stress disorder. Chris sought help from mental health professionals on base, but follow-up care was difficult to schedule and providers did not address his risk for suicide, she said.
"Seven years later ... I know that many of the same deficiencies continue, and some issues have tragically reversed progress," Carter told senators.
Pentagon officials said they are training nonmedical providers about suicide risks, working to beef up staffing to ensure every active-duty service member can access a mental health professional on base and expanding access to telehealth services to free up in-person treatment for the most severe cases.
"I fully recognize that we have more work to do," said Richard Mooney, acting deputy assistant secretary of defense for health services, policy and oversight.
There are glimmers of hope among the youngest generation of service members, he said, who are more likely to demand mental health services and feel less reluctant to seek help. This younger cohort will benefit the most from telehealth because they are more comfortable with messaging than phone calls and are more willing to reveal mental health information to a digital survey or chatbot than a human clinician, said Murali Doraiswamy, a professor at the Duke University School of Medicine.
The Pentagon is expected to announce more initiatives after the completion this year of an independent review of suicides at military installations in Alaska, South Korea and some other bases in the United States.
"In the meantime, we're going to use every resource that's available to us," Defense Secretary Lloyd Austin told lawmakers Tuesday during a House Armed Services Committee hearing. "This is something that's very important to me and the department remains focused on it."
Lawmakers said they want to see wait times for mental health services drastically reduced despite assurances from Pentagon officials on Wednesday that service members with an "acute" mental health problem are seen in a clinic or hospital within 24 hours. The routine wait time for a non-emergency visit is 28 days, Mooney said.
"Having a normal wait time of 28 days is fine if you're not in trauma or in distress but if these individuals can't self-identify that then it's a failure," Gillibrand said. "They need that intervention."
---
---
---
---