Army seeks to rein in Alaska suicides by connecting with soldiers one by one
By
Stars and Stripes
February 26, 2022
---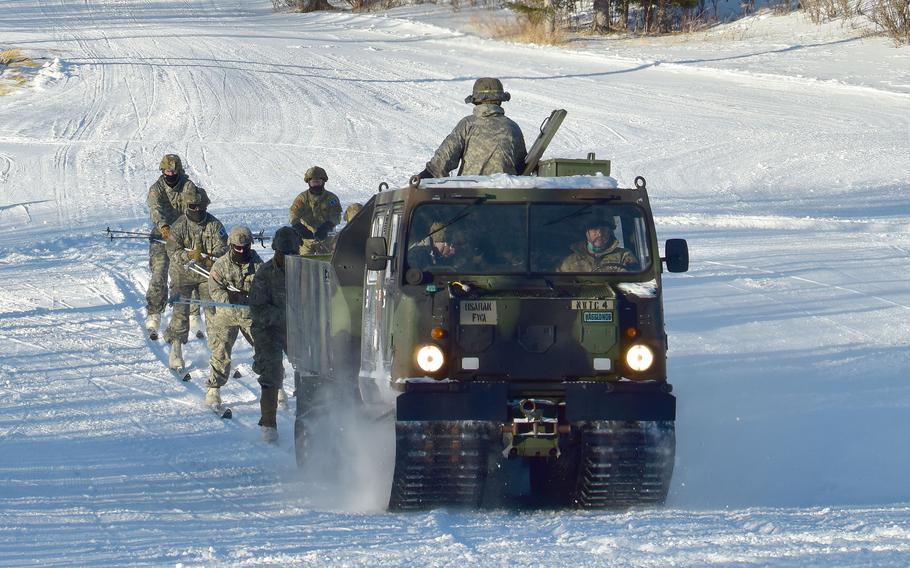 Faced with a significant increase last year in soldier suicides in Alaska, the Army has mandated wellness checks with behavioral health counselors for 100% of soldiers stationed in the state.
"Mission 100 is a campaign to connect with 100% of our soldiers – leaders connected with the soldiers and soldiers connected with each other," Maj. Gen. Brian Eifler, commander of U.S. Army Alaska, said during a conference call with reporters Friday from his headquarters at Joint Base Elmendorf-Richardson.
"Leaders contact 100% of our soldiers' spouses or next of kin; 100% of our soldiers will get a wellness check from behavioral health or the military family life counselors," Eifler said.
The Army has been grappling with an elevated rate of suicides in the state since 2019, but 2021 saw a dramatic leap in such deaths.
Seven soldiers died by suicide in the state in 2020, and last year that number jumped to 11 – a figure that does not include six soldier deaths that are still under investigation.
Soldiers in the state are primarily stationed at the joint base or at Fort Wainwright in Fairbanks.
Wainwright had one of the highest rates of suicide among all Army installations last year, Eifler said.
"This is a wicked problem," he said.
After a jump in suicides in 2019, U.S. Army Alaska requested an epidemiological study into their causes from the Army Public Health Center's Behavioral and Social Health Outcomes Program.
The findings identified multiple risk factors among those who died, including chronic pain and issues with sleep and relationships.
The Army invested $214 million in quality-of-life improvements intended to ease some of those risk factors, such as installing dark-out window curtains in sleeping quarters to deal with the summer's long days. They also beefed up and expanded hours of fitness gyms and increased the quality and variety of foods in mess halls.
"Obviously and tragically, we still have a long road ahead of us," Eifler said. "The Army has really shifted focus on the prevention."
The intent of this "rising-tide-raises-all-boats" effort is to "make sure we're not missing people," he said.
"You can't find people necessarily that want to commit suicide, but you can help everybody be stronger and get better," he said.
"It's really hard to say, OK, this person is going to do this," Eifler said. "You know, sometimes their vulnerabilities are not known; they're hidden.
"Because I will tell you sometimes – and more often than not – we have people that fall prey to suicide that have not reached out for help, or not shown any signs," he said. "And that's where we really struggle because like, hey, we thought that he was the last person that we think that would fall prey to suicide."
Among other new initiatives highlighted by Eifler is the Arctic Warrior readiness day training each month.
"This is a day for unit activities, adventures that foster teamwork, cohesion and build connection – not intended for classroom or slides," he said.
The command is also bringing in experts from within and outside the Army to speak with soldiers about life-coping skills. Those speakers include soldiers who share their stories of getting help and returning to full mental health, Eifler said.
Newcomer briefings for soldiers now include "master resilience training," he said. Incoming soldiers are also now assessed to identify anyone who "may have low protective factors, so that appropriate resources and attention can be provided."
More broadly, the command is working with the Army's human resources to "help soldiers and families who want to live here, and that thrive here, to stay here," Eifler said.
The Army has also established Option 20, which gives recruits the choice of specifically being assigned to Alaska.
"You were unable to do that before," he said. "But that's something new, and we have over 500 to 600 soldiers or enlistees already signed up to come to Alaska. So again, trying to bring people here that want to come here and then also keep people here that thrive."
---
---
---
---