House lawmakers call for wider access to military basic needs allowance to combat food insecurity
By
Stars and Stripes
March 31, 2022
---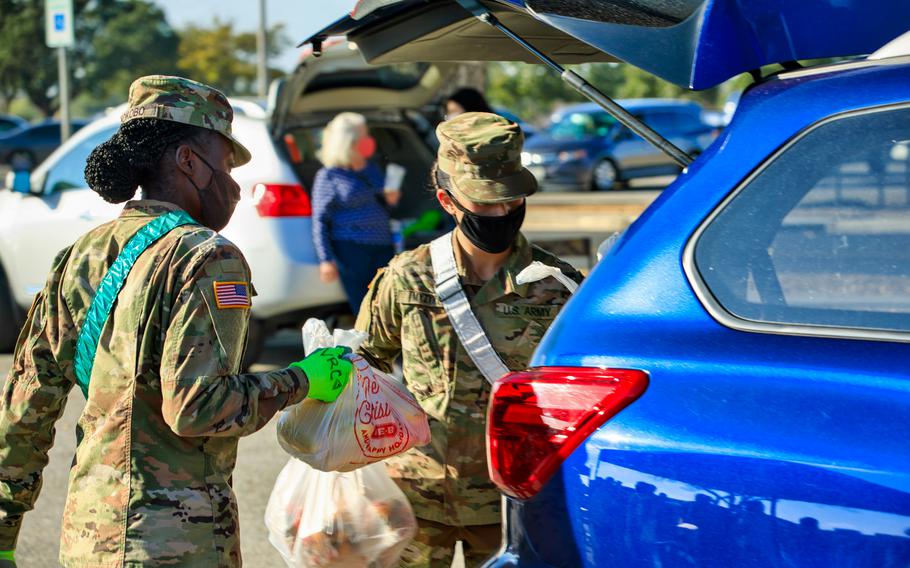 WASHINGTON — House lawmakers are urging the Pentagon to provide generous access to a new basic needs allowance for low-income service members, arguing wide eligibility and enrollment is needed to combat food and financial insecurity in the military.
In a letter to Defense Secretary Lloyd Austin, Democratic lawmakers this week asked for housing stipends to be excluded from eligibility calculations "to the greatest extent possible" and recommended eligible families automatically receive the stipend unless they specifically opt out of it.
"We look forward to working with the [Defense] Department to ensure that no one who serves our country has to worry about putting food on their table," wrote Reps. Adam Smith, D-Wash., Jackie Speier, D-Calif., David Scott, D-Ga., and Jahana Hayes, D-Conn.
An estimated 160,000 active-duty service members, particularly those in junior ranks, struggle to feed themselves and their families, according to a 2021 estimate by the nonprofit organization Feeding America. Low pay, high rates of unemployment for military spouses, and high costs of living all contribute to food insecurity, the organization said.
In November, Austin announced new guidelines to help military leaders identify service members who experience hunger and connect them to support programs. He also tasked Pentagon officials with drafting a long-term plan to strengthen food security.
Congress authorized the basic needs allowance last year to help the military's most vulnerable families, targeting households with incomes that fall below 130% of the federal poverty level. For a family of three, that amounts to $28,550 in 2022.
The Congressional Budget Office estimated that 10,200 service members would receive the new benefit, which would average $400 per month. Rules for how allowances will be calculated are still being drafted and the first checks are not expected to be distributed until next year.
Lawmakers are also recommending the Defense Department certify eligibility for the allowance annually to remove administrative burdens for the neediest members of the armed services.
---
---
---
---