Russian military failures in Ukraine are a warning to China, Sen. Reed says
By
Stars and Stripes
March 23, 2022
---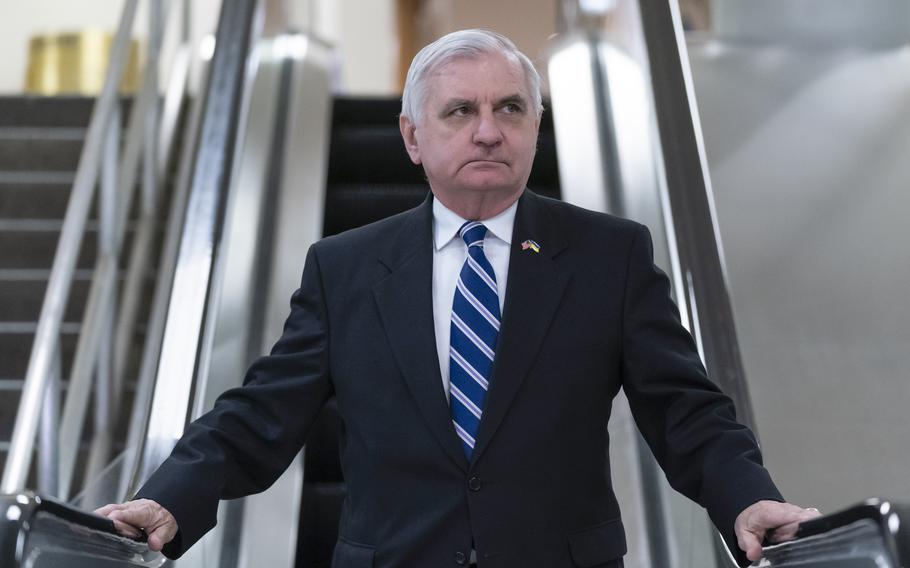 WASHINGTON — Russia's stalled invasion of Ukraine is causing China to rethink the prowess of its own military and how an attempt to conquer Taiwan would play out, Sen. Jack Reed, D-R.I., said Wednesday.
The chairman of the Senate Armed Services Committee said he believes China is collecting data on the real-time example of a major conventional power taking on a lesser power and reevaluating whether its military could successfully retake the island that it claims as its own.
"I think the Chinese leadership has the suspicion that their military has not been involved in a major conflict" since the late 1970s and early 1980s, when China invaded northern Vietnam, Reed said during a roundtable discussion with reporters. "It has not been tested and they might be getting second thoughts about how powerful their forces will be."
Russia dwarfs Ukraine in troops and military equipment but the struggle of Russian forces to capture major Ukrainian cities in a war that is now entering its fifth week has likely given Beijing pause, Reed said.
"There were 120,000 Russian troops along the border with tanks, with missile systems, with sophisticated aviation and I was, you know, scratching my head because Ukraine forces were not as well-equipped," he said. "We're not just looking at the Russians, China is too and they're beginning to ask questions."
The U.S. had assumed Russia would launch an "overwhelming" attack on Ukraine and make a very fast run on its capital of Kyiv partly due to Russia's successful annexation of Crimea in 2014, Reed said. But the conditions that facilitated that swift operation — a small area, existing Russian naval bases on the peninsula and a Russia-friendly population — do not exist now.
"You look at [Crimea] and you think wow, that is a very well-trained [military]," Reed said. "Now you look at a general, conventional assault on a significant level and you see fractures in the Russian forces."
Russian troops have been bogged down by logistical problems, connectivity issues between forces, intelligence failures and top-down leadership that leaves small units unable to carry on fights without instructions from headquarters, he said.
The U.S. is helping Ukraine exploit those weaknesses with vast shipments of military aid and the same assistance could be expected in the event of a Chinese incursion into Taiwan, Reed said. China is taking note of how crucial that aid, now totaling $2 billion, has become to Ukrainian resistance, he said.
Reed reiterated the White House's position that U.S. forces would not become involved in Ukraine, but he said the U.S. would need to reevaluate if Russia employs nuclear weapons or launches a cyberattack on the U.S. that causes significant casualties. Any use of a chemical, biological or nuclear weapon that affects a neighboring NATO country could trigger a direct military conflict between the alliance and Russia, he said.
Kremlin spokesman Dmitry Peskov said Tuesday that Russia would only launch nuclear weapons if it faced an "existential threat."
China's well-documented ambitions to join the U.S. and Russia as a strategic nuclear power is quickly changing the national security landscape and will put the U.S. in uncharted territory, Reed said. The Pentagon reported last year that Beijing could have up to 700 deliverable nuclear warheads by 2027 and likely intends to have at least 1,000 warheads by 2030.
"This is an extraordinarily historic moment," Reed said. "We will for the first time in the history of the world have trilateral nuclear competition. We have to start thinking about what's the strategy and how do we do this?"
---
---
---
---