Russia, China creating new security challenges for US military in Africa and Middle East, generals warn
By
Stars and Stripes
March 15, 2022
---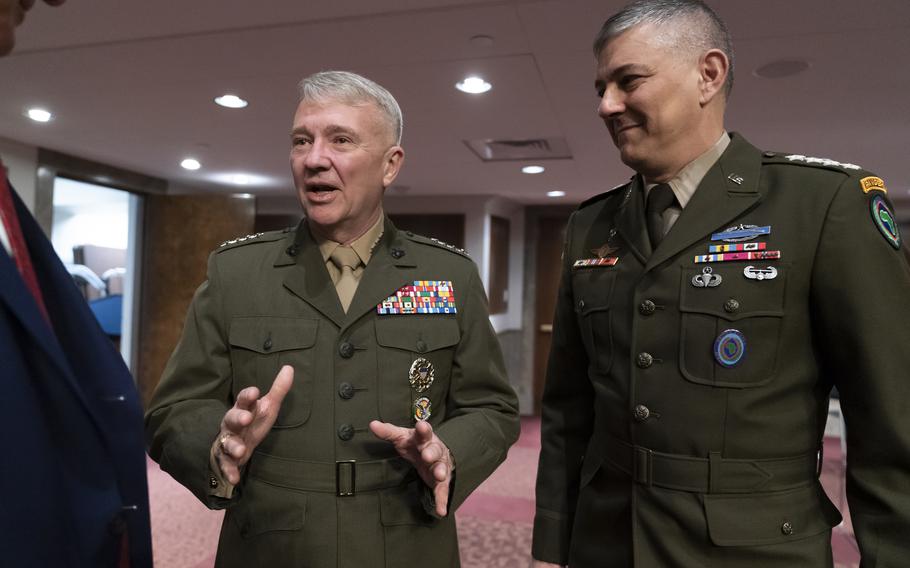 WASHINGTON — Russian mercenaries, Chinese investments and Iranian weaponry are challenging U.S. security interests in Africa and the Middle East, commanders told senators on Tuesday as lawmakers shifted their attention to regions coming under the increasing influence of adversaries.
The small U.S. military footprint in Africa, which was diminished in 2020 with the withdrawal of U.S. troops from Somalia, is grappling with local extremist groups as well as the rising presence of Russian paramilitary organizations such as the Wagner Group, Army Gen. Stephen Townsend, the commander of U.S. Africa Command, told the Senate Armed Services Committee during a hearing on the posture of U.S. forces in the region.
In the Middle East, the U.S. is eyeing the advancement of Iran's missile capabilities and looking to the Taliban in Afghanistan to help counter the Islamic State terrorist group, said Marine Gen. Kenneth McKenzie, commander of U.S. Central Command. ISIS is expected to establish the capability to attack the U.S. and its allies in 12 to 18 months, he said.
McKenzie emphasized the need to restore the 2015 Iran nuclear agreement despite concerns from Sens. Angus King, I-Maine, Kevin Cramer, R-N.D. and Marsha Blackburn, R-Tenn., that lifting sanctions to facilitate the deal would give Iran more money to pour into weaponry.
"This deal would unlock billions [of dollars] for Iran, I am very concerned what Iran is going to do with that money," Blackburn said.
McKenzie called the brewing deal a "less than perfect solution" but the general said it was necessary to halt Iran's nuclear program.
"It is an overriding national policy, the objective of the United States is for Iran not have a nuclear weapon or to be able to possess a nuclear weapon," McKenzie said. "So I think that's a very important goal and you might have to make some tradeoffs to get to that point, but my concern is first of all that they not have a nuclear weapon."
The top nuclear threat in Africa and the Middle East for now is Russia, both commanders said.
Russia is most noticeably flexing its power in Africa, where mercenaries with the Wagner Group are infiltrating governments to protect authoritarian regimes, exploit vast natural resources, and exact violence, Townsend said.
"They're a malign influence, they don't follow anybody's rules, they do what they want and they perpetuate gross violations of human rights," he said. "I think it's bad for Africa's security and prosperity in the future."
Russian private military groups are in Libya and Sudan, "essentially running" the Central African Republic and gaining strength in Mali, where more than 1,000 mercenaries have usurped Mali's longstanding relationship with France, Townsend said.
When the Wagner Group pulled out of Libya at the end of the country's second civil war in 2020, it left behind mines and improvised explosive devices, including a "heinous" one planted in a teddy bear, he said.
Sen. Mark Kelly, D-Ariz., called the behavior of the group "disturbing" and he said it threatened U.S. efforts to combat terrorism and support democratic governance in the region.
Those efforts are also under threat from China, which is primarily wielding influence in Africa through infrastructure project investments and arms sales. China is also looking to expand its military bases beyond Djibouti on the coast of the Horn of Africa. American intelligence reports suggest China is planning to establish its first permanent military base on the Atlantic Ocean in the Central African country of Equatorial Guinea.
Townsend said he was troubled by China's push to corner Africa's rich mineral market and the refusal of more than half of Africa's nations to condemn Russia's invasion of Ukraine in the United Nations this month.
"Many have strong economic ties to Russia and China and I think they're biding their time," he said.
Despite attempts by Russia and China to assert themselves in Africa and the Middle East, the U.S. remains the partner of choice for governments seeking arms, training and protection, Townsend and McKenzie said. Recent U.S. weapons deals include the sale of F-15 fighter jets to Egypt, McKenzie said. The sale has faced long delays over Egypt's controversial human rights record.
Sen. Tim Kaine, D-Va., urged his fellow senators to focus on humanitarian issues in the region as well as military objectives. Ethiopia's Tigray War and other conflicts in Africa and the wider region have been unfairly cast aside due to Russia's invasion of Ukraine, he said.
"When there's crises and challenges in the world, people turn to the United States for help," Kaine said. "It's worthy and important that we're paying attention to the Russian illegal war against Ukraine … but I hope we may all strive to be even-handed in the attention that we pay to humanitarian crises all over the world."
---
---
---
---