Russia says US sanctions won't impede Iran atomic business
By
Jonathan Tirone, Golnar Motevalli
Bloomberg 
March 15, 2022
---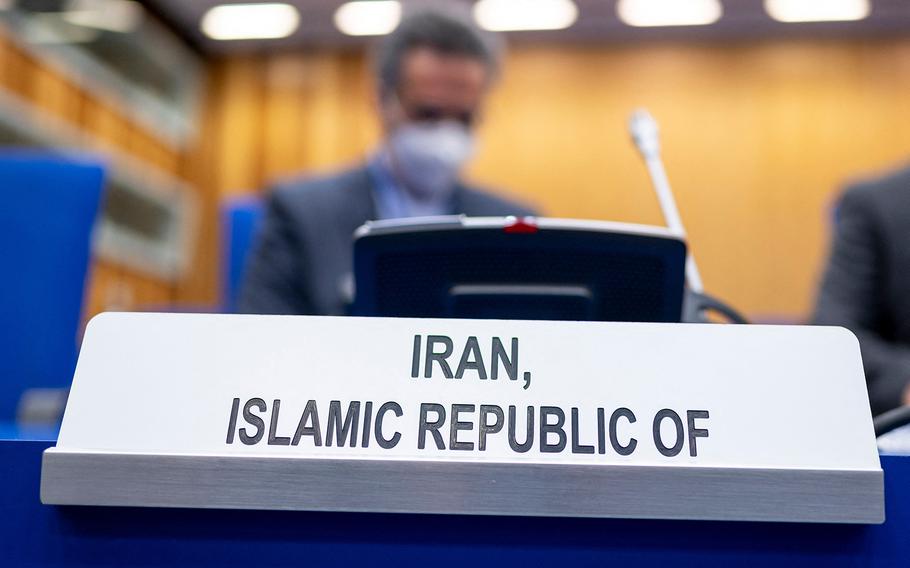 The U.S. has given Russia "written guarantees" that sanctions imposed over the invasion of Ukraine won't affect its nuclear supply agreements with Iran, potentially clearing the way for a resumption of talks to revive the 2015 atomic accord. Oil prices fell.
World powers and Iran suspended their efforts to restore the nuclear pact on Friday, amid deepening tensions between the Kremlin and the White House.
U.S. officials confirmed they were considering sanctions against Russia's Rosatom -- the world's biggest nuclear fuel maker -- just days after Russian Foreign Minister Sergei Lavrov demanded guarantees that such penalties wouldn't be allowed to torpedo the Iran deal.
"We received written guarantees," Lavrov said Tuesday after meeting his Iranian counterpart in Moscow. The guarantees "provide reliable protection for all projects and activities envisaged" in the nuclear deal, he said.
There was no immediate confirmation from the U.S. which recalled its negotiating team from Vienna for consultations after the last breakdown in talks.
The potential breakthrough raises the prospects that an agreement could still be clinched to limit Iran's nuclear program in return for sanctions relief that would bring Iranian oil back onto global markets roiled by the war in Ukraine.
Brent crude futures fell as much as $9.46 to trade as low as $97.44 in London after Lavrov's comments. They had been trading above $100 for most of March.
In parallel to the diplomatic headway on the nuclear file, there were also signals on Tuesday that Iran could release a dual British-Iranian charity worker who has been detained since 2016. Lawyers for Nazanin Zaghari-Ratcliffe said they're very hopeful their client will be released soon, in a case linked to a longstanding U.K. government debt to Iran over a decades-old defense deal.
Before the Russian demand, diplomats from all sides had said they were very close to an agreement to restore the 2015 deal abandoned by then-President Donald Trump four years ago.
State Department spokesman Ned Price said Monday that it was up to Moscow and Tehran to decide whether a deal to revive the so-called JCPOA was in reach within the coming days. Kremlin spokesman Dmitry Peskov said Tuesday the U.S. knew Russia's position and that it's very important that nuclear diplomacy continues.
"Russia has not caused any obstruction," said Iranian Foreign Minister Hossein Amirabdollahian following the meeting with Lavrov. "Russia will continue a "very positive, constructive role" in supporting Iran if a deal is finalized, he said.
While the Biden administration has yet to decide on whether or not to sanction Rosatom, its business with Iran shows the potential for unintended consequences. The company is the world's biggest supplier of nuclear reactors and fuel with projects stretching across Africa, Eurasia and Latin America.
U.S. sanctions guru Richard Nephew, who was among U.S. JCPOA negotiators until December, warned this past week such measures carried a high risk of boomeranging back on enforcers.
At the heart of the issue is Iran's only operating nuclear power plant at the Persian Gulf port city of Bushehr. That Russian-built reactor still relies on fuel assemblies provided by Rosatom, which is also building a second unit at the site that should be ready this decade.
The JCPOA stipulates that Russia may continue supplying Iran's Bushehr reactor, even as the Islamic Republic reduces its stockpile of enriched uranium to below 300 kilograms (661 kilograms).
Iran warned last year, however, that U.S. sanctions risked forcing operations at Bushehr to shut down because payments couldn't be transferred to Russian vendors. New sanctions against Moscow would threaten to further impair the partnership between the two countries, even under a restored agreement that lifted U.S. sanctions on Iran.
Preventing Rosatom from fulfilling fuel-supply contracts could encourage more countries to follow Iran's lead and enrich uranium directly, Nephew wrote. Enrichment is the 75-year-old dual-use technology needed to both fuel nuclear weapons and reactors.
Bloomberg's Lin Noueihed contributed to this report.
---
---
---
---