Austin won't rule out sending more US troops to Europe as Russia's war on Ukraine nears one-month mark
By
Stars and Stripes
March 22, 2022
---
WASHINGTON — Defense Secretary Lloyd Austin is not ruling out sending additional U.S. troops to Eastern Europe as Russia's war on Ukraine nears its one-month mark, a senior U.S. defense official said Tuesday.
"This is something the secretary is looking at every week and he's not going to foreclose any option if it's a valuable requirement to bolster the eastern flank," said the official, who spoke on condition of anonymity.
There are more than 100,000 American service members in Europe, more than 14,000 of whom are in Eastern European countries such as Poland and Romania, which neighbor Ukraine, the Pentagon has said.
Austin will join President Joe Biden this week on his trip to Europe to meet with NATO leaders in Brussels on Thursday and leaders in Poland on Friday. It will be Austin's second trip to the Continent in a week after meeting with leaders in Slovakia and Bulgaria late last week.
In Ukraine, Russian troops continue to suffer supply and sustainment issues that hinder their progress in taking control of the country. In addition to food and fuel shortages that have set back the Russian advance since the first week, U.S. officials now believe some Russian troops have suffered medical problems because they were deployed to Ukraine without proper cold-weather gear.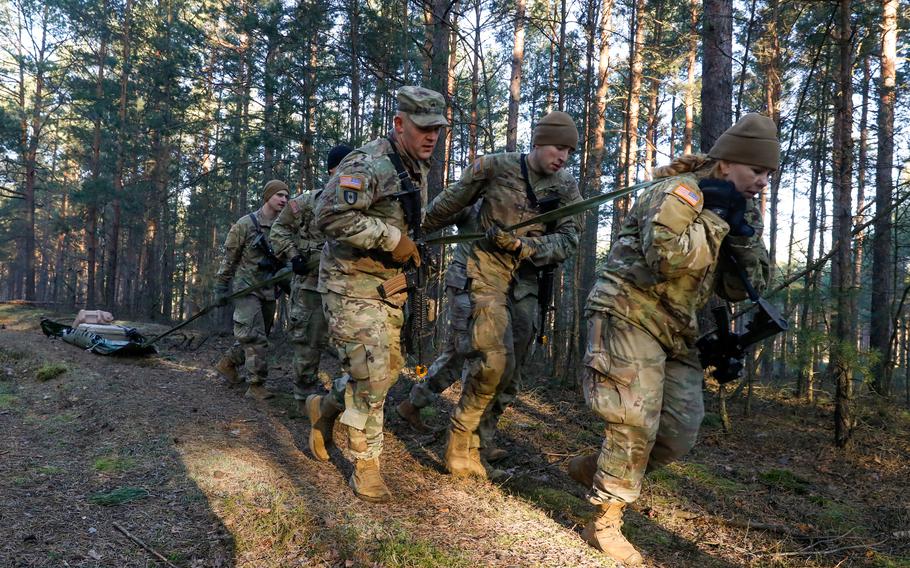 "Even in terms of personal equipment for some of their troops, they're having trouble," the official said. "We picked up indications that some troops have actually suffered and been taken out of the fight because of frostbite."
Russia has launched more than 1,100 missiles at Ukraine since its war on the country began Feb. 24, the official said, though progress of the forces on the ground has largely remained stalled as Ukraine fiercely defends its cities.
"We're on day 27 and we continue to see [Russia] have … inventory issues, particularly with respect to precision-guided munitions," the official said. "It follows that a month into an operation of a size and scale that they've never attempted before that they would be exploring [resupply] options."
Those supply and sustainment problems, as well as a stiff resistance from Ukrainian forces, continue to hinder Russian movement toward Ukraine's capital city Kyiv, as of Tuesday, the official said.
"There's been no real changes by the Russians on the ground near Kyiv," the official said. "We still hold them to be about [9 miles] to the northwest and still about [18 miles] to the east."
Russia so far has lost more than 10% of its troops and military equipment it deployed to Ukraine, the senior defense official said. Russian President Vladimir Putin originally assigned more than 170,000 troops and military capabilities to the assault.
Despite the drop in combat power, the U.S. has not seen indications that Russia has moved in additional forces from Russia or elsewhere, such as Syria.
"We do continue to see indications that [the Russians] are having these discussions and that they are making those kinds of plans both in terms of resupply and also reinforcement," the official said. "It's just that we haven't seen that actually take place."
In Ukraine's south, where Russian forces has had more success, the fight for Mariupol is fierce as the Russians have been bombarding the city with artillery and long-range missiles for days. In the past 24 hours, about seven Russian warships have been firing into the city from the Sea of Azov, just south of Mariupol, the official said.
In Mykolaiv, about 300 miles west of Mariupol, Ukrainian resistance appears to have caused Russian forces to rethink their approach to the city, moving from an assault from the northeast to one from the south, the official said.
"The Russians still have not been able to take Mykolaiv and now ... we get a sense that they're repositioning themselves to the southern part of the city because the Ukrainians are fighting so hard in Mykolaiv [that] they're making the Russians sort of reposition around there," the official said.
The Ukrainian defense remains strong and might be gaining the capability to recapture some of the places that Russian forces has taken in the past weeks. Russia claimed its first Ukrainian city, Kherson, on March 2.
"We do continue to see them defend in a very nimble, agile way," the official said. "What we're starting to see indications that they are now able and willing to take back territory that the Russians have taken."
---
---
---
---