Austin to join Biden's trip this week to NATO, Poland
By
Stars and Stripes
March 21, 2022
---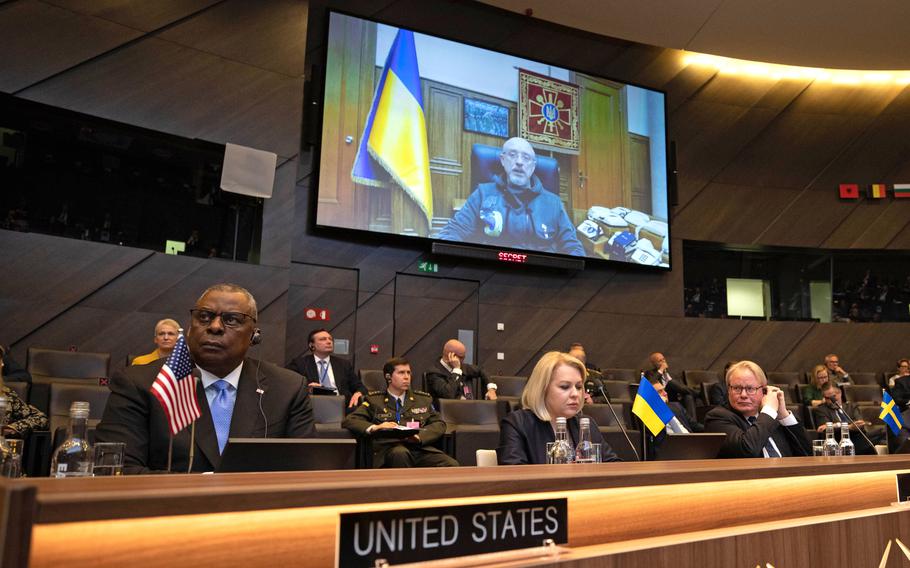 Defense Secretary Lloyd Austin will return to Europe for a second consecutive week, joining President Joe Biden's trip Wednesday to NATO headquarters in Brussels and visit Polish leaders later in the week, the Pentagon announced Monday.
The U.S. leaders' trip this week comes as Russia's invasion of Ukraine nears its one-month anniversary and just days after Austin returned to Washington from a meeting March 15 with NATO defense ministers in Brussels. Austin met with leaders in Slovakia and Bulgaria late last week, as those NATO eastern flank nations seek to bolster their own security amid Russia's aggression against Ukraine.
Biden and Austin are expected to meet with other NATO leaders Thursday before traveling to Poland on Friday, officials said. Biden will also meet with the European Council and G7 leaders to "discuss international efforts to support Ukraine and impose severe and unprecedented costs on Russia for its invasion," according to a White House statement.
The meetings also come as Poland pitches a NATO peacekeeping mission in Ukraine, according to a Reuters news report on Friday. Pentagon spokesman John Kirby declined to discuss the Polish proposal, but he confirmed the Pentagon expected it would be formally submitted Monday.
"It kind of goes without saying, but I'll say it anyway — there shouldn't be a need for a peacekeeping force because there shouldn't have been a war of choice by [Russian President Vladimir] Putin," Kirby told reporters. "And he can end it today by negotiating in good faith and getting his troops out of Ukraine and stopping the killing and the death and destruction that he and his forces are responsible for. But again, I'm not going to get ahead of international discussions here in this particular proposal."
Linda Thomas-Greenfield, the U.S. ambassador to the United Nations, told CNN on Sunday that American troops would not participate in such a peacekeeping force, reiterating Biden's position that U.S. troops would not enter Ukraine to fight the Russian military.
"American troops will not be on the ground in Ukraine at this moment," she said. "The president has been clear on that. And other NATO countries may decide that they want to put troops inside of Ukraine. That will be a decision that they have to make."
Biden and other leaders of NATO countries have pledged new assistance for Ukrainian forces in recent days, as they fend off the Russian invasion. The United States expects to send some $350 million in defensive weapons this week to Ukraine and another $800 million of aid — including anti-tank and anti-aircraft missiles, rifles, ammunition, drones and body armor — in the coming weeks, Kirby said Monday.
A Pentagon official said Monday that Russian troops appeared to be struggling with low morale and have gained little ground in recent days. The Russian military has launched more than 1,000 missiles since it invaded Ukraine on Feb. 24, the official said, adding the Pentagon has observed an uptick in Russian air activity in recent days.
Nonetheless, the Russian military has made little progress in its goal of capturing Ukraine's capital Kyiv and taking out its pro-West government. The official said Russian struggles to supply its troops with fuel, water and ammunition and to coordinate its air and ground efforts have likely led to an increase in attacks on civilian targets, including apartment buildings, hospitals and a shopping mall on Monday.
Kirby declined to say if the Pentagon believed Russia was altering its battle plans to inflict more pressure on ordinary Ukrainians, but he said the U.S. military believed Russia's military was deliberately targeting civilians.
"We continue to see indiscriminate attacks on civilians, which we believe in many cases is intentional," he said. "There's no justification for it. So, I'm not even going to try to do that. But, clearly, they are causing increased numbers of civilian casualties."
---
---
---
---