Transfer of Slovak air defense system to Ukraine remains on hold following Austin visit
By
Stars and Stripes
March 17, 2022
---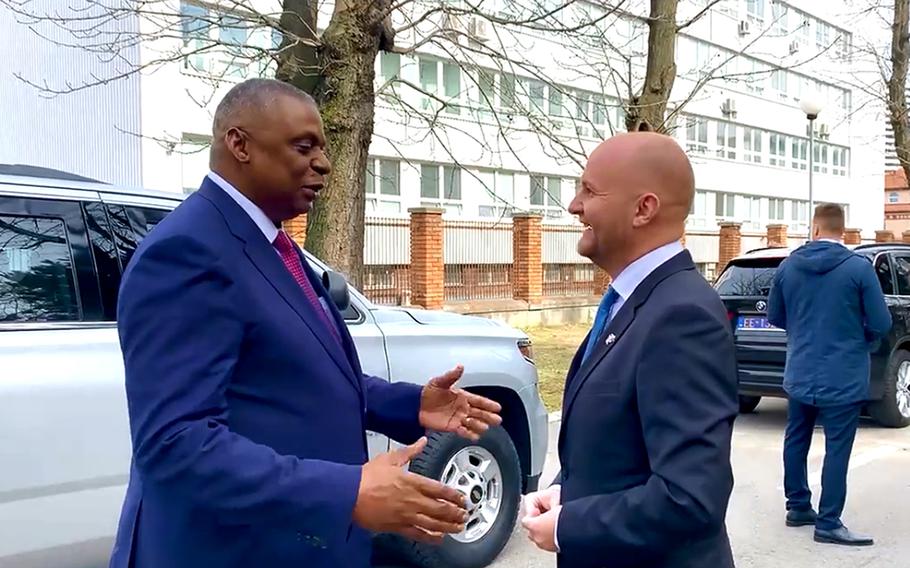 Talks between the U.S. and fellow NATO member Slovakia about sending a Soviet-era long-range air defense system to Ukraine yielded no results Thursday, but the potential transfer remains under review, Defense Secretary Lloyd Austin said.
Allies will keep looking at possibilities to get the S-300 system into Ukraine and potentially backfill the gap created by the delivery, Austin and his Slovakian counterpart said.
"I don't have any announcements this afternoon," Austin said. "These are things that we will continue to work with all of our allies on."
Slovak Defense Minister Jaroslav Nad said his country is willing to furnish Ukraine with its air defense system, which can knock down warplanes and cruise missiles hundreds of miles away.
But first, allies must provide Slovakia with a "proper replacement," Nad said.
Discussions about giving Ukraine longer-range air defenses come after repeated pleas from Ukrainian President Volodymyr Zelenskyy for more support from NATO countries.
Among Ukraine's requests: long-range defenses and a NATO-led no-fly zone. But for allies, the idea of instituting a no-fly zone in Ukraine remains a nonstarter.
"President (Joe) Biden has been clear: We will not have U.S. forces fighting in Ukraine," said Austin, who equated a no-fly zone with being in combat, since allies could be required to shoot down Russian aircraft to enforce such a zone.
By delivering longer-range defenses, NATO could put Ukraine in a better position to protect its own skies.
But so far, the majority of the support from the U.S. and other NATO states has centered on short- and mid-range air defense systems, which Austin said the Ukrainians have been using to great effect to counter Russian forces.
On Wednesday, Biden announced that more short- and mid-range systems and other weapons are on the way to Ukraine.
The transfer of $800 million worth of equipment includes 800 anti-aircraft systems and 9,000 anti-armor systems. Biden said the U.S. also is working with allies to identify and transfer longer-range anti-aircraft systems.
Following Austin's talks with Slovakia, Nad didn't spell out the exact requirements to enable his country to send S-300s into Ukraine.
However, a new NATO battlegroup is planned for the country. The force will be equipped with Patriot air defense systems provided by Germany and the Netherlands, which could fill capability gaps.
The 1,200-troop contingent also is expected to include forces from several countries, including the U.S.
A launch date for the new unit hasn't yet been announced.
---
---
---
---