Biden signs bill allotting $6.5 billion to Pentagon's efforts to assist Ukraine as Russian forces make limited advances
By
Stars and Stripes
March 15, 2022
---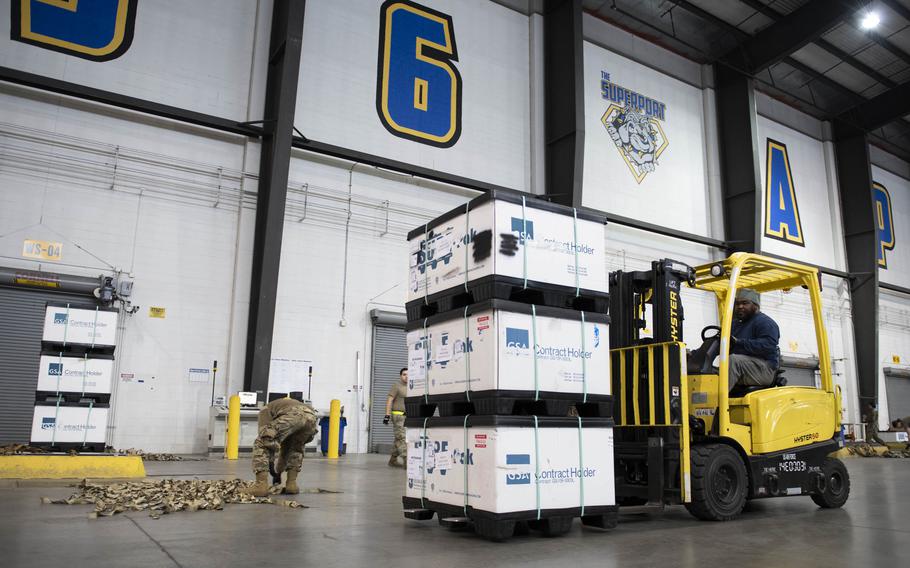 WASHINGTON — President Joe Biden on Tuesday signed into law a funding bill that will give $6.5 billion to the Pentagon to support its efforts aiding Ukraine and its refugees as Russia armed forces attack the nation.
About $3.5 billion of the funds earmarked for the Pentagon will help resupply U.S. military stocks of equipment already given out in security assistance packages, Defense Department spokesman Christopher Sherwood said Tuesday.
The U.S. has given about $1.2 billion in security assistance packages to Ukraine in the past year, and more than $5.6 billion since Russia first invaded Ukraine in 2014, according to the State Department.
The remaining $3 billion will help cover "operations mission support, the deployment of personnel, and intelligence support in the U.S. European Command area of responsibility," Sherwood said.
The money is part of the $1.5 trillion Consolidated Appropriations Act of 2022, which Congress passed last week.
Additionally, Sherwood said the Pentagon is considering sending other weapons to Ukraine, including anti-air and anti-armor capabilities, small arms and ammunition, tactical gear, Meals Ready to Eat, and military medical equipment such a first-aid kits.
"The types and quantities of specific equipment provided to Ukraine through security assistance might vary based on Ukraine's evolving requirements, allied commitments, and the availability of DOD stocks," Sherwood said.
After 20 days of war, Russian and Ukrainian forces still retain about 90% of the initial combat power that each had when the war began Feb. 24, a senior U.S. defense official said Tuesday.
"Security assistance from the United States and other nations continues, to include over the last 24 hours," the official said. "We will not detail the specifics, but these shipments did include weapons."
Also on Tuesday, the White House announced Biden will travel to Brussels next week for a NATO summit on March 24 "to discuss ongoing deterrence and defense efforts in response to Russia's unprovoked and unjustified attack on Ukraine."
While on the trip, Biden will also attend a European Council Summit "to discuss our shared concerns about Ukraine" and the "transatlantic efforts to impose economic costs on Russia [and] provide humanitarian support to those affected by the violence."
Biden's Brussels visit will come after Defense Secretary Lloyd Austin's NATO defense ministerial meeting scheduled for Wednesday. After that, Austin will also visit Slovakia and Bulgaria this week "to again make clear our firm commitment to NATO's eastern flank," chief Pentagon spokesman John Kirby said.
The European travel comes as Russian ground forces make "limited to no progress … in achieving their objectives" in Ukraine, including in its siege of the nation's capital, Kyiv, the defense official said.
"Kyiv remains under bombardment by long-range fires with civilian targets — to include residential areas — being struck with increasing frequency," the official said. "But leading elements of Russian forces have not appreciably advanced on the city."
Russian forces remain about 9 to 12 miles northwest and 12 to 18 miles east of Kyiv, which is still being defended and controlled by Ukrainians, according to the official. They also continue to hold the nearby city of Brovary, which has seen heavy fighting for about a week.
About 300 miles east of Kyiv, Ukrainians also retain control of Kharkiv — the country's second largest city. However, Russian forces "are still on the outskirts" of the city, facing "stiff Ukrainian resistance," the official said.
However, the Russians have isolated several other cities including Chernihiv and Mariupol, which is "still suffering heavy bombardment," the official said.
Russian forces have now fired more than 950 missiles since the start of the war, most of which came from Russian and Ukrainian territory, the official said. The airspace above Ukraine remains contested as neither country has gained full control of the skies.
---
---
---
---