Ukraine's Zelenskyy asks European leaders to do more but admits NATO membership is not in the cards
By
The Washington Post
March 15, 2022
---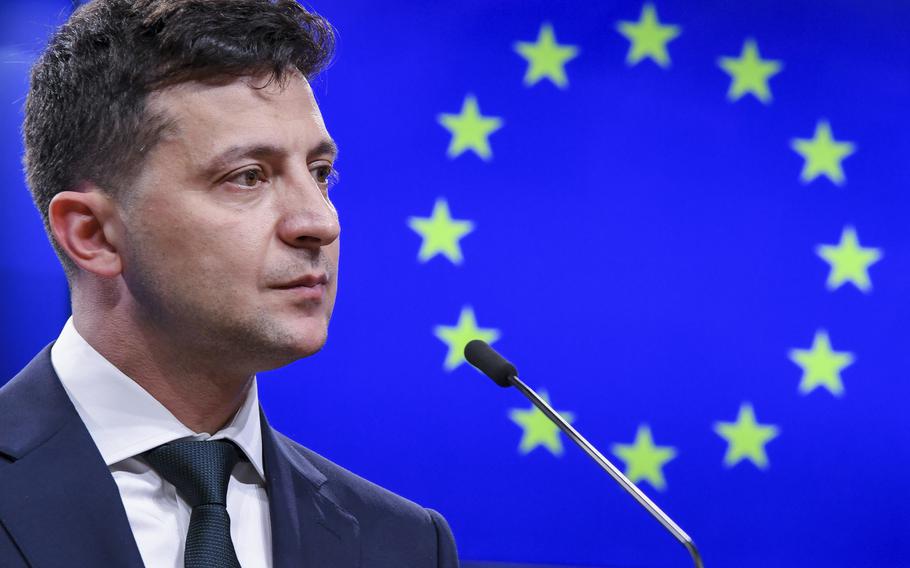 Ukrainian President Volodymyr Zelensky said Tuesday that he's grateful for the help his nation has received so far, but he called on European leaders to do more to help his country fend off Russia's invasion, asking for more weapons and heftier sanctions against Moscow. He also said it was apparent to him that Ukraine's long-standing hope of entering NATO currently faces a closed door.
"It is clear that Ukraine is not a member of NATO; we understand this. ... For years we heard about the apparently open door, but have already also heard that we will not enter there, and these are truths and must be acknowledged," Zelensky said during a speech before the leaders of the Joint Expeditionary Force (JEF).
Ukraine's potential membership to NATO has been a point of contention and one of the reasons wielded by Russia to justify its invasion. Since Russia's annexation of Crimea in 2014, Ukraine has made joining NATO a priority. But the alliance, while having promised to add Ukraine as member as far back as 2008, has not done so, though in 2021 NATO did reaffirm its intentions.
Zelensky added that Ukraine is not aiming to activate Article 5 of the NATO agreement, which establishes the collective defense principle among member countries, in that if one of the countries in the alliance is attacked, this is considered an attack on all members.
Zelensky has asked NATO repeatedly to impose a "no-fly zone" over Ukraine, something the alliance has resisted doing for fear it could escalate the conflict.
"We always talk about how our sky needs to be defended like the alliance's sky, but - we understand that there is always a 'but,' " he said. "What will be the response of NATO to members of the alliance in Eastern Europe if they ask for protection, if Russian missiles fly to them or, God forbid, Russian planes?"
Zelensky also mentioned the Russian attack in the Lviv region, on the Yavoriv military base close to the border with Poland, "20 km (12 miles) from NATO's borders."
Zelensky said he's grateful for the sanctions imposed on Russia so far but that they are not enough and have not stopped Putin. He said there needs to be a ban on the Russian fleet in global ports, for Russian banks to be fully barred from international financial markets systems, for the Russian state to be deemed "terrorist," as well as an embargo on "any kind of trade" with Russia. "Help yourself by helping us," he said.
He added, however, that some companies who have left Russia are just waiting for the conflict to end to return to the Russian market, saying this is "deception of Ukraine," referring to the West's lack of rules on foreign companies operating in Russia.
The Joint Expeditionary Force, led by Britain, brings together 10 North Atlantic countries with the purpose of establishing a framework to respond rapidly to international events. Some of the countries are NATO members, such as Britain, Norway, Latvia and Lithuania, but some of them are not, such as Finland and Sweden.
The Washington Post's Annabelle Chapman contributed to this report.
---
---
---
---